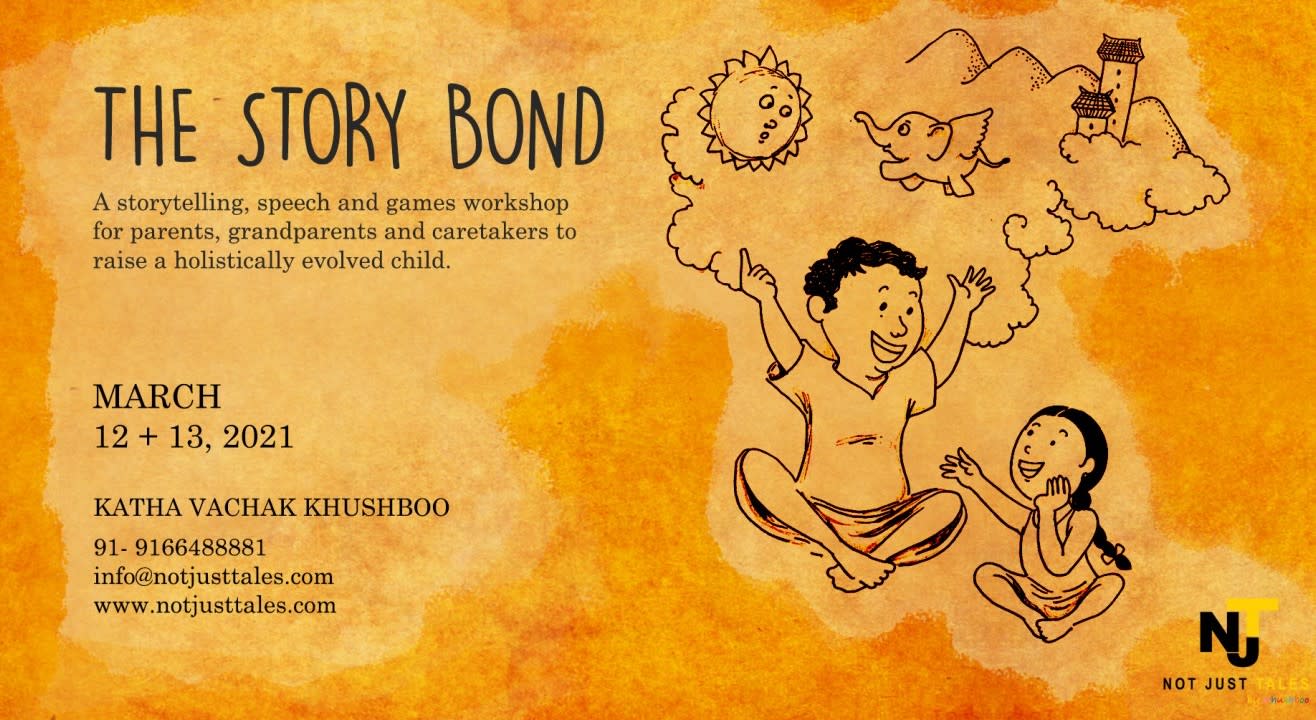 THE STORY BOND FOR PARENTS & GRANDPARENTS
March 12 & 13 | 6PM - 8PM
Enjoy this event from your home
Event Guide
Digital Event
Join on Zoom
Masterclass
Learn from an expert
Invite your friends
and enjoy a shared experience
Event Guide
Digital Event
Join on Zoom
Masterclass
Learn from an expert
Invite your friends
and enjoy a shared experience
About the Event
THE STORY BOND
Do you struggle to find activities for your infant, toddler or middle grader? Do you feel your child require a little encouragement on imagination, creativity, empathy, comprehension skill, listening skills, communication skills or life skills? Do you feel confused on how to transfer your family heritage to your upcoming generation?
If yes, THE STORY BOND is for you.
A workshop for Parents, Grandparents, Caretakers involved in nurturing children between 0 to 10 years to raise holistically evolved children at home.
A child's personality is shaped by the environment he or she is raised in. Our environment is primarily made up of stories. Stories that we tell, hear and listen either build us or break us. What stories you buy or provide is your choice? Based on this principle KathaVachak Khushboo has curated this program where she is sharing all her experience from Waldorf & Montessori pedagogy, techniques learnt in her 7 years of parenting and 12 years of storytelling to enable parents, grandparents and caretakers to use tools of stories, speech and games to nurture their children holistically.
A 5 hours' group workshop focusing on hand on exercises, games, practical tools focusing on empowering participants to use stories, drama, speech and games at home easily with no other tools required. Additionally there will be 1 hour one on one session for the participant.
Date: 12.03.2021, & 13.03.2021
Time: 6 pm to 8 pm
Areas Covered:
1. How to Create Original Stories at home involving children?
2. How to transfer family values and heritage using stories?
3. How to enable children to communicate and express effectively using games & stories in a fun way?
4. How to address challenging behavior in children like anger, tantrums, fear, anxiety using Stories and games?
5. How to enrich the vocabulary, grammar, language in your child without preaching or teaching?
6. How to strengthen your bond with your child forever?
7. How to shape your child's personality using stories?
Resources Provided/Key Takeaways:
1. Worksheets
2. Bag of stories & songs for different genre and requirement.
3. List of reading material from 0-10 year's age wise.
4. Stories for Phonics Sound.
5. Types of stories
6. Vocabulary List
7. 10 Stories for addressing challenging behavior at home.
8. Post workshop support available.
9. Life time bond with KathaVachak Khushboo
Language used in the Program: English and Hindi (depending on the participants)
Fees: Rs.1500/- per participant.
Venue: Online (ZOOM)
About the facilitator:
Khushboo is the Founder and Director of Not Just Tales, a registered organization working in the areas of storytelling, writing, theatre, drama, teacher training, and applied training using stories and games. She comes with more than 11 years of experience in training, facilitating educational programs in schools and corporates. Her experience in skill development programs for corporates, teachers, and children has enabled her to curate programs focusing on the Emotional and Intellectual Quotient of her audience. Storytelling and Drama are Khushboo's passion and forte. She has participated in national and international storytelling festivals both as a performer and a workshop facilitator. She aspires to empower every teacher, parent, and child with the tools of storytelling and drama to make learning fun, experiential, and enrich life skills. Her expertise in English, Hindi & Marwari enables her to bring flavor and spices in her performances.
To know more about KathaVachak Khushboo and Not Just Tales log on to
https://notjusttales.com or write to info@notjusttales.com or call on 9166488881.
Thank You.