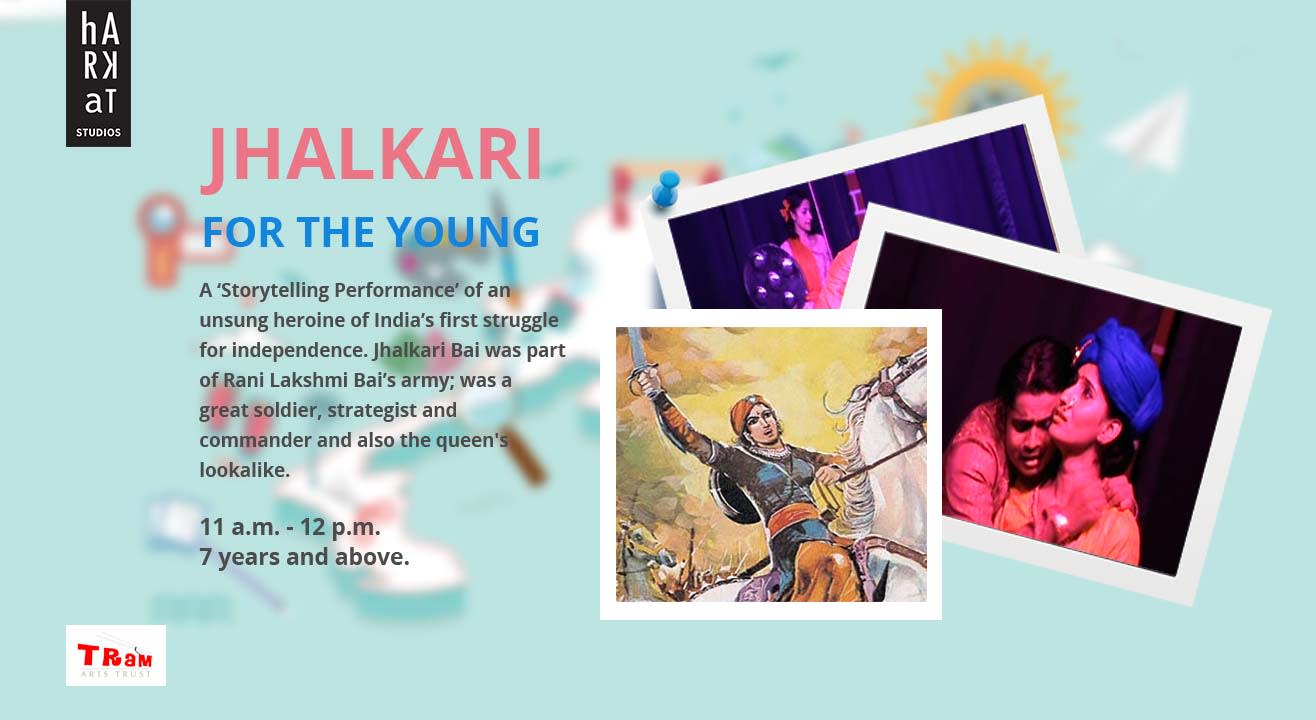 Storytelling
The Story of Jhalkari – Storytelling Performance for Kids
Harkat Studios, Versova, Mumbai
About
'Jhalkari' is a story of one of the many unsung heroes of India's first struggle for independence in 1857. A young dalit girl in Jhansi, Jhalkari Bai joined the women's army (Durga Sena) of Rani Lakshmi Bai. Not only was Jhalkari a great soldier, strategist and commander, but she was also the queen's lookalike. Jhalkari Bai's contribution to India's struggle for independence, along with the women warriors of "Durga Sena," was never documented in the pages of history textbooks, but remains alive in the folklore, poetry and music of the people of Bundelkhand, even today.


Every Sunday, Harkat Studios hosts a Children's Oasis - a day dedicated to people between 0-16 years with plays, workshops and performances!



Age group:</> 7 years above
Neha Singh is a theatre actor, producer, director, children's author, feminist, activist and runs a campaign called "Why loiter?" She has acted in several theatre productions in Mumbai. She produced "Dohri Zindagi" in 2016 which has won accolades from critics and audiences across India. She runs Rahi Productions and is the director of 'Jhalkari.'
Rahi Productions created Dohri Zindagi in 2016 in collaboration with Play On. Dohri Zindagi has travelled the country and performed in several prestigious theatre festivals as well as educational institutions. 'Jhalkari' is their second theatre production. They aim at creating performance pieces that tell stories that are deeply rooted in the Indian traditions of art, culture, literature and music. They are passionate about stories of unlikely and marginalized heroes. 'Rahi' is the brainchild of Neha Singh and Dhruv Lohumi.
About the Organizer & Venue
Harkat Studios is an international boutique arts studio based in India with offices in Mumbai, New Delhi and Berlin. They make films, curate experiences and are an alternative performance space that try to make the world a little better of a place to live in.
Venue
Harkat Studios, Versova, Mumbai
Bungalow No. 75, JP Road, Aram Nagar Part 2, Machlimar, Versova, Andheri West, Mumbai, Maharashtra 400061, India