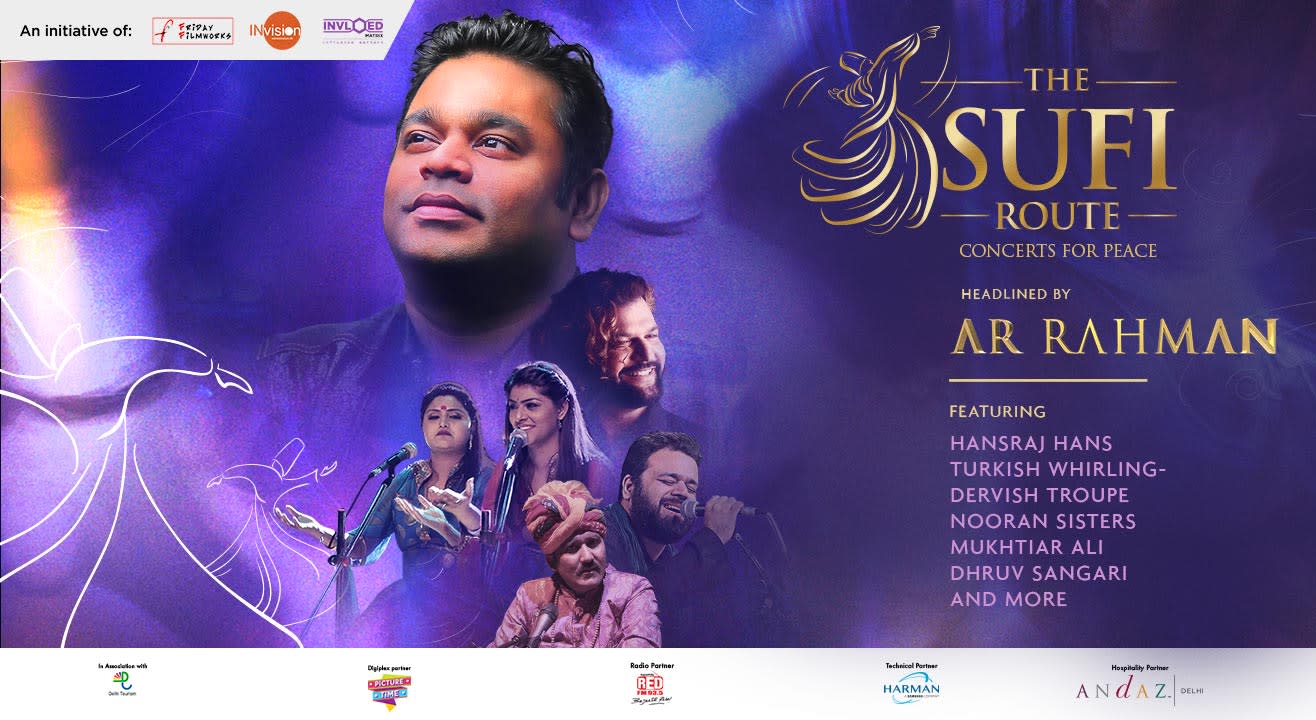 The Sufi Route – Concerts For Peace ft AR Rahman, Delhi
Kuli Khan's Tomb, Qutub Minar Complex, Delhi, Delhi
Step out and enjoy this event
Invite your friends
and enjoy a shared experience
The Sufi Route – Concerts For Peace ft AR Rahman, Delhi
Kuli Khan's Tomb, Qutub Minar Complex, Delhi, Delhi
Step out and enjoy this event
Invite your friends
and enjoy a shared experience
Invite your friends
and enjoy a shared experience
Use code AR10 during checkout and get 10% off on tickets! Offer applicable for a limited time only.
The Sufi Route presents A.R. Rahman live in concert.
With an aim to recreate and reconnect with Sufi, Folk and Poetry, The Sufi Route brings to you an undiluted version of Sufi to the world stage at large.
Being hosted at the Qutub Minar Complex in Delhi, the legendary A.R. Rahman, along with other acclaimed artists Mukhtiar Ali, Hans Raj Hans, Dhruv Sangari and others present to you a wave which appeals to the global taste of audiences while remaining faithful to the spellbinding and otherworldly ancient roots of Sufi that has inspired and touched the hearts of millions. It's a concert for peace that has the right backbone set in with art forms that have always reminded us that values, community and positive engagement is quintessential for a bright and prosperous brotherhood in men.
Andaz Delhi, the official hospitality partner is offering a discount on booking rooms for The Sufi Route. Check out the packages here
A.R. Rahman
A.R. Rahman is an Indian composer, singer-songwriter, music producer, musician and philanthropist. A. R. Rahman's works are noted for integrating Indian classical music with electronic music, world music and traditional orchestral arrangements. Among his awards are two Academy Awards, two Grammy Awards, a BAFTA Award, a Golden Globe, four National Film Awards, fifteen Filmfare Awards and sixteen Filmfare Awards South. He has been awarded the Padma Bhushan, the third highest civilian award, in 2010 by the Government of India.

Hans Raj Hans
Hans Raj Hans is a Punjabi singer from Punjab, India. He is famous for his long golden curly hair and his classical variations in singing. He has been singing folk songs for many years but recently sang a number of Gurbani shabads and dharmic geets (religious songs).
He sings Punjabi folk and Sufi music, has also sung in movies and has also released his own 'Punjabi-pop' albums. He has worked alongside other renowned artists such as the late Nusrat Fateh Ali Khan, as seen in the movie 'Kachche Dhaage.'

NEFES – Dervish Dancers with band
NEFES plays almost all kinds of Turkish music: classical, folk, sufi music, music of the Turkish Roma, music for belly dance etc. NEFES was born as a small jam ensemble in 1990. The group consists of members born in Turkey, Finland and even New Zealand! The group has become a sort of comprehensive school for Turkish music in Finland. Some of the members have travelled to Turkey to learn their instruments from the Turkish masters. The band was nominated as the folk music band of the year by magazine 'Uusi Kansanmusiikki' in 1998, theme year of immigrant music and dance in Finland.

Nooran Sisters
The Nooran Sisters – Jyoti Nooran and Sultana Nooran – are a Sufi singing duo from Sham Chaurasia gharana of classical music. They are Sufi singers from Jalandhar. The sister duo has been trained for 10 years by their father, Ustad Gulshan Mir, who is the son of Bibi Nooran/Swarn Noora, a renowned Sufi singer of 70's era. Music was the integral part of their childhood because of their grandmother, Swarn Noora. They got the fame from the MTV Talent hunt series in India MTV Sound Trippin', with their song "Tung Tung", and later, MTV unplugged series, Coke Studio. They got their first break in Bollywood with the movie Highway in 2014, with the music director A.R Rahman. After that they also sang in movies like Sultan, Mirzya Dangal and Jab Harry met Sejal."

Mukhtiar Ali
Mukhtiyar Ali is a folk singer from Bikaner in Rajasthan. He was born in a small village called Pugal on the North West frontier of India and belongs to the semi-nomadic community of Mirasis, who have been the traditional carriers of the oral tradition of Sufiana Qalam in India.
Mukhtiar blends the Rajasthani folk idiom with refined classicism to sing the poetry of Kabir, Mira and Sufi poets such as Bulleh Shah. Through the Kabir project, Mukhtiyar was spotted by world music circuits and made his international debut in July 2007. Since then, he has performed in Belgium, Sweden, China, Canada, Germany and France. He has also lent his voice to a few films including Tashan (2008), Bombay Summer (2008), Kathai (2010) and Delhi in a Day (2011)

Dhruv Sangari
Dhruv Sangari (Bilal Chishty Sangari) began training in Hindustani classical music at the age of 7 under Smt. Shahana Bannerjee and Tabla with Pt. B.S. Ramanna. Later, he developed an interest in Sufism and Sufi music,and began learning Qawwali with late Ustad Meraj Ahmed Nizami of the Delhi Qawwalbachhe Gharana. Dhruv (Bilal) has a masters degree in Hindustani Classical music from the University of Delhi and has been performing professionally since 2001 with his troupe 'Rooh'. His repertoire includes Farsi, Arabic, Punjabi, Urdu and Hindvi Sufi and Bhakti poetry from the works of famed poets and saints. In addition to stage concerts at major festivals and international collaborations with artistes in more than 15 countries including China, India, Pakistan, U.A.E., Morocco, Turkey, Italy, Germany, France, U.K., US, Australia, Malaysia and Spain. He has recorded for a number of private albums, Bombay film industry and solo projects like Jet-Lag with band Da-Saz (2008 Phat-Phish Records), Hope (2010), with band Humble Mystic for MTV Coke Studio season 2 and Amit Trivedi's episode in season 3 (2012, 13 Viacom media)
Friday Filmworks
Friday Filmworks is a highly admired Indian boutique multi-media production house. They are known for their clear focus on quality entertainment and intelligent commercial cinema. Having being set up in the year 2008, Friday Filmworks has believed in pushing both, content as well as cinematic experience point of view. They humbly boast of one of the best and most enviable track record in the industry.

INvision Entertainment
INvision help organize concerts that resonate louder with every event. They are also involved in television productions for small screen productions inclusive of reality shows. Other notable work includes exhibitions, product and press launches, dealer meets, seminars, award ceremonies, show running and backstage management.

Invloed Matrix
Invloed Matrix is a Digital Strategy and Consulting Company.It is in the business of creating Global IPs which are impactful and long term.In the increasingly connected world, it also focuses on merging the gaps of offline and online.It is a pioneer in setting up and running Digital Businesses with co-created Teams of professionals who come together Project Wise. Invloed in Dutch means 'Influence' and we believe that in time only your personal power and impact will matter and not your credentials and assets.Past glory will be redundant. You will operate only from now and your vision!Execution will require large teams.Vision will require Consciousness and Being ahead of Times and Technology!
Kuli Khan's Tomb, Qutub Minar Complex, Delhi
Seth Sarai, Barakhamba, New Delhi, Delhi 110001
GET DIRECTIONS
The Sufi Route – Concerts For Peace ft AR Rahman, Delhi
Kuli Khan's Tomb, Qutub Minar Complex, Delhi, Delhi
Step out and enjoy this event
Invite your friends
and enjoy a shared experience