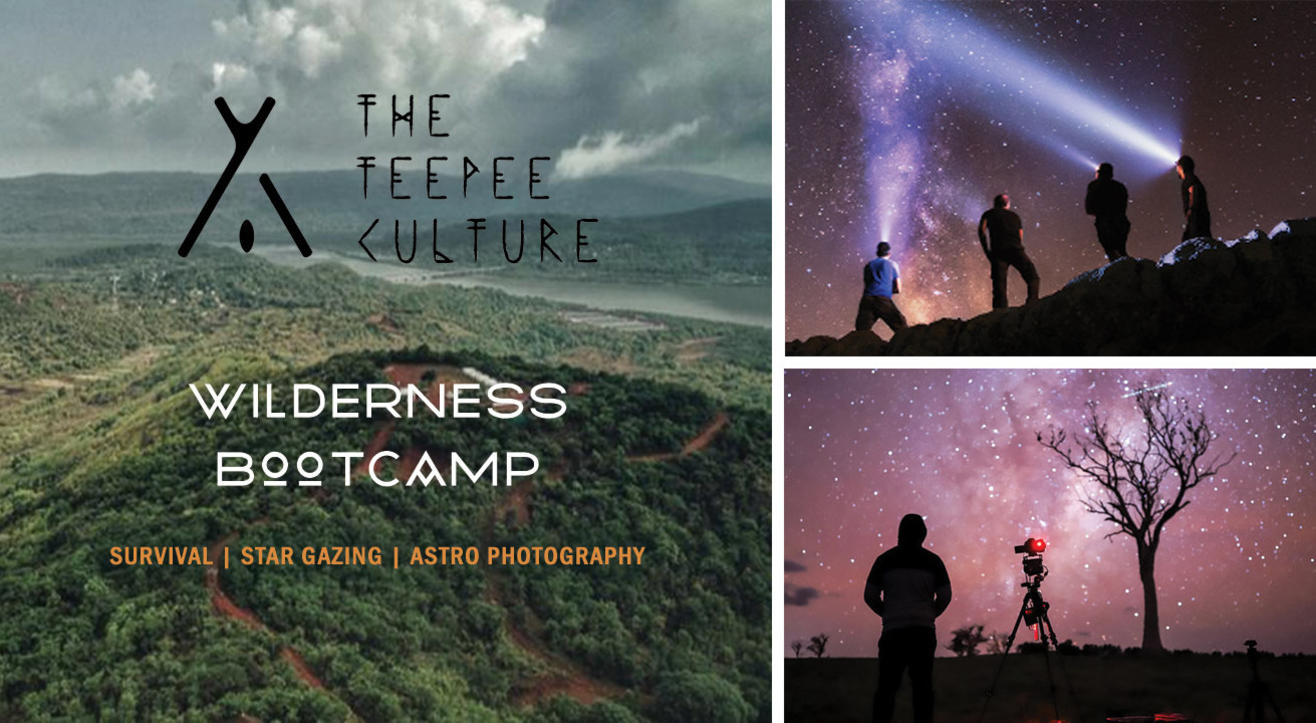 The Teepee Culture – Wilderness Bootcamp
Jan 25-27 | Feb 02-03 | Feb 09-10
Invite your friends
and enjoy a shared experience
Invite your friends
and enjoy a shared experience
About the Event
Loved our 1st edition? Come along for the 2nd and this time - a 300-acre forest experience.
This Teepee edition, brings you an experiential 'Outdoor' community experience with focus on Adventure, Outdoor Sessions, Experiential Workshops, Night trails and Hacks to equip you for your next expedition. Decode 'Survival, Star gazing and navigation and Astro Photography'at this unique boot camp experience designed to make you understand the diversities in nature and make you capable to explore any challenging landscapes.
Through this edition, we look at building a new generation of 'Adventure, Wildlife & Nature professionals' ready to take off on this alternate path.
Join along for our introductory experiences with Survival Basics Bootcamp (25-27th Jan) | Star Gazing & Navigation Bootcamp (02-03 Feb) | Astro Photography and Light Painting Bootcamp - February 2019 (09-10 Feb)
Workshop and master-class fee as described in the event
All meals across the duration of your stay
Camp-stay atop this 300-acre forest land
Guided night trails
Experiential activities and adventure sessions
Taxes
To and fro to the venue
Mineral Water, Soft Drinks, Laundry Charges, Phone Calls, Tips etc.
Any kind of insurance, Medical or/and Emergency Charges
Any extra meals not included in the above itinerary
All cancellations before 30 days of the event date - 100% refund
All cancellations between 20 - 30 days of the event date - 50% refund
All cancellations within 20 days of the event date - No refund possible
What is the Survival Basics Bootcamp?
The Survival Basics Bootcamp is a 3 day curated experience for limited participants to decode 'Survival in the Wild'. Situated 4hrs away at Forest Hills, Tala, this 300 acre forest land is meant to give you a first-hand experience on the basics of survival, adventure and wilderness. Through this experience participants can brush up their skills over backpacking, hiking, survival, wildlife watching and some important hacks to exist out there.

Over two days, participants receive a crash course in extreme survival techniques and get to put these skills into practice whilst hiking across the jungles, climbing rock faces and descending into deep mountain shafts.

What is Star Gazing and navigation Bootcamp?
This overnight 'Star Gazing' experience is designed keeping the Indian enthusiast in mind. With focus on areas of Space Science, Rocketry and Astronomy this short expedition is sure to bring out the next 'Explorer' within you.

What is the Astro Photography & Light Painting Bootcamp?
Astrophotography is a specialized type of photography for recording photos of astronomical objects, celestial events, and areas of the night sky. Besides being able to record the details of extended objects such as the Moon, Sun, and planets, astrophotography has the ability to image objects invisible to the human eye such as dim stars, nebulae, and galaxies. Light painting, painting with light, light drawing, or light art performance photography are terms that describe photographic techniques of moving a light source while taking a long exposure photograph, either to illuminate a subject or space, or to shine light at the camera to 'draw', or by moving the camera itself during exposure of light sources. Practiced since the 1880s, the technique is used for both scientific and artistic purposes, as well as in commercial photography.

Do I need to be a professional in adventure to attend these?
No. Just like your first scuba dive experience, this requires no prior-experience or knowledge. This introductory bootcamp is designed to equip you for your next 'Expedition' or 'Exploration'.
Forest Hills at Tala
Survey no. 157/9, Village-Taraste, Pitasai Kumbet Road, Post-Pitsai, Taluka-Tala, District-Raigad, Tala, Maharashtra 402111
GET DIRECTIONS