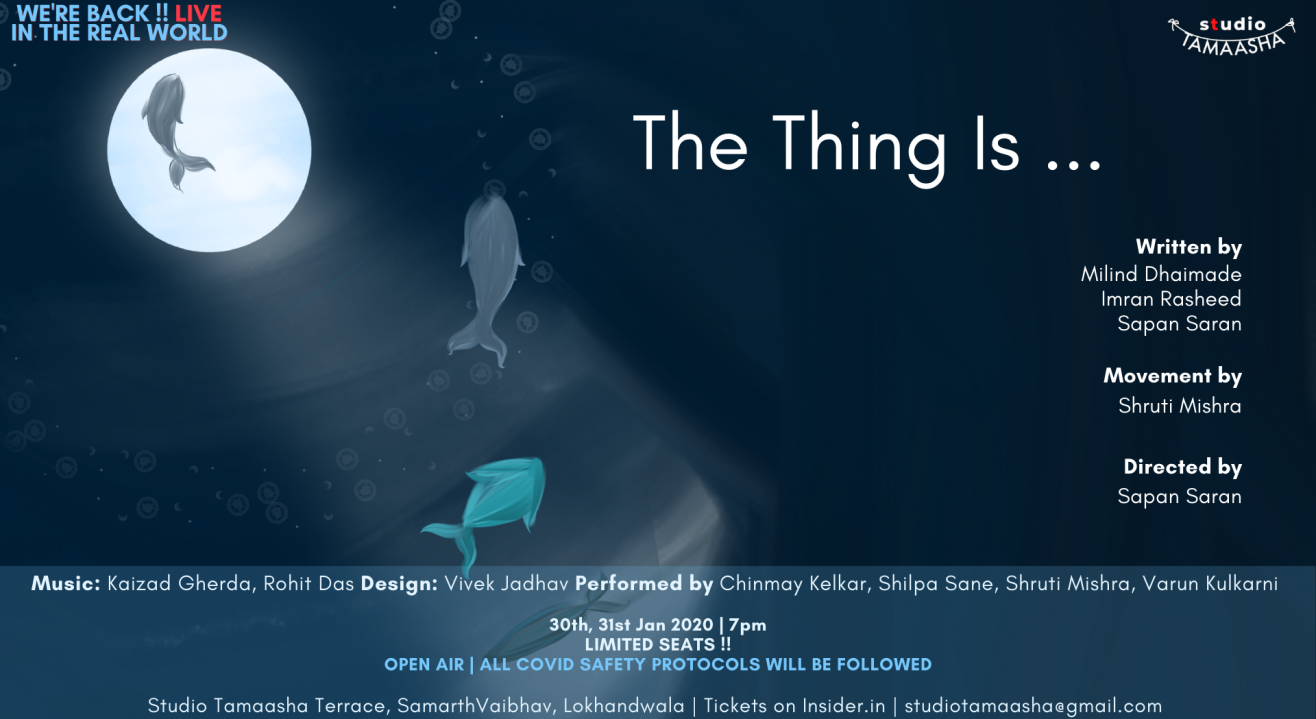 Step out and enjoy this event
Invite your friends
and enjoy a shared experience
Invite your friends
and enjoy a shared experience
About the Event
The thing is ... I wish I could
A wish "sometimes implies a longing, especially for the unattainable …"
And what could be a more apt metaphor for 2020 ? Wishing, hoping.
Three writers explore the idea of wishing through the worlds of three unusual characters. In Sifar an innocent question from a child sends a director on a journey to discover what he really wishes to do with his theatre. In Lekhak Ki Begum the cheerful housewife nurtures fiercely a desire to enter the intellectual world inhabited by her husband. In the Wishful Life of Vishu we see a loser, embittered against the deep injustice of a cynical class divide. Interweaving these three pieces is Bindu, a choreographed piece that explores primeval human longings that are resolute and hopeful.
With the re-opening of live performance spaces, come spend an evening with us on our beautiful open air terrace space at Studio Tamaasha !
TWO SHOWS !!
30th, 31st Jan 2021 at 7pm
Duration: 90 min
Languages: Hindustani, English
Written by:
Milind Dhaimade, Imran Rasheed, Sapan Saran
Directed by:
Sapan Saran
Performed by: Chinmay Kelkar, Shilpa Sane, Sunil Shanbag, Shruti Mishra
Movement by: Shruti Mishra
Music by: Kaizad Gherda, Rohit Das
Soundscape Design: Varun Dhabe, Shivam Shrivastav
Design by: Vivek Jadhav
Production Support: Ganesh Sonavane, Sarthak Chaskar
Project Intern: Ansh Gupta
Tamaasha Associate: Vandana Bhushan
We welcome you back to Studio Tamaasha! We request you to read the following carefully so that we can all enjoy the warmth and excitement of a live performance in safety, and free of anxiety !
1. You are requested to cooperate with all covid safety protocols
2. You are requested to arrive at least 15 minutes before show time so that all safety protocols may be followed.
3. Your temperature will be taken with 98.8 deg. F being the cut off point. If you have been feeling unwell please stay home. You can catch the performance any other time! Your safety and health are more important.
4. Hands must be sanitized before entry. Sanitiser will be provided.
5. Masks will have to be worn at all times before and during the performance. Disposable masks will also be available at Studio Tamaasha.
6. Please maintain distance from other audience members before, and after, the performance. There is enough space on our terrace to allow social distancing.
7. No more than 15 people will be seated to watch the performance.
8. No more than 4 people can use the building elevator at the same time.
9. STRICTLY no late entry. The show will start sharp at 7.05 pm. There will be no entry, for any reason whatsoever, after 7.05 pm. No refund is offered for not being allowed in for being late.

Studio Tamaasha, Mumbai
602, Left Wing, Samarth Vaibhav Business Centre, Millat Circle, Lokhandwala, Andheri west, Mumbai 400102
GET DIRECTIONS