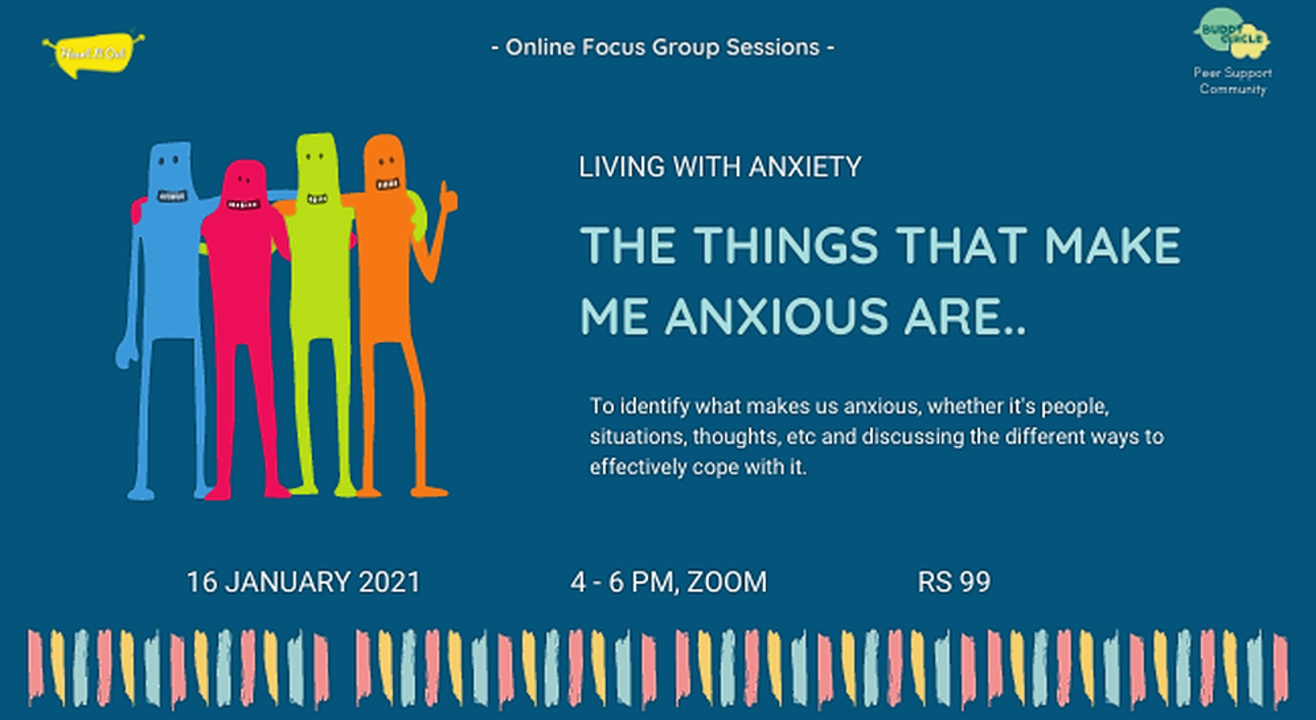 The things that make me anxious are....
Enjoy this event from your home
Invite your friends
and enjoy a shared experience
Invite your friends
and enjoy a shared experience
About the Event
Anxiety is a common feeling that grips each of us from time and leaves us feeling overwhelmed and helpless. It can isolate us from the people we trust and leave us feeling both lonely and helpless. Everyday struggles such as tasks/ assignments to complete, fear of failure, disagreements amongst our friends, and physical exhaustion can lead us to feel anxious. This, in turn, can lead to a lot of uncomfortable feelings. However, by identifying the various causes of our anxiety, we will be able to manage it better and find healthy ways to overcome anxiety.
Everyone is bound to feel anxious from time to time, and that's alright.
But what causes are anxiety, and why does it make us feel so helpless and overwhelming? You don't have to worry about figuring this out alone! Heart It Out, a mental health and well-being initiative in Bengaluru is having an online focus group session as part of our peer-support network for mental health, The Buddy Circle! The whole idea is to provide a safe and non-judgemental space where you can share your experiences and extend and receive support from others facing similar challenges. This can help you realize that you are not alone in your struggles!
In this session, we will seek to identify what makes us anxious, whether it's people, situations or thoughts, and see how we can overcome these and learn to cope with them. Let's receive support, as well as, extend our support to others struggling with the same or different triggers and symptoms of anxiety, and overcome it together. It will be a small group of people who are all there to hear you out. All you need to bring is yourself, a notebook/paper, a pen or pencil, some colour pencils, water and an open mind! We look forward to having you with us. Come Heart it Out; it's a safe space.