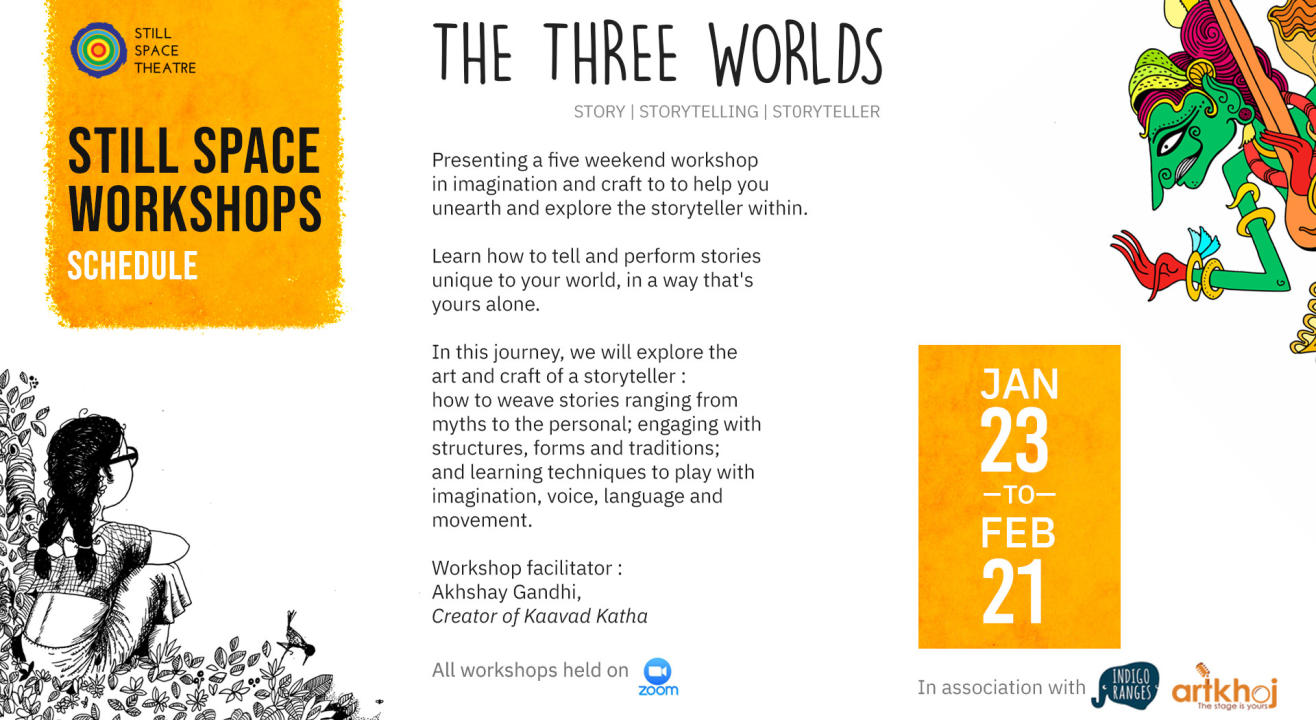 The Three Worlds - Online Storytelling Workshop
January 23 | 6PM - February 21 | 9PM
Enjoy this event from your home
Invite your friends
and enjoy a shared experience
Invite your friends
and enjoy a shared experience
About the Event
A 5 weekend (13 sessions) workshop for the storyteller in you. A journey through Stories, Storytelling & Storyteller.
____
Course details:
This course has been designed as a journey for each individual to explore the storyteller within themselves. It will enable you to give voice to your stories, in a way that's distinctly yours.
Dive with us to explore:
- Craft of a performer,
- Ocean of Stories &
- Storyteller in you.
____
23rd Jan – 21st Feb 2021
Sat-Sun: 6-9 PM IST
10 group sessions
3 individual sessions
____
1. Every week we will work on a different kind of story. Stories from folk tales, ancient myths, personal experiences, events & personalities and all kinds of stories present around us in newspapers, in conversations, in social media posts etc.
2. Working with Voice: Voice work includes intricate working between breath, body & mind. Over the course, we shall discover & develop a relationship with voice which could enrich the experience of the story and bring depth.
3. Working with Imagination & Energy: What makes the storyteller powerful is her/his capacity to articulate & communicate the infectious energy and live honestly through the story world.
4. In a supportive environment of feedback & learning, participants shall research & practice stories that move them and through the unique use of storytelling elements & structures share the story with us.
5. Weaving stories: Alongside techniques, we shall cultivate our creative muscle to imagine new stories set in our own mythical landscape.
6. Applying storytelling: Together we will discover how sharing stories could be about entertaining, educating, inspiring a change, communicating ideas and connecting with people in multiple contexts.
7. As a growing community, we work together as a group, continue to be part of each other's journey and share stories.
______
The Three Worlds, is designed & facilitated by Akhshay Gandhi. This brings together his research in storytelling over past 4 years along with his collaborator Rohit Bhasi (Visual Artist).
His work on Kaavad storytelling tradition has been a journey into drawing inter-relation between Folk, Stories, Symbols, Rituals, Story-structures, modernity and Performer's craft. The course is also designed as a journey for each individual to explore storyteller with-in themselves.
__
About Facilitator:
Akhshay Gandhi is an artist-practitioner based in Bangalore, India. He works as Director, Actor & Facilitator-Researcher in the field of Theatre & Performance. Invited Speaker at TEdX, Economic times Summit, 505 circle and other formal- informal platforms. His work has been performed at venues such as Stanford University, UCLA, Spoken Festival, Mumbai International Storytelling festival to name a few.
He is an alumni of 'SITI Company' (New York) & 'Odin Teatret Laboratory' (Denmark).
____
For any queries, feel free to reach out to us on 7829765688 or 8971492903