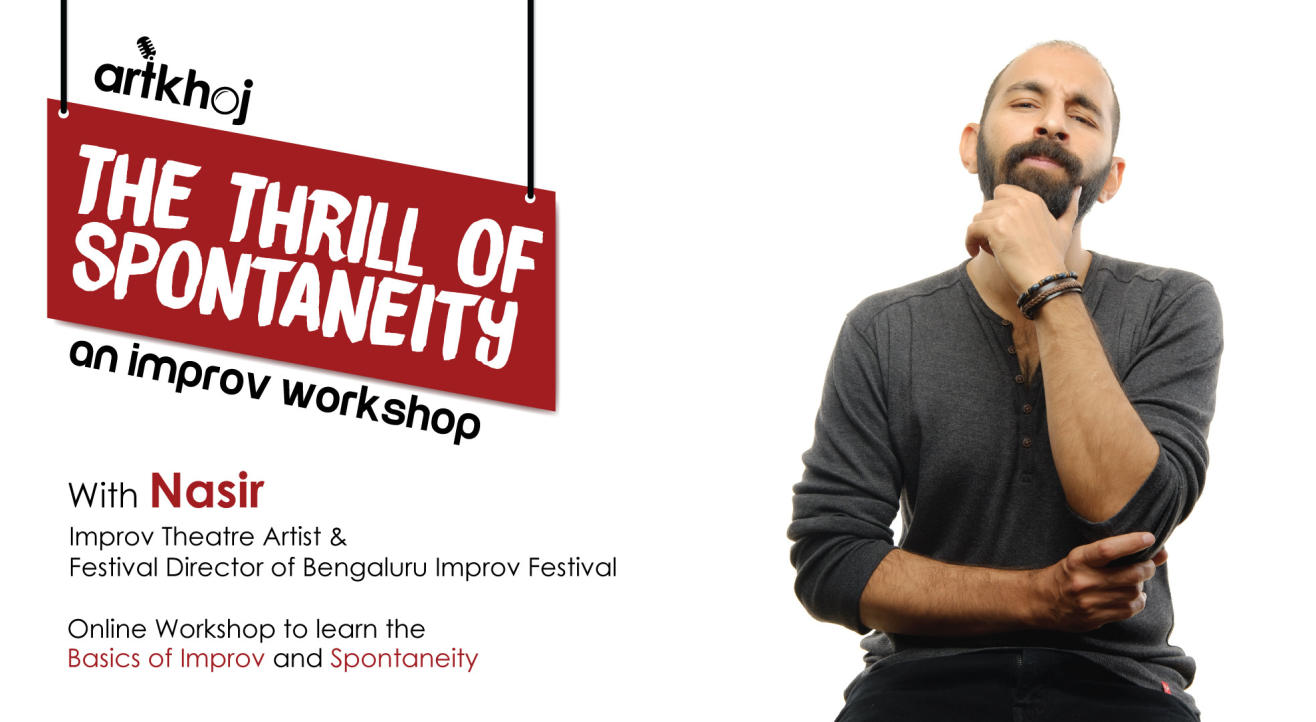 Arts and Theatre
The Thrill of Spontaneity - An Online Improv Workshop by Artkhoj
About
The word 'Improv' is exactly what it means - to improvise. In this 2 hour workshop learn what goes behind an improv performance and how we can graciously embrace the unplanned nature of moments in our lives to create spontaneous magic.
No prior experience is required.
Improv as an art form is not only a terrific skill for the stage but it applies beautifully to life too.
Some of the key areas we will focus on by playing a series of fun improve games are:
- Overcoming self-judgment
- Listening to our impulse
- Complimenting another's idea
- Improvising stories on the spot
Who can attend:
Theatre Artists
Working Professionals
Life Coaches
Public Speakers
Teachers/Professors
and everyone willing to learn something new.
About the facilitator:
Nasir is the cofounder of ICB an Improv Theatre Company and has been its Artistic Director for 5 years. He is also the Festival Director of the Bengaluru Improv Festival India's first and only Improv festival.
In his 10 years of Improv experience Nasir has performed in over 100 Improv shows across Bangalore Mumbai Goa Hyderabad Chennai and Ahmedabad. He has been training beginners in Improvisation since 2013 and has taught an extensive 50-hour intensive program.
He has also brought Improv in the form of workshops and stage shows to corporates namely Google Uber IBM Philips Paperboat among others. Apart from this Improv-heavy introduction Nasir is a practicing movement artist a reasonably fine keyboardist an ultra-marathon runner and a parent to a handsome little cat.
Improv/ Teaching Philosophy:
At the fundamental core of any art the purpose of it is to help one discover a little bit more about themselves. That goes the same for his standing with Improv and how he presents it to anyone who practices it with him.
About the Workshop:
The workshop will be conducted online through Zoom platform.
The link to join the workshop will be shared on the day of the workshop
Anyone over the age of 16 is welcome
About the Organizer:
Artkhoj is an aggregator of artists hosts vendors and art institutes across the country. Artkhoj provides opportunities to artists from all the genres thus helping them pursue their passion.
Artkhoj also helps hosts (corporate colleges apartments etc) find the right talent/artists for their requirements thus making the event experience smooth and fun.
Feel free to reach out to us if you also want to book an artist or conduct a workshop.