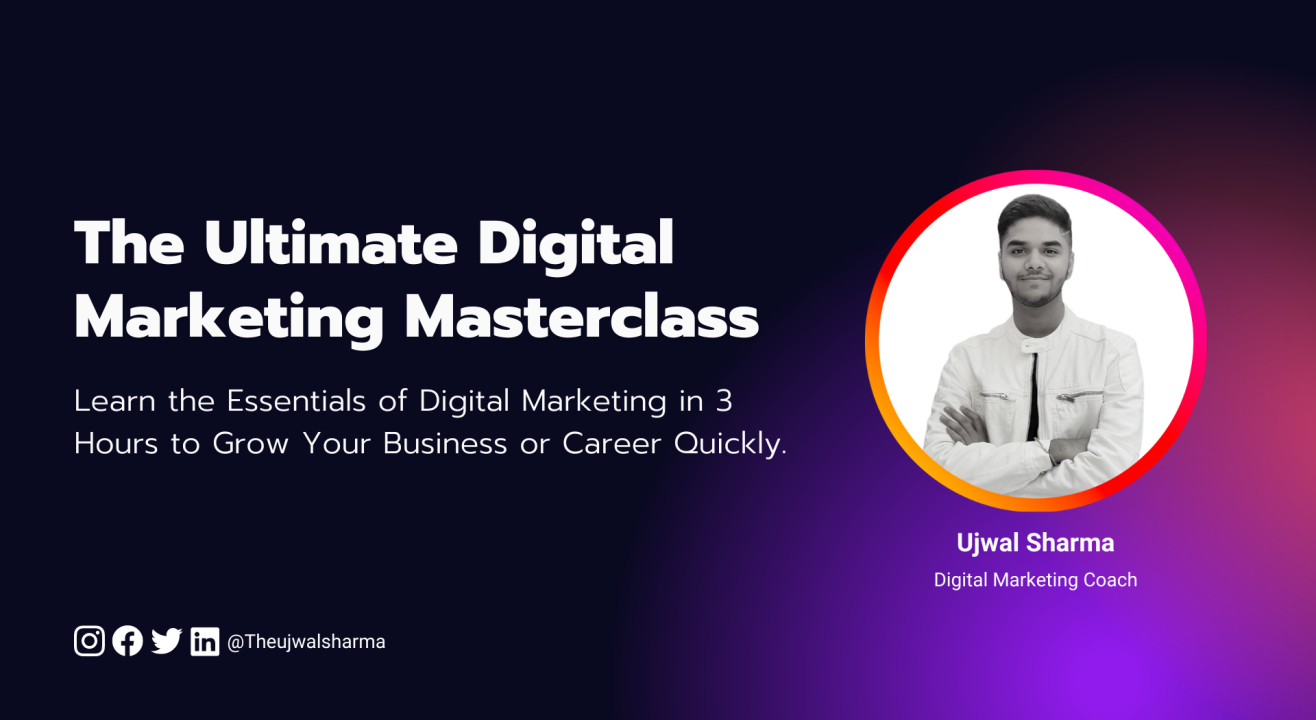 The Ultimate Digital Marketing Masterclass
Enjoy this event from your home
Event Guide
For Age(s)
Family Friendly
Invite your friends
and enjoy a shared experience
The Ultimate Digital Marketing Masterclass
Enjoy this event from your home
Event Guide
For Age(s)
Family Friendly
Invite your friends
and enjoy a shared experience
Event Guide
For Age(s)
Family Friendly
Invite your friends
and enjoy a shared experience
Are you ready to take your business or career to the next level? Look no further than The Ultimate Digital Marketing Masterclass!
In just three hours, you'll learn the essentials of digital marketing and how to use them to grow your business or advance your career. You'll gain a comprehensive understanding of the different types of digital marketing, including search engine optimization, social media marketing, and email marketing.
Masterclass Overview
The Ultimate Digital Marketing Masterclass is a comprehensive Masterclass designed to teach you the essentials of digital marketing in just three hours. This masterclass is perfect for anyone looking to grow their business or advance their career in the digital marketing field.
The Masterclass begins with an introduction to digital marketing and what it is. We will also cover the differences between digital marketing and traditional marketing, so you can understand the advantages of digital marketing over traditional methods.
Next, we will dive into the different types of digital marketing, including Search Engine Optimization (SEO), Social Media Marketing, Affiliate Marketing, Email Marketing, Content Marketing, Search Engine Marketing (SEM), and Influencer Marketing. You'll learn the ins and outs of each type of marketing and how to use them effectively to reach your target audience and achieve your goals.
We'll also cover the benefits of digital marketing, including the positive impact it can have on small businesses. You'll learn how digital marketing can help small businesses reach more customers and grow their businesses.
Finally, we'll discuss the growing digital marketing career opportunities in India. You'll learn about the different roles and responsibilities of digital marketers and the skills you'll need to succeed in the field.
Who can attend this Masterclass
This digital marketing masterclass is open to anyone regardless of their background. Whether you're a housewife, working professional, student, retiree, entrepreneur, or anyone else with an interest in developing a career in digital marketing, you are welcome to enroll.
Free Gifts Worth Rs. 5000/-
But that's not all! As a special bonus, all participants will receive free gifts worth Rs. 5000/-. This is a once-in-a-lifetime opportunity to learn from the best and get ahead in the digital marketing world. Don't miss out on this chance to level up your skills and take your business or career to new heights.
Join us for the Ultimate Digital Marketing Masterclass and take your business or career to the next level!
About the Coach
Ujwal Sharma is an Award-Winning entrepreneur, investor, and digital marketing coach from India. He is the Founder and CEO of Uzi World Digital, one of the country's fastest-growing digital marketing and PR solutions firms. Ujwal is also the founder and editor-in-chief of Empire Weekly, an internationally recognized internet news publishing company.
With over 6 years of experience as a digital marketing specialist, Ujwal has a proven track record of helping companies increase their online presence. He has received numerous awards, including the India 500 CEO Awards 2022 and The Indian Achievers' Award 2020, and is widely considered to be one of the most influential CEOs in India.
As a digital marketing coach, Ujwal has conducted over 100 masterclasses and webinars, sharing his expertise with others and helping them to achieve their goals. He is dedicated to helping businesses succeed in the online world and is always on the lookout for new and innovative ways to drive results for his clients.
Need Help?
If you have any questions or concerns about the masterclass, please email events@uziworlddigital.com
You may not be able to join the live experience if you are late.
This Masterclass will be streamed live on Zoom or Google Meet.
Upon registration for the masterclass, you will receive a link to join our WhatsApp group. The link to attend the masterclass will be shared in the WhatsApp group.
The event may have interactive elements and will involve participation from the audience.
The ticket holder grants the organizer the right to use, all or any part of the recording for promotional purposes.
The recording of the stream will not be shared even in case of non-attendance.
Any misbehavior within the comments/chat section or use of profanity towards the artist, host or attendees will not be tolerated.
You may face interruptions during the course of the live stream due to internet connectivity issues.
The Ultimate Digital Marketing Masterclass
Enjoy this event from your home
Event Guide
For Age(s)
Family Friendly
Invite your friends
and enjoy a shared experience