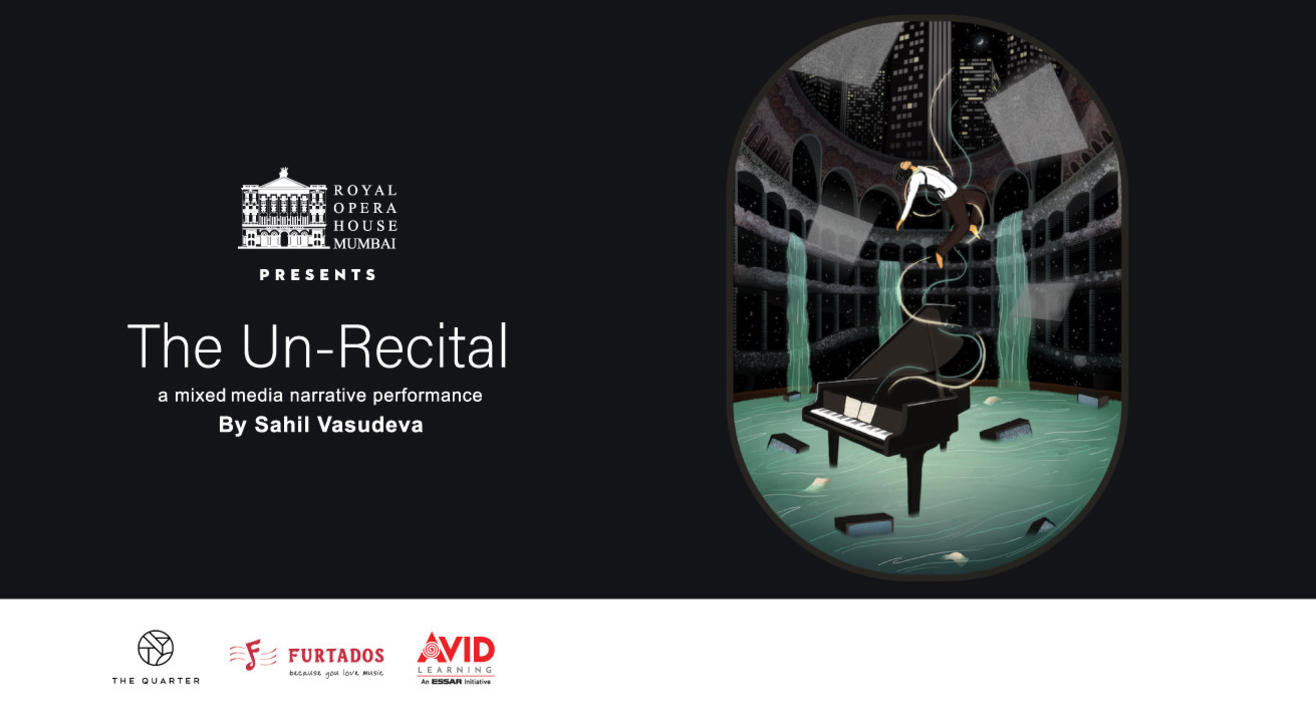 The Un-Recital by Sahil Vasudeva
The Royal Opera House, Mumbai, Mumbai
Invite your friends
and enjoy a shared experience
The Un-Recital by Sahil Vasudeva
The Royal Opera House, Mumbai, Mumbai
Invite your friends
and enjoy a shared experience
Invite your friends
and enjoy a shared experience
Royal Opera House, Mumbai, supported by Avid Learning and Furtados, proudly presents one of India's most talented young classical musicians, Pianist Sahil Vasudeva who is widely credited with bringing the piano out of conventional spaces into performance art.The Un-Recital looks at his journey as a musician juxtaposed with the chaos of the Capital, the city he calls home. Accompanied by mixed media and an introspective narrative, the performance breaks away from a traditional recital to offer classical music within a personal context. The performance will include work by Rachmaninov, Chopin, Tchaikovsky, Philip Glass, Schumann, Debussy, Satie, and his own compositions.
Sahil studied piano under Dr. Nelson Harper at Denison University, Ohio (2004-2008) and with Irina Biryukova in New Delhi (2012-2015). He was selected from a national pool of pianists to perform at the Young Talent Concert Series at NCPA, Mumbai (June 2015) and has since been performing regularly across leading venues in the country. He was studying under Late John Raphael at the Delhi School of Music.

He has performed in leading venues across the country. Notable venues are the Royal Opera House Mumbai, NCPA Mumbai, India International Centre, Oddbird Theatre, Institute of Cervantes (Delhi), Exhibit 320, Alliance Francais, Piano Man Jazz Club, Depot 29/48, Australian Embassy, NGMA Bangalore, TIFA (Pune), and several art exhibitions and galleries, to name a few. He has also composed for independent film, documentary, TV commercials, art installation and performance art.

Sahil is one of the few local musicians performing western classical music in India. He wishes to revive the dying art of solo piano performance, share the depth and his passion for classical composition.
Established in 1865, Furtados has always been a leader in the field of Western music education and knowledge in India. From musical instruments & accessories to print music and digital equipment, having a complete spectrum of musical instruments in the Western and Indian categories. Furtados has grown into a household name in the music business and are spread across Mumbai, Pune, Delhi, Chandigarh, Bangalore, Ahmedabad, Mangalore, Dimapur, Panjim and Margao. It has a growing retail network (17 showrooms) and over 350 dealer outlets. Furtados also holds a record number of international dealerships for top-of-the-line brands in music. www.furtadosonline.com is the quintessential Musical Instruments e-commerce site for India. In January 2011, Furtados launched a publishing joint venture with one of the world's leading music book publishers, Music Sales Ltd, UK. Music Sales Furtados (India) Pvt Ltd, is focused on publishing Indian editions of best-selling Music Sales books and special local content. Furtados School of Music (www.fsm.net.in) was launched in June 2011 to provide quality and organized music education to students and aspiring musicians across India. With the help of a path breaking international curriculum for the Piano, Keyboard, Guitar, Drums and Violin, they have been able to bring music to and currently teach over 25,000 students in over 70 points of presence. Furtados invests in developing musical knowledge through training workshops, master classes, clinics, demonstrations and exhibitions, and the sponsoring of local talent and artistes. Furtados also invests in community development and supports several organizations across the country, including school and college events, musical activity in religious and charitable organizations, festivals as well as social upliftment projects involving a musical element.

Avid Learning, a public programming platform and cultural arm of the Essar Group, has conducted over 900 programs and connected with more than 100,000 individuals since its inception in 2009. Driven by the belief that Learning Never Stops, AVID's multiple formats like Workshops, Panel Discussions, Gallery Walkthroughs, and Festival Platforms create a dynamic and interactive atmosphere that stimulates intellectual and creative growth across the fields of Culture & Heritage, Literature, Art and Innovation.

The Royal Opera House, Mumbai is widely touted as Mumbai's Cultural Crown Jewel and India's only surviving Opera House. The original idea for the space was conceived of in 1908, inaugurated in 1911 by King George V, and eventually completed in 1916. The design incorporated a blend of European and Indian detailing. The space became a cinema in later years before falling into disrepair and shutting by the 1990s. Fittingly, the space has been owned by the Royal Family of Gondal since 1952 and was eventually restored by conservation architect, Abha Narain Lambah under the leadership of His Highness, Maharaja Shri Jyotendrasinhji of Gondal. The Royal Opera House Mumbai, now one of the last remaining Baroque structures in the city, reopened after 23 years in October 2016. The building was included on the 2012 World Monuments Watch to raise awareness about its history and significance, and support preservation efforts. The building has since been recognized with an Award of Merit in the 2017 UNESCO Asia-Pacific Awards for Cultural Heritage Conservation. The restored facilities feature a 575-seater 3-level auditorium with an orchestra pit and state of the art technological upgradations, including acoustics, stagecraft, lighting and air-conditioning, alongside retaining the old world charm of the proscenium stage, the royal boxes and the magnificent regal chandeliers. Some more enhancements to the venue include a motorized screen, co-axial ceiling speaker system, Four-zone volume control and all round wifi access. Today, it stands as a key performance and creative hub in the city's cultural landscape, while being a premier heritage landmark. Facebook: MumbaiOpera Twitter: @MumbaiOpera Instagram: @mumbaiopera

The Quarter
The Quarter, the city's newest cultural headquarters comprises four distinct venues situated at the iconic Royal Opera House. Live at The Quarter (a live music venue), Drink at The Quarter (a cocktail bar), Café at The Quarter (an all-day café). The venues are a collaboration between four partners who have all contributed to the rise of the city's cultural scene - legendary musician Ranjit Barot, musician and entrepreneur Ashu Phatak (of Blue Frog and True School of Music), restauranteur Nico Goghavala (of Nico Bombay and Farmer & Sons) and businessman and investor (he's invested in Cafe Zoe and other restaurants) Nakul Toshniwal.
The Royal Opera House, Mumbai
Mathew Rd, Charni Road East, Opera House, Girgaon, Mumbai, Maharashtra 400004
GET DIRECTIONS
The Un-Recital by Sahil Vasudeva
The Royal Opera House, Mumbai, Mumbai
Invite your friends
and enjoy a shared experience