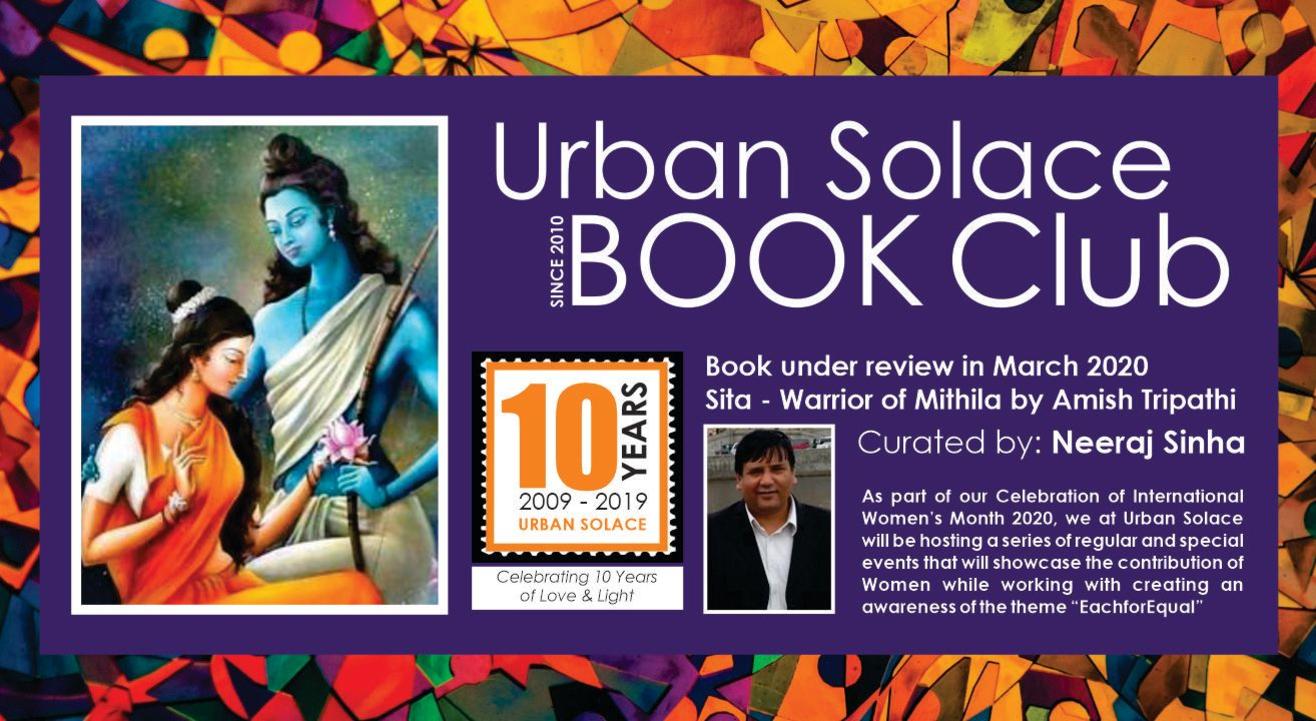 Books
The Urban Solace Book Lovers' Club - March 2020 Meet
About
Book under review in March 2020 - Sita - Warrior of Mithila by Amish Tripathi
ABOUT THE AUTHOR: Amish Tripathi
Amish Tripathi born in 1974 is an Indian diplomat, columnist and author, known for his novels The Immortals of Meluha, The Secret of the Nagas, The Oath of the Vayuputras, Ram: Scion of Ikshvaku, Sita: Warrior of Mithila and Raavan: Enemy of Aryavarta. The first three books collectively comprise the Shiva Trilogy and the latter three are the first three books of the Ram Chandra Series which is going to be a collection of five books. The Shiva Trilogy was the fastest-selling book series in Indian publishing history while the Ram Chandra Series was the second fastest-selling book series in Indian publishing history.
In 2017, Amish launched his first non-fiction book called Immortal India. Gautam Chikermane of Swarajya Magazine says "Amish's influence goes beyond his books, his books go beyond literature, his literature is steeped in philosophy, which is anchored in Bhakti, which powers his love for India".
Amish's 7 books have sold over 5 million copies in the Indian subcontinent since 2010. Forbes India has ranked Amish among the top 100 celebrities in India in 2012, 2013, 2014, 2015, 2017 and 2018. Amish has been listed among the 50 most powerful Indians by the India Today magazine in 2019. Amish was also selected as an Eisenhower Fellow, an exclusive programme for outstanding leaders from around the world. He is also the first author in Indian publishing history to have all 6 of his fiction books simultaneously in the top 10 of the HT-Nielsen Bookscan national bestseller list for 4 weeks in a row. BBC has called Amish's writing "gripping and unputdownable".
ABOUT THE BOOK: Sita - Warrior of Mithila by Amish Tripathi
Sita - Warrior of Mithila is a fantasy book by Indian author Amish Tripathi which was released on 29 May 2017. It is the second book of the Ram Chandra Series. The Series is a retelling of the most famous epic of India, the Ramayana. Each book in the series focuses on one important character of the Ramayana. Sita: Warrior of Mithila focuses on the story of Sita.
ABOUT THE CURATOR: Neeraj Sinha
Neeraj is a regular member of Urban Solace Book Lovers' Club. He loves reading but can't claim to be an avid reader. He reads whenever he gets time especially during his official travels. He reads books in almost all genres but his favourite genres are mythology, history, travelogues and thriller. His personal favourites are 'The Mahabharata', 'The Last Mughal', all stories of Arthur Conan Doyle and the Millennium trilogy. Professionally he works in an IT company as a capital market domain expert.
Venue
Urban Solace, Bangalore
32, Annaswamy Mudaliar Rd, Ulsoor, Bengaluru, Karnataka 560042
GET DIRECTIONS