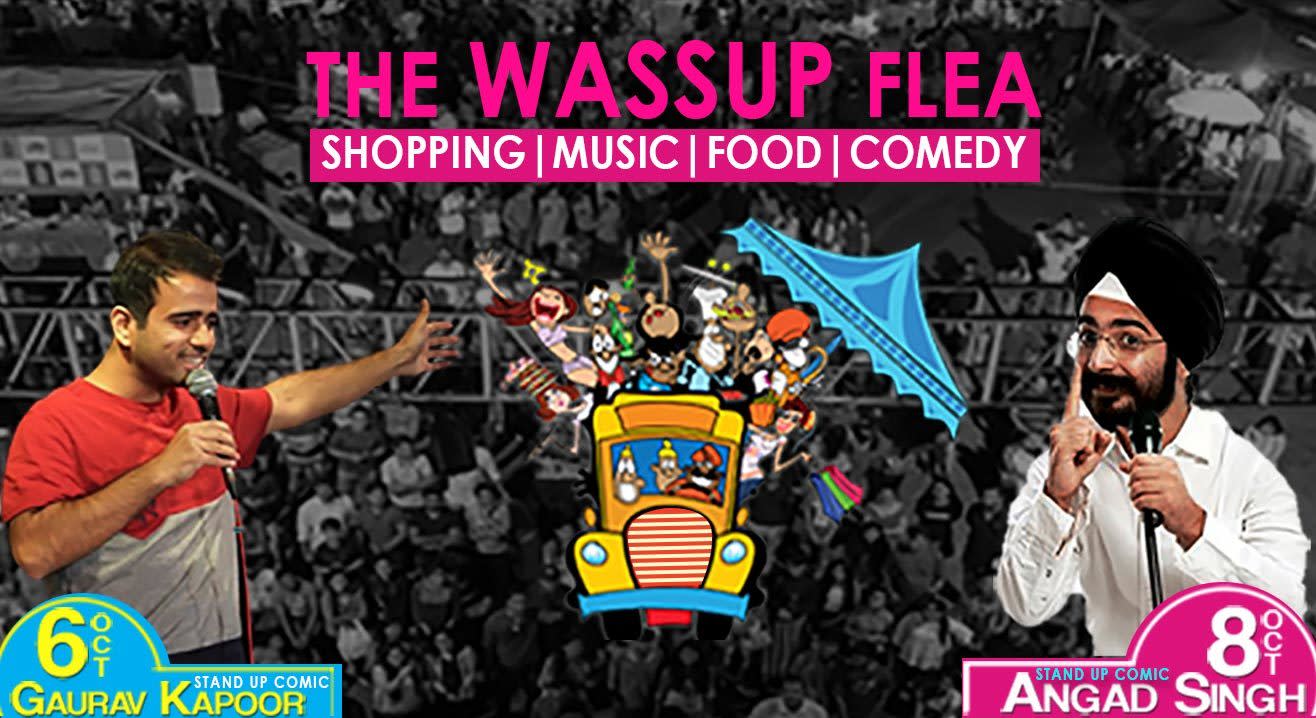 Flea Market
The Wassup Flea, Pune
October 6 - 8 | 3PM & 12PM
About
Wassup Flea is Punes Premier Flea market Carnival featuring the best of Lifestyle Fashion and Quirky Brands hand picked and curated for the Ultimate Shopping Experience. Wassup Flea Started in 2014 is now a Cult Event and one of the most awaited Events of Pune.
With Over 150+ Carefully curated Stalls, Zumba and Salsa Workshop, Drumcircle, Kids Zone and 6 Live bands & A Standup Comedy from different genre of Music create an unforgettable Experience to Enjoy with you Family and Friends
This Edition also Features Two popular Comedians Gaurav Kapoor and Angad Sing Ranyal Performing on Day 1 and Day 3 Respectively
Gaurav Kapoor
Angad Sing Ranyal
Malang the Band
Neele Noorani
Balalaika
Gaurav Kapoor
A journalist by qualification, Gaurav Kapoor is another by-product of the famous Bollywood Kapoor family. Just kidding. The comedian is a sweet Delhi boy who does what he is expected to – hold a respectable job (he has one in retail) and make people laugh when needed (his secret profession). His razor sharp wit and candid humor lead him to win almost every open-mic he has ever participated in (yes, he is that good), including the Big Mic, Canvas Laugh Club, Chalta Hai and Buzz Off. So good that he opened for the world famous comic Russell Brand on his Indian tour. His favorite topics to talk about on stage are Jaat culture, people who buy Royal Enfields and poverty (mostly his own), a variety that makes the Indian audiences fall in love with him. And with his recent spelling change (Kapur to Kapoor), he has got all the validation he needs, and is ready to take over the world.

Angad Singh Ranyal
Born intelligent, Angad Singh Ranyal figured out the key to a successful life and career early on in life. Get the most coveted qualification possible (he has an Engineering degree, along with an MBA), and then go on to make jokes about it for the rest of your life. Angad has been hailed as one of the most promising comedians in the Indian comedy scene, having performed more than 500 shows and at 150 corporates across 17 cities in India. His comedy has also taken him to international cities like Singapore and Malaysia. A member of the popular comedy collective East India Comedy, the comic is regularly featured in shows like EIC Outrage and also writes for specials like Comedy News Network.
Venue
Vrindawan lawns, Pune
Sakal Nagar, Opp Nexa Showroom, Near Abhimanshree Society, Pune University Road, Aundh, Pune 411008