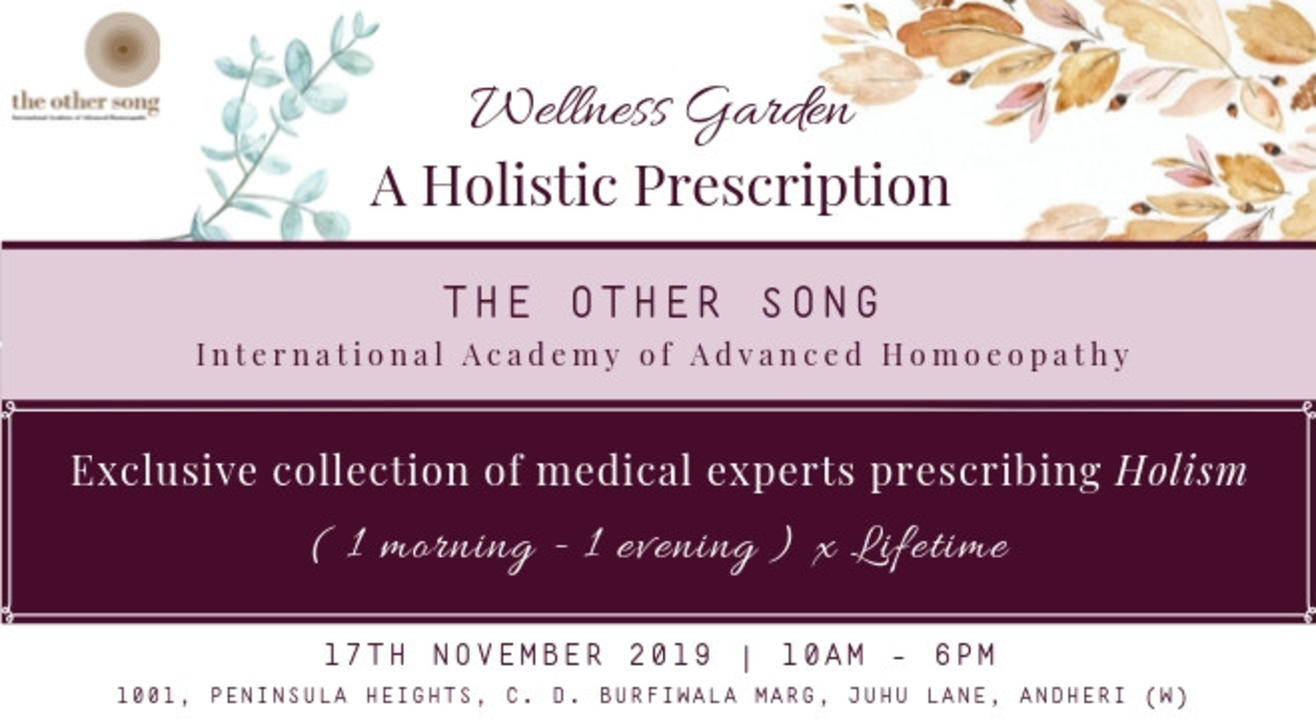 Health
The Wellness Garden by the other song
About
The Wellness Garden 2019 is a multidisciplinary event @ the other song which will focus on a holistic approach to good health and well being.
The speakers at the event will be comprising of imminent and highly respected personalities from the Medical and Nutrition field like Dr. Rajan Sankaran,Dr.Divya Chhabra, Dr. R.K. Anand, Vinita Contractor, Dr. Shradha Shah, Dr Snehal Deshpande as well as the multifaceted and very gifted theater personality Sukrit Sharma and our in house super duper flexible yoga guru -Ms Anuskha Malao.
Expert Seminars
There will be multiple talks on - Parenting, Nutrition, Women's health, Children's health and other general medical disorders plaguing our society today.
Adult Workshops
You will also get free access to an exclusive session on the importance of good sleep referred to as "Sleep - A - Thon" and a relaxing and refreshing in-person yoga experience along with an opportunity to experience Art Therapy by the very talented Amrita Sethi , learn some yummy healthy recipes at the cooking workshops and hands - on training in gardening too.
KidsZone
The Children will have a complete zone dedicated only to them - with activities such as storytelling, best out of waste workshops, kid's yoga, colour therapy and gardening.
Marketplace for Plant based foods and eco-friendly products
And a lot of shopping too!! An entire vary of healthy, organic, eco-friendly and whole food plant based products will be on display for purchase.
Highlight of the festival - Musical Evening
The Rhythm of Health with Dr Rahul Joshi and Meditation with Music with the one and only Dr Rajan Sankaran.
The Wellness Garden 2019 is perfect for kids & adults looking for a little guidance to make sustainable, healthy lifestyle changes. We look forward to having you over at the other song to experience wellness firsthand only on 17th November,2019 10 am onwards.
Venue
The Other Song
1001, Peninsula Heights, C. D. Burfiwala Marg, Juhu Lane, Andheri (w), Mumbai
GET DIRECTIONS