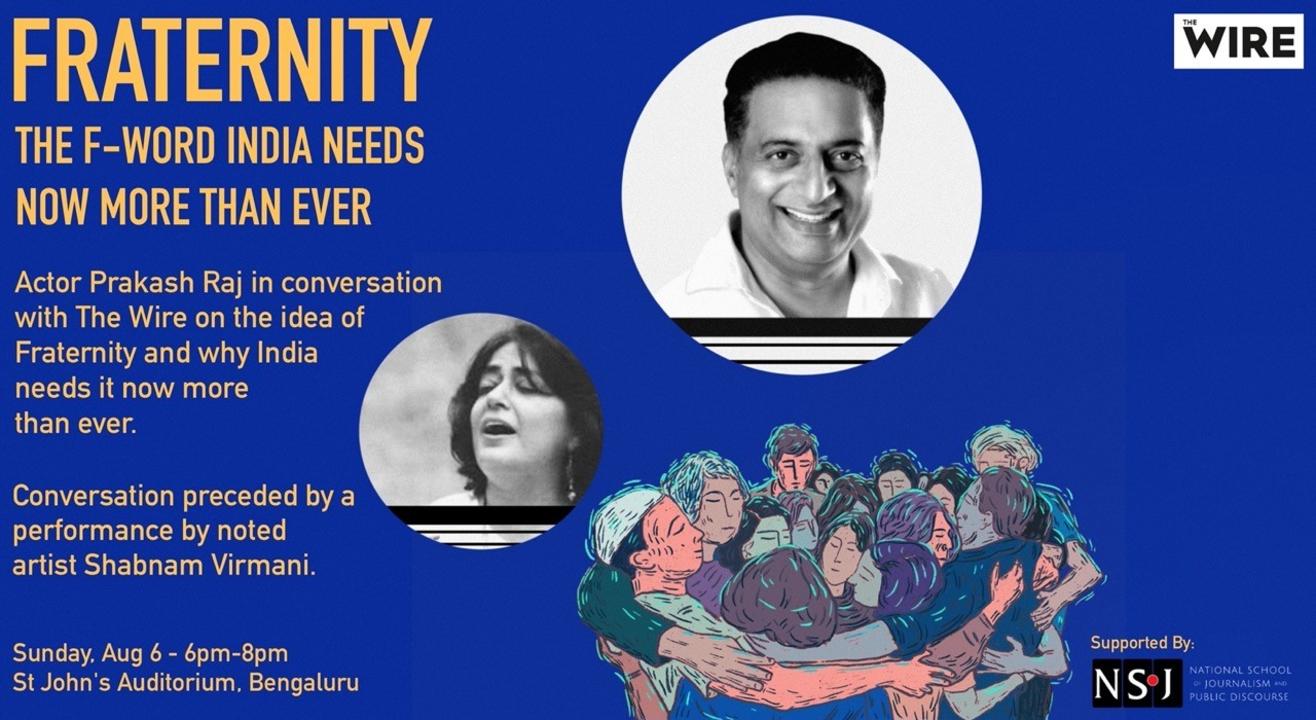 St. John's Auditorium, Bengaluru
Event Guide
Language
English, Hindi, Hinglish, Kannada
Live Performance
Enjoy a unique experience
Invite your friends
and enjoy a shared experience
St. John's Auditorium, Bengaluru
Event Guide
Language
English, Hindi, Hinglish, Kannada
Live Performance
Enjoy a unique experience
Invite your friends
and enjoy a shared experience
Event Guide
Language
English, Hindi, Hinglish, Kannada
Live Performance
Enjoy a unique experience
Invite your friends
and enjoy a shared experience
THE F-WORD INDIA NEEDS NOW MORE THAN EVER
The Wire Dialogues is back and this time we bring the carnival of free-wheeling expressions to Bengaluru!!
The Constitution promises the people Justice, Liberty & Equality but also the promotion of FRATERNITY among them all.
In this edition of The Wire Dialogues we explore, celebrate and defend the idea of Fraternity - a principle, a feeling, a state of mind, an outlook – which assures both the dignity of the individual and the unity of India, with noted actor and political activist Prakash Raj.
The five-time National Award winner will be in conversation with The Wire's Editor Seema Chishti on why India needs to understand and embrace the idea of Fraternity, a constitutional ideal, now more than ever.
As with all the past editions of The Wire Dialogues you can expect the conversation to be no-holds barred where the guests speak boldly and express their views fearlessly.
The conversation will be followed by a round of Q&A with Prakash Raj as well as the founding editors of The Wire, Siddharth Varadarajan and MK Venu
The evening will be kicked off by noted artist and singer Shabnam Virmani, who will enthrall you with her rendition of compositions by Kabir.
About the Participants
Prakash Raj is polyglot and a renowned and much awarded film and theatre personality. He is also a political activist who has walked the talk and contested the 2019 Lok Sabha election from Bangalore Central Lok Sabha constituency. His #justasking tweets have always raised sharp and pointed questions of those in positions of power
Shabnam Virmani is a documentary film maker and artist in residence at the Shristi School of Art, Design and Technology. She is also the co-founder of the Drishti Media Arts and Human Rights collective, She has performed Kabir's compositions in Rajasthan Kabir Yatra - a six-days long folk music festival and in Jashn-e-Rekhta.
Seema Chishti is a journalist with decades of experience in radio, print and digital journalism. She helms the day-to-day operations at The Wire as its Editor and is responsible for the hard-hitting and credible journalism that you associate with The Wire.
Supported by: National School of Journalism and Public Discourse, Bengaluru
Gates will open at 17:00
Tea and refreshments will be served to all between 17:00 and 18:00
The first performance will start at 18:00
Please abide by the rules of the auditorium
St. John's Auditorium
WJJC+JP8, 18th Main Rd, John Nagar, Koramangala, Bengaluru, Karnataka 560034, India
GET DIRECTIONS
St. John's Auditorium, Bengaluru
Event Guide
Language
English, Hindi, Hinglish, Kannada
Live Performance
Enjoy a unique experience
Invite your friends
and enjoy a shared experience