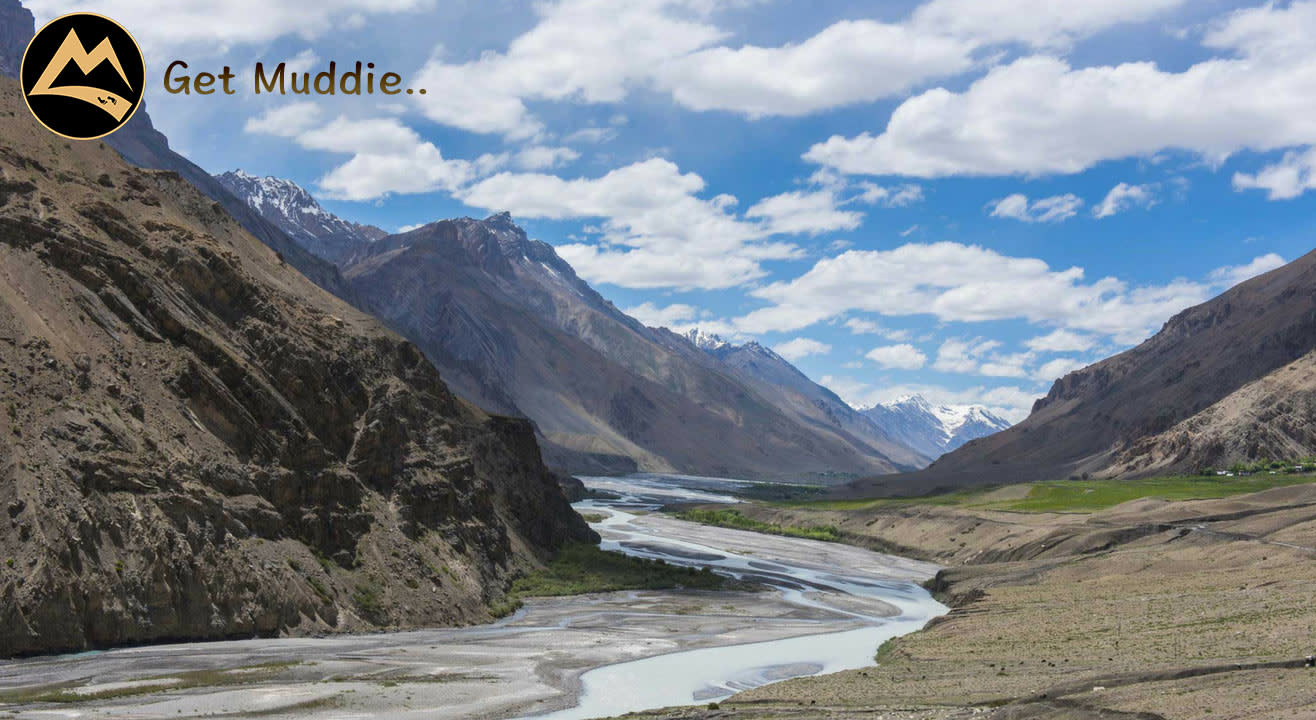 Experiences
The Wonderland - Spiti Valley Road Trip | Muddie Trails
July 28 - August 4 | 11AM
Arrival Terminal - Chandigarh International Airport
About
If Spiti Valley is a dream destination for you, it's time to tick it off!
If Spiti Valley is a mystic land that you don't know much about, it's time to witness the heaven on earth yourself!
Muddie Trails presents it's first ever Spiti Valley backpacking trip!
Come! Let's experience the magical world together!
Someone said a picture speaks thousand words..see the video & pics get a sneak peek into Spiti -


Trip Start/End: Chandigarh

Group size: Around 10

Trip Start Date: 28th July 2018 (11 AM)

Transport: Dedicated vehicle - Tempo/Scorpio/Sumo

Trip End Date: 4th August 2018 (5 PM)

Accommodation: Shared Tents/Dorms
Day 1: Saturday, 28th July 2018 - Mountains are Calling!!

Meet at the arrival terminal of Chandigarh Airport before 11AM

Load our Bags into the vehicle and set our Journey to Manali(9Hrs by Road from Chandigarh)

Reach Manali by Evening cool off the fatigue with a sumptuous dinner and overnight stay in Manali in camp/dorm.


Day 2: Sunday, 29th July 2018 A day to Recon with!
Start an early day with a quick breakfast at the campsite and head out to Chandertal after soaking in the breathtaking views of Rohtang la, Chatru and Batal. Overnight stay in camps
Duration: 6-7 hours
Reach Chandratal setup our campsite and slip into wonderful conversations, delicious dinner and loads of fun.
Day 3: Monday, 30th July 2018 - Behold Paradise
After a morning visit to the beautiful Chandertal, today we start our journey towards Kaza in Spiti
Duration: 6-7Hrs
The road takes you through Kunzum la and is one of the most scenic commutes in the world offering breathtaking vistas of waterfalls, snow-clad passes, lush green valleys and high standing mountains
Spend your evening resting and getting acclimatized to the high altitude low oxygen environment
Overnight in Kaza. Of course, fun and entertainment continue.


Day 4: Tuesday, 31st July 2018 Magic of Nature
After breakfast, we leave Kaza to visit the world-renowned Key Monastery and soak ourselves in the glory of selfless simple lives of the monks
From there well head up to visit the ancient village of Kibber. Kibber village is surrounded by high rise peaks and gorges and is a spectacle of natural beauty. Spend your time at leisure in the village, interacting with locals, watching large hordes of mountain cattle like Ibex, Blue Sheep (Bharals), Yaks and strolling around the mountains.
We leave Kibber to visit the villages of Hikkim, Komic and Langza. Overnight in Langza in a homestay.
Day 5: Wednesday, 01st August 2018 When History meets Nature
After a good night sleep today we leave Langza for Tabo village. On the way, we visit Pin valley and Dhankar Monastery, the bulwark of ancient buddhist architecture and the Old Fort that sheltered the
indigenous population throughout history.
Soak in the majestic view of the whole monastery as it is surrounded by a valley and a river from 3 sides (peninsula). Enough opportunities to experiment all forms of photography there is.
After an enlightening experience in Dhankar, we continue to Tabo Monastery, the oldest in the valley. The Gompa houses a collection of ancient murals, paintings and statues and is a treat for any passionate
traveler. Tabo Monastery is famous for its unique design and architecture.<br>Overnight stay in Tabo village.
Day 6: Thursday, 02 August 2018 In pursuit of Culture
After a fresh breakfast at the Tabo homestay/camp, we now straightaway drive upto Nako and then further to Kalpa in Kinnaur.
Duration: 7-8Hrs
Steeped in historical and present-day Buddhist Tibetan culture, the area has many Tibetan Buddhist influences, evident architecturally in monasteries and stupas, and in the daily living of its residents and lamas.
Stay overnight at Kalpa.
Day 7: Friday, 3rd August 2018 When Mountains meet Modernity
Start the day very early and board our vehicles and leave for Shimla via Rampur and Narkanda. Reach Shimla by late evening and spend the evening in the hill station built by the British as their summer capital. Indulging in one of the zillion activities available and pamper yourself with the weekend Buzz.
Overnight stay in Shimla.
Day 8: Saturday, 4th August 2018 Bye Bye Mountains(With a heavy heart)!
Waking up today you will realize that the 8 day journey has finally come to an end. But don't let that upset you for you are taking back a whole bag of memories and innumerable moments that you will cherish for a lifetime
After a late morning breakfast, move straight to Chandigarh
Duration: 3-4 hrs
Return flight from Chandigarh shall be booked after 5PM
Dedicated tour guide throughout the trip

Airport pick up and drop at Chandigarh

All local transport in a dedicated vehicle

All permits and guide fees etc for all scheduled activities.

Basic breakfast, and Dinner.

Accommodation in dormitories/shared tents/camps.
Lunch on all days

Any shopping or personal purchases

Any snacks/aerated drinks/water bottles/beverages etc.

Fees or tickets for any unscheduled activities

Expenses towards repeat of any activities

Any expense that is out of the scope of itinerary

Any fines or duties levied by local authorities for any misconduct

Any fees or charges levied towards your personal photography equipment.

Any exigency purchases made during the stay

Charges towards any medical emergencies during the tour
Valid Identity Proof with an address (Passport / Adhaar Card).

2 Passport Size Color Photographs

Water Bottles(not the disposable ones)

A light-weighted Rucksack or Backpack, and a smaller daypack

Good pair of trekking shoes, and a pair of flip-flops

Thermal Inners

Fleece Jackets and warm clothes

Raincoat/poncho(Just in case)

Personal clothing

Track pants, shorts

Towel, napkins

Cap, sunglasses

Camera, Binoculars (if you choose to)

Toiletries Sunscreen, Moisturiser, Light towel, Lip balm, Wet wipes, Toothbrush, Toothpaste, Hand Sanitiser etc basing on your personal needs.

Extra Polythene Bags (To segregate used/ unused garments, wet/ dry
clothing)

Any medicines that you may feel necessary.

Mosquito repellent

Energy Drinks, Juices, Snacks and Biscuits to munch on (can be purchased on the go too)
Per Person booking: 4,999/-

Remaining 24,000 shall be paid to the organizer before the trip starts.

Weather is usually dry and hot with a temperature range of 20-25Deg C during days and 10-15Deg C during nights and sometimes 5-10Deg C in higher altitudes and passes. Its preferred to carry layers of clothing and a pair of good sunglasses.

As we are embarking on a journey through rugged terrain, Food Choices are relatively limited and the guests may not get to choose the cuisine or have wide array of menu options. The itinerary includes for basic food like Parathas, Roti and Curry, Rice and Curry, Momos, Chowmein and of course Maggi whichever is available in those particular locations.

This road trip is planned ex Chandigarh airport. You can reach Chandigarh directly by air or by road from Delhi.

Every traveler is expected to sign a liability/waiver form before the event.
The "Offbeat" theme of Muddie Trails
Muddie Trails provides real offbeat experiences for the travellers like trekking, adventure activities, camping in tents, bonfire, barbecue, visiting exploring and experiencing the unknown but awesome destinations that are not crowded with tourists.

They do not take travellers to a tourist place unless it is required as a 'filler' in the itinerary between two offbeat places. Travellers are requested to refrain from asking the organizers to take them to ABC temple or XYZ church. The itinerary is already decided and posted based on their offbeat theme. The organizer will only change the itinerary if any place cannot be visited because of unpredictable reasons. If you have a wish list of tourist places to tick off in your mind, then probably Muddie Trails is not for you and hence they kindy request you to not register.
Nobody shall deviate from trek path led by organizers/guide.

During the meetup, Muddie Trails is not responsible in case of any injuries or animal attacks or reptile bites.

Expect the unexpected in case of wild forests like the sudden closing of trek path by govt/forest department(because of wild animal sighting/landslide/some crime), in which case MT may have to cancel the trek (this is very rare - never happened till now). In this case, the organizer will plan for alternate trek/trip. If this is not possible, then Muddie Trails will refund the remaining amount after removing the travel cost.
Travellers are expected to respect each other and help each other.

Avoid discussing sensitive matters like sex, politics and religion/race.

Using foul or abusive language or arguing with fellow travellers/organizer will not be acceptable and will stand a chance of being deserted by the travel group.
Booking amount is non-refundable.
Venue
Arrival Terminal - Chandigarh International Airport
New Civil Air Terminal, Mohali District, Sahibzada Ajit Singh Nagar, Punjab 140306