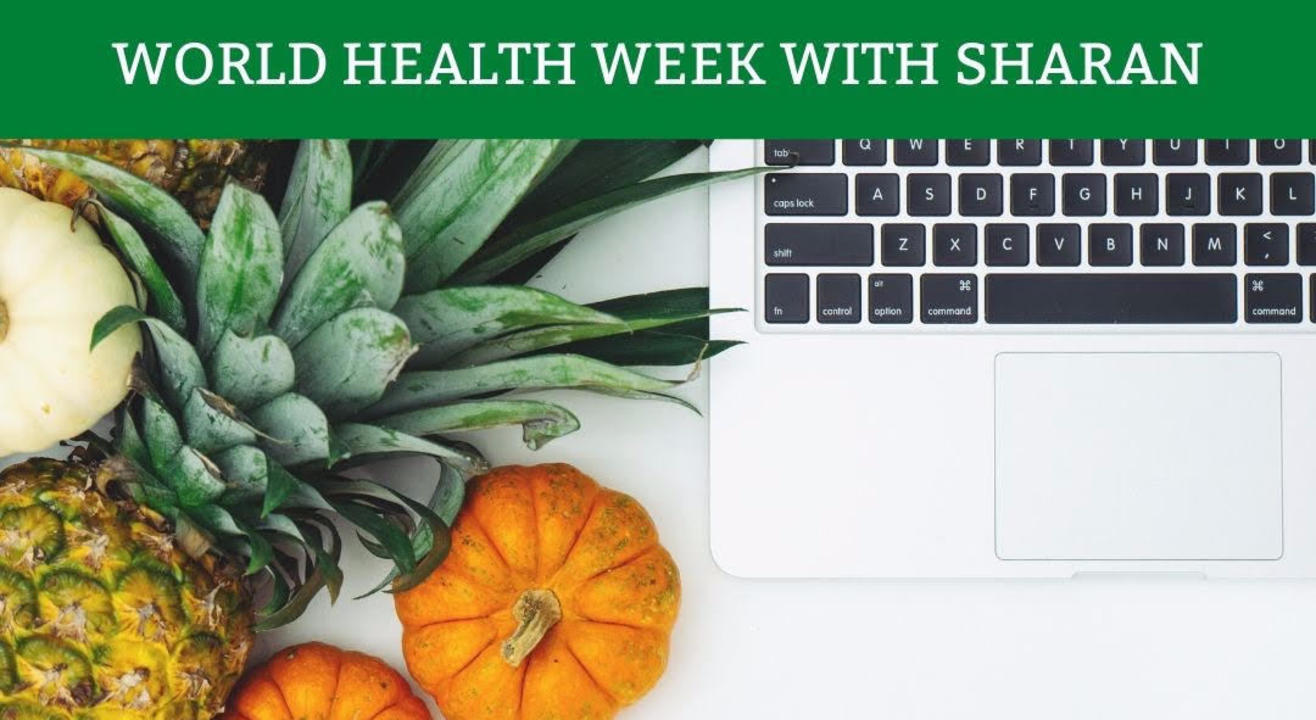 Health
The World Health Week with SHARAN!
About
7th April is World Health Day and we are on a mission of Building a Culture of Health. So let's get healthier together at the World Health Week with SHARAN!
Yes, coming right at your screen, we have our team of experts who will empower you with ideas, tips and suggestions for a wonderfully health you. Plus of course since food is our medicine, everyday our presenters will be sharing delicious whole plant based recipes too!
When: 1st April to 7th April
View schedule below
Wednesday, 1st April
9 am to 10 am - Dr Nandita's Live Q&A
So many questions must be simmering in your mind with the current situation, now is your time to ask Dr Shah directly.
3 pm to 4 pm - Men Can Cook too!
Cooking is therapeutic. It is an important life-skill indeed. Let Ram Prasad, Amit Dudani and Jiten Shah from our team show you some quick fixes. Women are allowed to join in too:)
6 pm to 7 pm - Boost Your Immunity - Captain Joseph Pinto
Nature has pressed the PAUSE button. Let's use it wisely. Invest in your health which is totally all about strengthening your immunity. Learn how to in this talk.
Thursday, 2nd April
9 am to 10 am - Weight Release - Sandhyaashree Rajiv
Allow health coach Sandhyaashree to take you on a journey beyond food, as she shares ideas on how she worked on releasing 21 kgs of weight three years ago and is powerfully maintaining the same.
3 pm to 4 pm - Butter, Cheese & Chaas
Isn't this all full of fat! Well discover how you can make these literally fat-free and without any preservatives and within minutes in the comfort of your home. Presented by Neelima Sririam, Nipa Mangat and Shraddha Sarogi
6 pm to 7 pm - Intermittent Fasting - Madhura Vayal
It's truly a wonderful time to introduce this in your routine. Listen to our plant-based nutritionist how she successfully incorporated this in her routine and how it helped her in so many ways. Get ideas from her how you can do it too!
Friday, 3rd April
9 am to 10 am - How I Reversed My IBS & Asthma - Shalini Goenka
Irritable Bowel Syndrome and Asthma can be really daunting. It was for health coach Shalini too, until she decided to take her her health in our own hands. Learn from her how you can do too.
3 pm to 4 pm - Gluten-free Cooking
Millets are easy to digest, great for the environment and can be used in a variety of ways. Learn more about the magic of millets from our presenters Rose Pinto and Smita Dedhia.
6 pm to 7 pm - 7 Steps to forming Healthy Habits & Live a Life of your Dreams - Ram Prasad
Who doesn't want this? If you do, then you know when to come online. And please don't forget to make notes:)
Saturday, 4th April
9 am to 10 pm - How I Reversed my Cancer - Jaishree Kannan
Jaishree's story is truly inspiring. Learn how she made Cancer, a blessing and how how she empowers others to do so too.
3 pm to 4 pm - Raw Recipes
Raw is fun. Raw is delicious. Find out how as Veena Thakker and Priya Shah stir up something interesting especially for you.
6 pm to 7 pm - Power of Affirmations - Madhura Vayal
This is just the right time to get into affirmation mode, as we need to be strong and steady in the current situation. Learn from Madhura how affirmations can help you do just that.
Sunday, 5th April (A special for Kids, Teens & those who are young at heart)
9 am to 10 pm - Reconnecting with Nature - Maria & Sarah Pinto
Mother Earth is trying to say something. Are we listening? Let Maria & Sarah convey her messages to you.
3 pm to 4 pm - Kids can Cook too!
French fries, chocolate milkshake, hummus and power cookies - easy-peasy recipes by sisters Maria & Sarah Pinto and siblings Prisha & Vihaan Mangat.
6 pm to 7 pm - All about Protein & Calcium - Amit Dudani
Parents are always concerned about protein and calcium for their kids. Women too about their calcium needs and those who work-out about their protein. Let Amit enlighten you all about plant based protein and calcium.
Monday, 6th April - Parenting Special
9 am to 10 pm - Raising Healthy Kids - Kommal Shah
The best gift we can give our children is Health. For they will grow up to have everything, but if they don't have health, they don't have anything. Get some very practical ideas from mom Kommal on the same.
3 pm to 4 pm - Cooking with Kids
Join Neev and Prisha as they cook up a storm with mom Vinita Punjabi. Also Ram & Reva with mom Madhura Vayal.
6 pm to 7 pm - How to Grow Microgreens - Joseph Pinto
Organic greens may be a problem to procure. Well let's get independent and grow them on our own. They are easy to grow, tasty and boost your immunity too.
Tuesday, 7th April - World Health Day Special
9 am to 10 pm - Staying Calm in Today's Times - Reyna Rupani
Whatever happens in my life, I have no control, but what to do presently with whatever is happening in my life, I HAVE COMPLETE CONTROL. Get some ideas on how to make this a reality in your life.
3 pm to 4 pm - Desserts - Sugar-free
You don't need to miss out on desserts when you are on your path of health. Let Vandana Tiwari and Somna Sachdev show you how.
6 pm to 7 pm - Let's Get Healthier Together - Dr Nandita Shah
We started our Health week with Dr Shah and we end it with her. She has inspired so many to take charge of their health and their life. Listen to her as she shares how SHARAN can support you in your wellness journey.
This is a free event, but registrations are a must