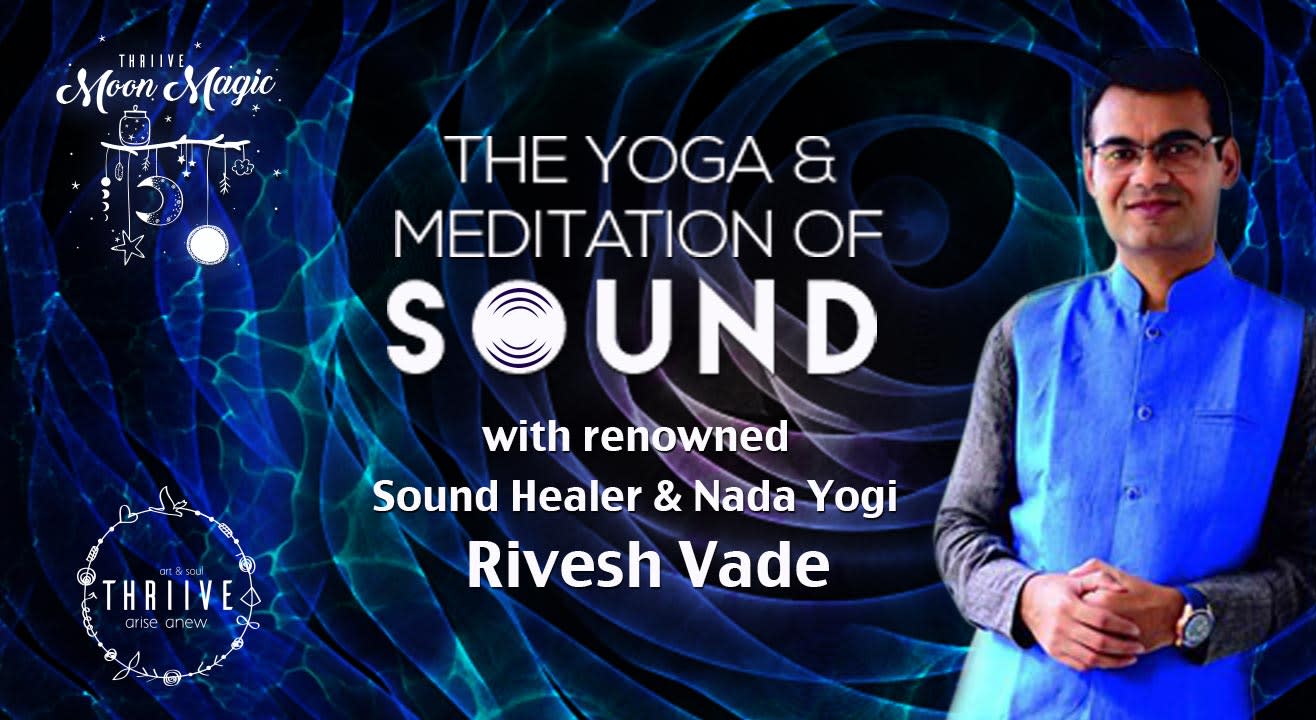 Art & Music
The Yoga & Meditation Of Sound With Renowned Sound Healer & Nada Yogi Rivesh Vade
About
The Taurus New Moon rises on a wave of love, welcoming Venus.


What better way to catch it than by immersing yourself in the sounds of renowned sound therapist and nada yogi, Rivesh Vade?

Let the sound vibrations open up abundant possibilities of prosperity and love in your life. It's an evening to uplift, transform, and thrive! Are you going to take a chance on you on April 16th?


Sound waves of particular frequencies can induce deep-brain healing states. Join in then for a buffet of healing sounds as Rivesh, playing Tibetan and crystal singing bowls, gongs, chimes and other instruments, transports you to sound-utopia.
An engineering post-graduate and executive management from IIT Bombay, Rivesh Vade is the founder of Wellness-Vibe & creator of PowerBrain Music Tracks for Holistic Remedies and Sound Health.

As founder of Bodh Marga Foundation (Yoga of Awareness), Rivesh propounds the philosophy of "being in synergy and flow" with the universe to live a life of prosperity and well-being. He is also a certified music therapist from MET, Mumbai with ayurveda as his major subject.

Rivesh decided to carve his own path and follow his interest in the powers of sound and music, and create a platform which would be beneficial to mankind. He believes that everyone can tune themselves to the perfect rhythm by opening their inner ear to the healing music and attuned vibrations.
Thriive is a theory. A simple one - a belief that all it takes to transform the ordinary to extraordinary is a pulse of energy. That all it takes to go from struggling "inside the box" to leaping "outside the box" is but a vibrating thought. A single instant, a moment of light, a revelation can at times break down those walls, and suddenly we begin to Thriive. A growing network of Thriivers, it includes people of all kinds - homemakers, teachers, lawyers, entrepreneurs, artists, musicians, actors, healers, therapists, and global coaches.
The Imperial Club is stunningly designed to felicitate its members with 5 star quality services of international standards. This epitome of luxury is backed by Taj's legendary hospitality and will cater to members' needs in keeping with international benchmarks.
Venue
The Imperial Club
South Tower, Level 6 B B Nakashe Marg, Tardeo, Janata Nagar, Tardeo, Mumbai, Maharashtra 400034