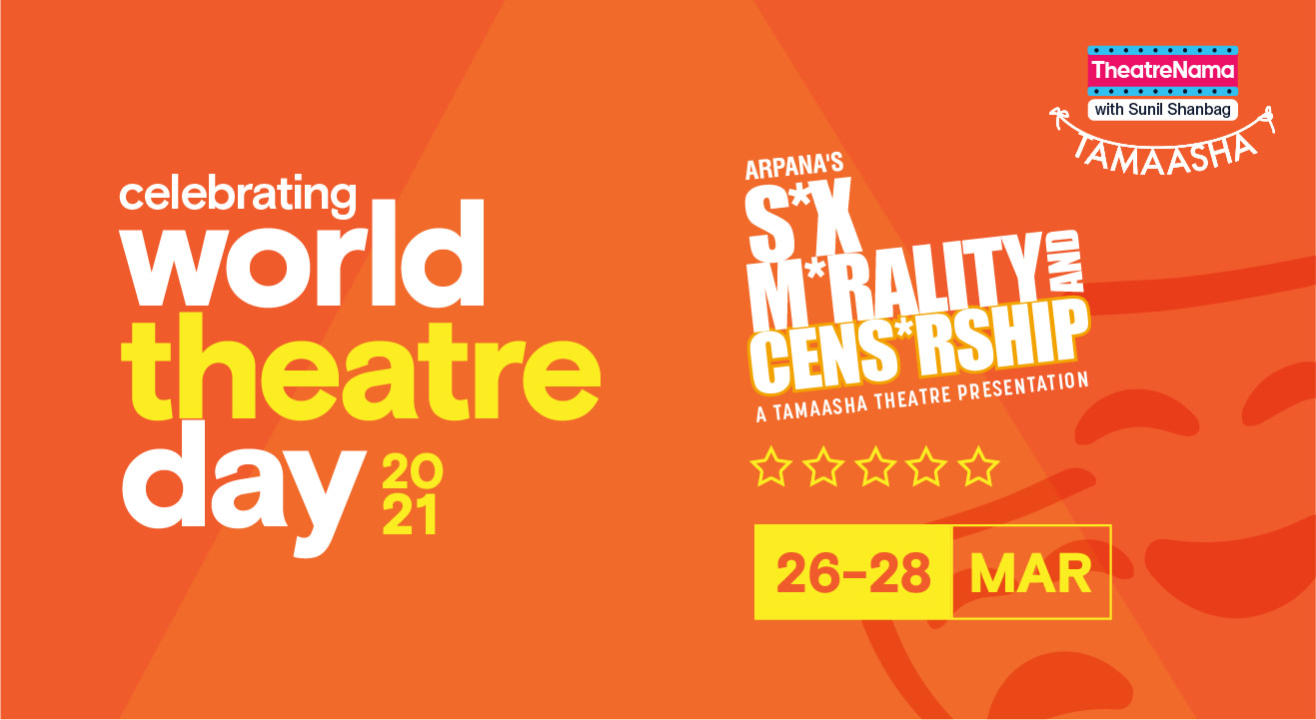 TheatreNama with Sunil Shanbag: S*x M*rality & Cens*rship
Free
Tickets are sold out for this show
Event Guide
Digital Event
Watch on Insider
Live Performance
Enjoy a unique experience
Invite your friends
and enjoy a shared experience
TheatreNama with Sunil Shanbag: S*x M*rality & Cens*rship
Free
Tickets are sold out for this show
Event Guide
Digital Event
Watch on Insider
Live Performance
Enjoy a unique experience
Invite your friends
and enjoy a shared experience
Event Guide
Digital Event
Watch on Insider
Live Performance
Enjoy a unique experience
Invite your friends
and enjoy a shared experience
About the Event
----- ----- ----- ----- ----- ----- ----- -----
TheatreNama with Sunil Shanbag
----- ----- ----- ----- ----- ----- ----- -----
Mumbai's Tamaasha Theatre launches its monthly series TheatreNama on Insider presenting fascinating slices of contemporary theatre history, and theatre making.
The series launches with a unique guided viewing of the landmark play Sex, Morality, and Censorship, directed by Sunil Shanbag.
Sex, Morality, and Censorship was credited with introducing a new idiom in modern Indian theatre for its bold combination of contemporary history, folk art, modern theatrical techniques, and multi-media to tell a powerful story of morality and censorship. The show provokes, challenges, entertains, and asks the question – who says NO! ? and why ?
The evening will be hosted by director Sunil Shanbag, and co-writer Irawati Karnik who will punctuate a video recording of a performance of the play at the iconic Prithvi Theatre, with comments and insights. The hugely talented ensemble cast will be present live to share their experiences of the play.
Come, join us for a unique, first of its kind, guided viewing of this landmark production with the writers, director, and actors of the play, as they share little known stories of the genesis of the idea and the exciting creative process of the play!
About The Play
Sex, Morality, and Censorship tells the story of Vijay Tendulkar's controversial theatre classic Sakharam Binder which was attacked by the censor board and by sections of society. Combined with the parallel world of Tamasha, and the amazing spirit of the 1970s, the play offers an exciting mix of theatre, memory, live music, dance, and video.
Written by Shanta Gokhale and Irawati Karnik
Directed by Sunil Shanbag
Cast
Nagesh Bhonsle, Gitanjali Kulkarni, Shubhrojyoti Barat, Ketaki Thatte, Rajashree Sawant Wad, Hridaynath Jadhav, Umesh Jagtap, Gulshan Devaiah, Puja Sarup
Choreography: Maya Jadhav, Mayur Vaidya Original Music: Shailendra Barve , Original songs: Anil Deshmukh, Atul Tiwari, Arvind Jagtap Set Design: Nayantara Kotian, Prashant Prakash Costumes: Kalyani Kulkarni, Video: Nayantara Kotian Animation Ashutosh Pathak, Musicians: Bali Deshmukh, Sada Mulik Light Design: Hidayat Sami, Sunil Shanbag Executive Producers: Shishir Sharma, Reetha Balsavar,Lata Sharma
The production was supported by India Foundation for the Arts
----- ----- ----- ----- -----
About TheatreNama
----- ----- ----- ----- -----
TheatreNama takes you on an intriguing journey into exciting facets of Mumbai's rich theatre history, and to some of today's finest performance makers to give you an exclusive behind the scenes look at the work. Replete with anecdotes, insights, memories, and performances, TheatreNama is a colourful patchwork of theatre stories, hosted by theatre director Sunil Shanbag.
TheatreNama with Sunil Shanbag: S*x M*rality & Cens*rship
Free
Tickets are sold out for this show
Event Guide
Digital Event
Watch on Insider
Live Performance
Enjoy a unique experience
Invite your friends
and enjoy a shared experience
Free
Tickets are sold out for this show