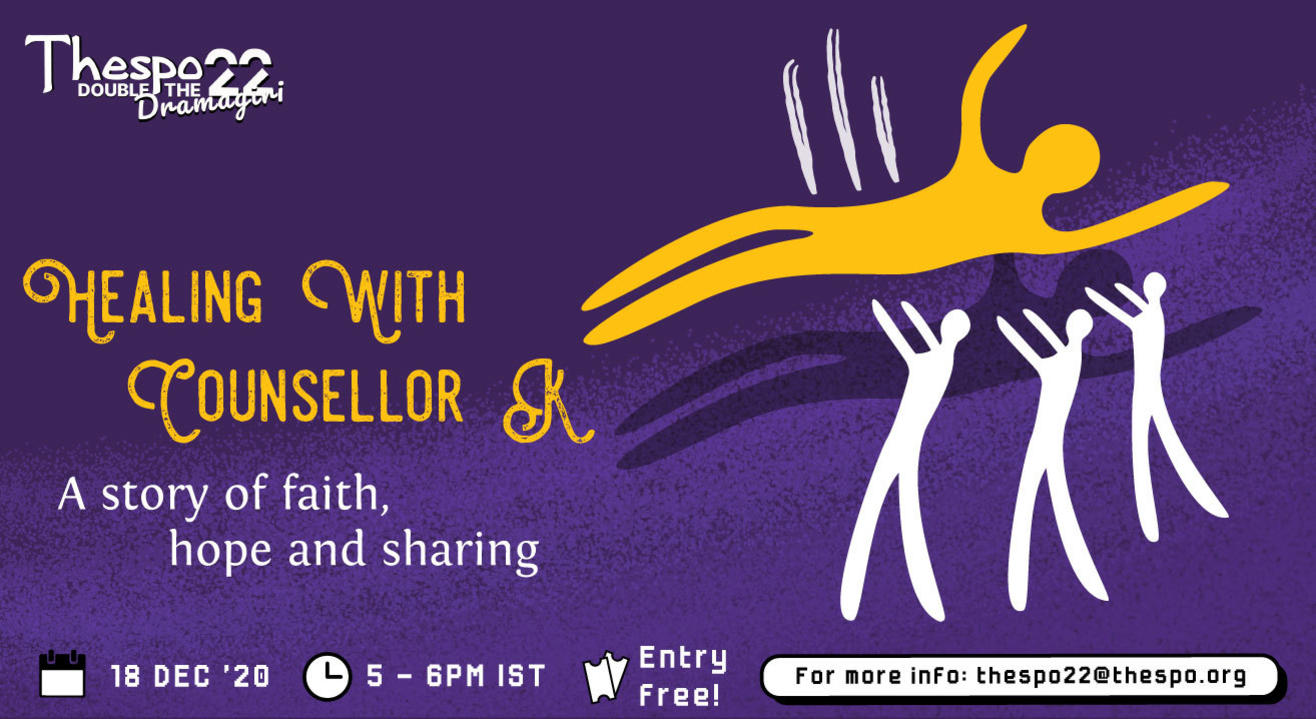 Thespo 22: Healing With Counsellor K
Invite your friends
and enjoy a shared experience
Thespo 22: Healing With Counsellor K
Invite your friends
and enjoy a shared experience
Invite your friends
and enjoy a shared experience
ABOUT THE PERFORMANCE
Thespo in association with Get thee To the Funnery Vermont presents, a therapy group that meets over a period of six months with a well-known counsellor, to confront and be healed from incidences of domestic abuse and violence in their own lives.
CAST & CREDITS
Directed by Peter Gould
Cast: Ojaswi Bhattarai, Gouri Bhuyan, Mithil Raj Goswami, Tishya Jain, Hrishabh Kanti, Candice Souza
Crew: Suhaani Gala
ABOUT THESPO
Thespo is a youth theatre movement that curates a range of activities through the year aimed to showcase, and train young theatre enthusiasts.
Through community theatre watching experiences, a quarterly e-zine, workshops, performances, play readings and an annual festival, we celebrate young talent and hope to build a community of young theatre professionals.
Thespo 22: Double the Dramagiri
India's first International Digital Youth Theatre Festival
Join us in this digital celebration of youth theatre through five days of live performances, workshops, play readings, conversations & collaborations. Come explore storytelling with us, and be part of this global community of young, emerging artists!
FOR MORE INFORMATION: thespo.org
Thespo 22: Healing With Counsellor K
Invite your friends
and enjoy a shared experience