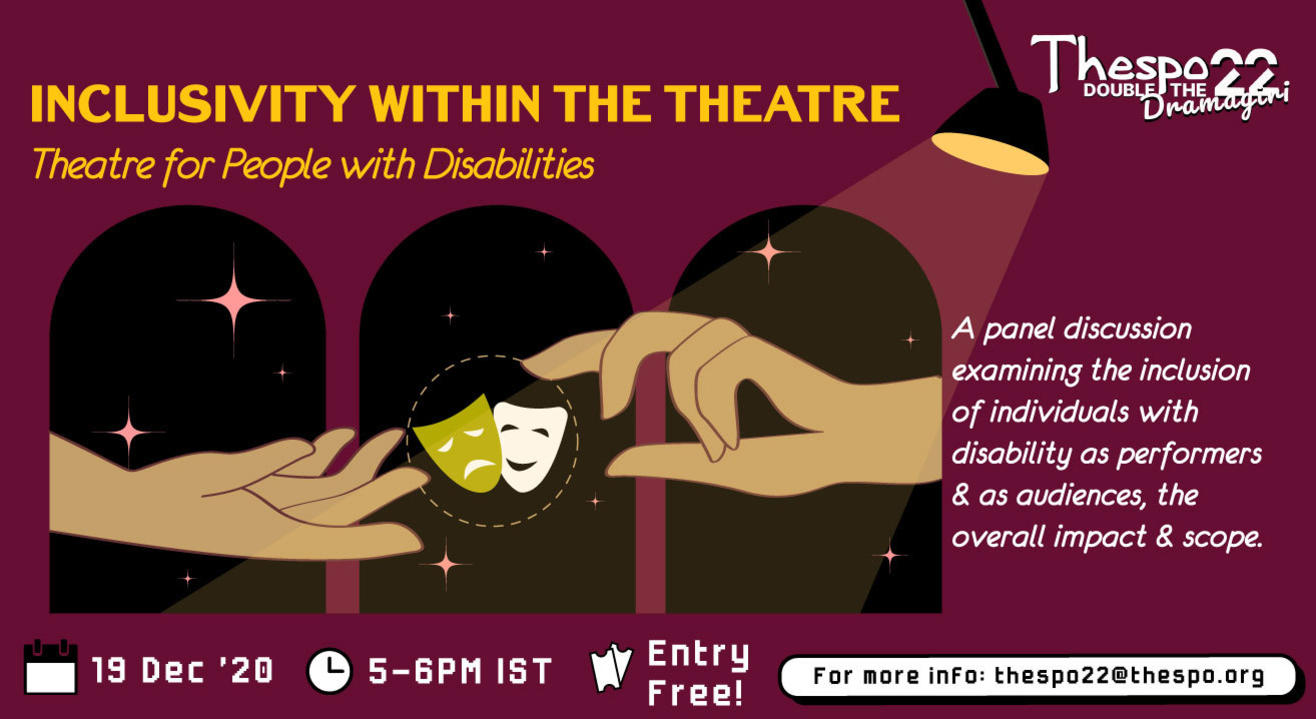 Thespo 22: Inclusivity Within The Theatre - Theatre for People with Disabilities
Event Guide
Digital Event
Live On Insider
For Age(s)
Family Friendly
Live Performance
Enjoy a unique experience
Invite your friends
and enjoy a shared experience
Thespo 22: Inclusivity Within The Theatre - Theatre for People with Disabilities
Event Guide
Digital Event
Live On Insider
For Age(s)
Family Friendly
Live Performance
Enjoy a unique experience
Invite your friends
and enjoy a shared experience
Event Guide
Digital Event
Live On Insider
For Age(s)
Family Friendly
Live Performance
Enjoy a unique experience
Invite your friends
and enjoy a shared experience
ABOUT THE DISCUSSION
A panel discussion examining the inclusion of individuals with disability as performers and as audiences, the overall impact and scope.
About The Panel:
Kelly Hunter
Kelly Hunter is the Artistic Director of Flute Theatre, for whom she has created Hamlet, Twelfth Night, The Tempest for children with autism, A Midsummer Nights Dream for young people with autism and their families and Pericles for people with autism. She is the creator of The Hunter Heartbeat Method, a series of sensory drama games for young people with autism and their families. An award winning actor, Kelly has performed with the Royal Shakespeare Company, Royal National Theatre, English Touring Theatre and Vesturport, Iceland. Kelly was also awarded the MBE for her services to theatre in 2019.
Dorka Farkas
Dorka Farkas is a director and choreographer has accumulated long years of experience in staging improvisational dance theatre performances with physically disabled performers as well as in artistic skill development of visually impaired people. For the past 5 years she has been working with the Budapest based Baltazar Theatre Company, the only professional theatre group in Hungary employing mentally disabled actors.
Shaun Williams
Shaun Williams is an acting coach and actor with a collective experience of 20 years. Trained in diverse styles and traditions, he has been acting across the mediums of stage,TV and has had minor parts in film. He continues to act but currently focusses more on actor training. He has previously taught at school for children with learning disabilities, primarily focussing on the skill building aspects of theatre.
Divya Arora
Divya Arora is an actor and director, often credited as one of the first theatre makers and artist in India to be a wheelchair user with cerebral palsy. She has had a successful run of 85 performances n India. her works include Tara and Melody of Love - which she translated from French to English. She has been awarded The Karmaveer Puruskaar (Award) 2008- 2009 , Asian peace award 2008-2009 , The Hindustan Times "Hall Of Fame Generation Now" award 2003-2004, The "Best Emotions " Award National School of Drama, New Delhi along many others.
The Moderator
Meghana AT is an actor/writer/production manager from Mumbai, currently attempting to finish a Master's in quarantined Prague. She was Festival Manager of Thespo 18, and has been the production manager for shows like White Rabbit Red Rabbit and the opera Il Matrimonio Segreto. As an actor she's worked with directors like Mahesh Dattani, Trishla Patel, Faezeh Jalali, Jeff Goldberg and others.
ABOUT THESPO
Thespo is a youth theatre movement that curates a range of activities through the year aimed to showcase, and train young theatre enthusiasts.
Through community theatre watching experiences, a quarterly e-zine, workshops, performances, play readings and an annual festival, we celebrate young talent and hope to build a community of young theatre professionals.
Thespo 22: Double the Dramagiri
India's first International Digital Youth Theatre Festival
Join us in this digital celebration of youth theatre through five days of live performances, workshops, play readings, conversations & collaborations. Come explore storytelling with us, and be part of this global community of young, emerging artists!
FOR MORE INFORMATION: thespo.org or call +91 2241642142
Follow @ThespoIndia on Facebook, Instagram, and YouTube.
Thespo 22: Inclusivity Within The Theatre - Theatre for People with Disabilities
Event Guide
Digital Event
Live On Insider
For Age(s)
Family Friendly
Live Performance
Enjoy a unique experience
Invite your friends
and enjoy a shared experience