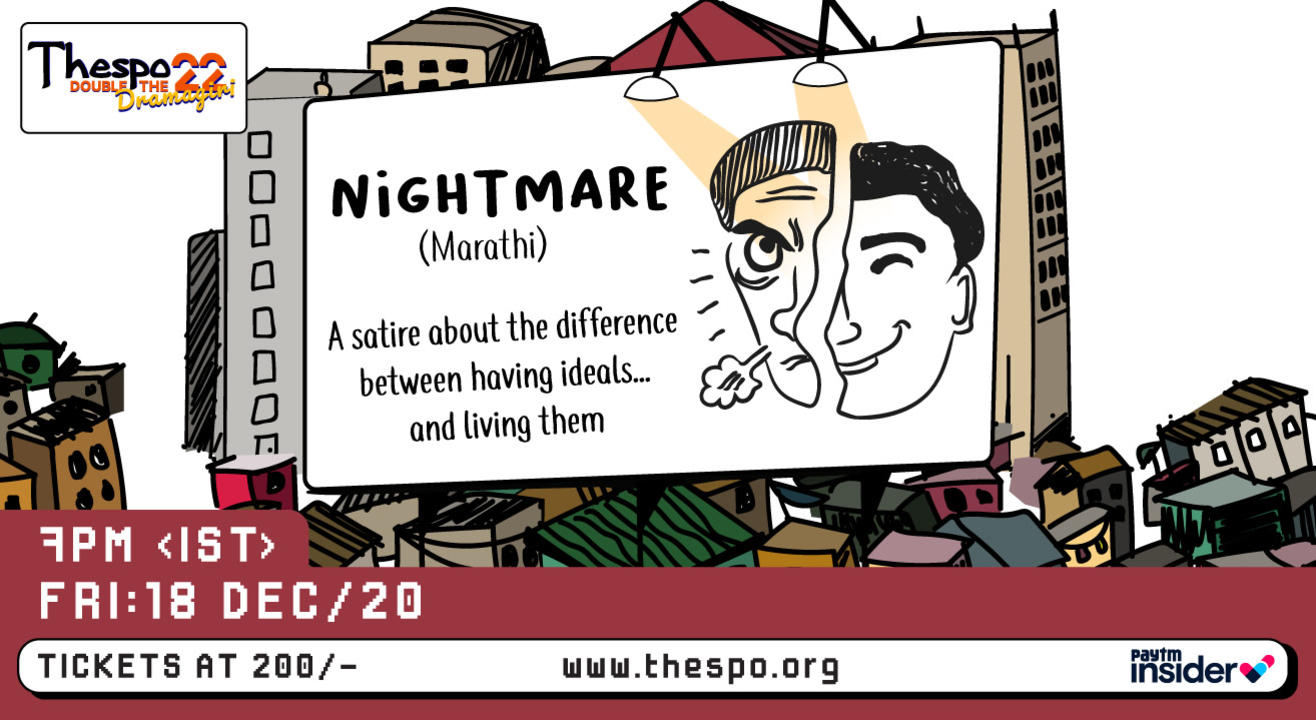 Event Guide
Digital Event
Live On Insider
For Age(s)
Family Friendly
Live Performance
Enjoy a unique experience
Invite your friends
and enjoy a shared experience
Event Guide
Digital Event
Live On Insider
For Age(s)
Family Friendly
Live Performance
Enjoy a unique experience
Invite your friends
and enjoy a shared experience
Event Guide
Digital Event
Live On Insider
For Age(s)
Family Friendly
Live Performance
Enjoy a unique experience
Invite your friends
and enjoy a shared experience
ABOUT THE PLAY
Cartoonist Padmanabh Chandavarkar's is against the removal of a neighbourhood slum. A media frenzy ensues, that somehow paints Padmanabh as the saviour of the displaced families. But was it all just a misunderstanding? Trapped between press reports & public opinion, Padmanabh finds himself in a hilarious predicament that he must get out of.
CAST & CREDITS
Directed by Ritika Shrotri
Cast: Gandhar Joshi, Saee Limaye, Surabhi Ranade, Aditi Devlankar, Tanmay Bhide, Neil Deshpande, Siddharth Vidwat, Yogiraj Mane, Priyanka Gandhi, Roomani Khare, Renuka Purandare & Shree Zad.
Live editing by Yash Lonkar
Sound design by Mukund Konde
Set design by Shrinath Gadade
Music by Atharva Vadke
On camera: Manasi Kale, Pradnya Jamdar, & Atharva Gokhle
ABOUT THESPO
Thespo is a youth theatre movement that curates a range of activities through the year aimed to showcase, and train young theatre enthusiasts.
Through community theatre watching experiences, a quarterly e-zine, workshops, performances, play readings and an annual festival, we celebrate young talent and hope to build a community of young theatre professionals.
Thespo 22: Double the Dramagiri
India's first International Digital Youth Theatre Festival
Join us in this digital celebration of youth theatre through five days of live performances, workshops, play readings, conversations & collaborations. Come explore storytelling with us, and be part of this global community of young, emerging artists!
FOR MORE INFORMATION: thespo.org or call +91 2241642142
Follow @ThespoIndia on Facebook, Instagram, and YouTube.
Event Guide
Digital Event
Live On Insider
For Age(s)
Family Friendly
Live Performance
Enjoy a unique experience
Invite your friends
and enjoy a shared experience