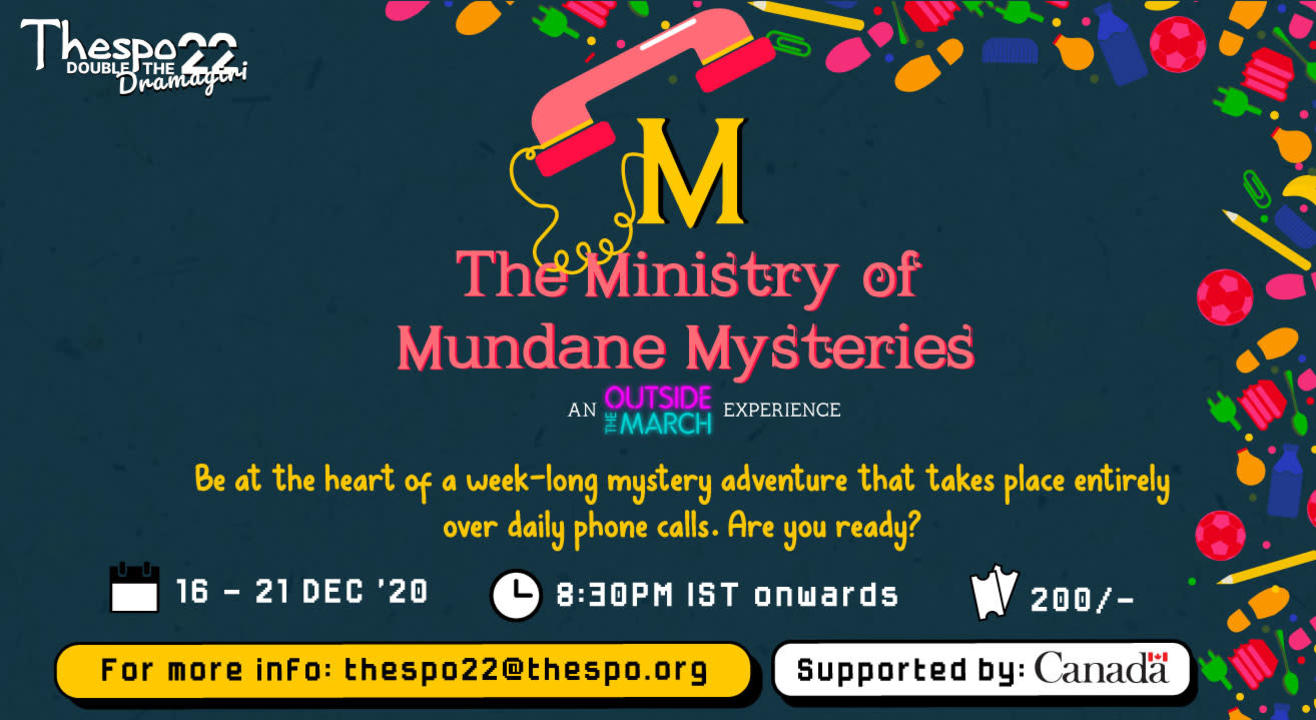 Thespo 22: The Ministry of Mundane Mysteries
December 16, 17, 18, 19, 20 & 21 | 8:30PM
Enjoy this event from your home
Invite your friends
and enjoy a shared experience
Thespo 22: The Ministry of Mundane Mysteries
December 16, 17, 18, 19, 20 & 21 | 8:30PM
Enjoy this event from your home
Invite your friends
and enjoy a shared experience
Invite your friends
and enjoy a shared experience
ABOUT THE PERFORMANCE
Thespo in association with Outside The March brings an immersive unique experience where we take you through a week long journey.
Sign up for a six-day, improvised mystery adventure that takes place entirely over the phone. You provide us with a real mystery from your life, and we'll try to solve it.
Book your half-hour slot, and for six nights (16th - 21st Dec), one of our Inspectors will call you and help you solve your very own Mundane Mystery.
[Have more questions? Scroll down to the Frequent Asked Questions or call us on the number given below!]
CAST & CREDITS
Project Supported by Canadian Consulate
Cast: Alistar Bennis, Dusha, Kajol Chugh, Mohammed Lehry, Ninad Samadder, Nitya Mathur, Phalguni Rao, Sahir Mehta, Shradha Raj, Tanvika Parlikar, Vansh Raj Sethi, Vipin Nair
Facilitation: Sebastien Heins and Shannon Currie
Dramaturgs: Laya Kumar, Tanvi Kotkar, Vrinda Kacker
Crew: Laya Kumar, Tanvi Kotkar
FREQUENTLY ASKED QUESTIONS
Okay how does this work?
You're signing up for a six day, improvised mystery adventure that takes place entirely over the phone. You can book a ticket for any of the given time slots and will receive a ten minute call at that time from Wednesday to Monday (16th to 21st Dec).
Who will be calling me?
An Inspector from the Ministry of Mundane Mysteries will call you on Wednesday to review your case. After that, we'll see where the trail leads. Often, clients receive calls through the week from persons of interest relating to their case.
It says I have to provide a mundane mystery from my own life. What does that even mean?
You provide us with a real mystery from your life and we'll try to solve it. "Mundane" means exactly what it sounds like. We don't solve high stakes mysteries: don't come to us if you get robbed. But if your chai is tasting weird, your biriyani has too many elaichis, your pet is acting
weird or if you keep noticing curious coincidences, then we are your people!
Does it have to be real life or can I make up a mystery?
Improvisation is a serious business and our services work better when we are responding to a real life problem.
Do I have to 'act' when I am on the phone?
No! You just have to be open to having a conversation and responding to any query that our Inspectors may have regarding the mystery. Play along by all means, but you don't have to act.
Will be asked to share anything personal?
You will never have to share any information that you're not comfortable sharing. As mentioned above, our inspectors will need details about the mystery, so you'll have to provide some information about your life. We will never ask for financial information ever.
I'm kind of an anxious person and don't love talking on the phone .
We understand and if it helps, our Inspectors are great listeners and excellent conversationalists. There is no right or wrong way to experience this. It's just like having a conversation with an old friend and seeing where that takes you and the mystery: how are you?, what have you been up to? – that kind of thing. If anything, we hope the calls might help you turn off your anxious brain
and just enjoy the ride!
I know you said the calls are at the same time every day, but my schedule is all over the place. Could you call me at a different time each day?
Unfortunately, we are choc-a-blocked with cases at the Ministry currently and we will not be able to accommodate a change in your schedule. Our inspectors are busy tackling a number of cases!
Right no sure. But could you make an exception just for me?
No. We love you, but no.
What happens if I miss a call?
It's better if you don't. If you DO miss a call between Thursday (17th) and Monday(21st), we can try to leave a message that includes the next instalment of your story.
PLEASE NOTE: It is particularly important that you don't miss your Wednesday (16th) call as it sets up the case for the whole week. If you do miss Monday's call, we will have to leave your mundane mystery to resolve itself!
Can we do my calls over the internet? Like Zoom or Google Hangout?
Part of the magic of the Ministry is that it takes place over the old fashioned telephone! If calling you on the phone is a problem, do write to us, and we can see what we can do.
Can my kids participate?
Absolutely! The Ministry is perfect for kids especially if they are listening along with their parents.
ABOUT THESPO
Thespo is a youth theatre movement that curates a range of activities through the year aimed to showcase, and train young theatre enthusiasts.
Through community theatre watching experiences, a quarterly e-zine, workshops, performances, play readings and an annual festival, we celebrate young talent and hope to build a community of young theatre professionals.
Thespo 22: Double the Dramagiri
India's first International Digital Youth Theatre Festival
Join us in this digital celebration of youth theatre through five days of live performances, workshops, play readings, conversations & collaborations. Come explore storytelling with us, and be part of this global community of young, emerging artists!
FOR MORE INFORMATION: Call +91 2241642142
Follow @ThespoIndia on Facebook, Instagram, and YouTube.
Thespo 22: The Ministry of Mundane Mysteries
December 16, 17, 18, 19, 20 & 21 | 8:30PM
Enjoy this event from your home
Invite your friends
and enjoy a shared experience