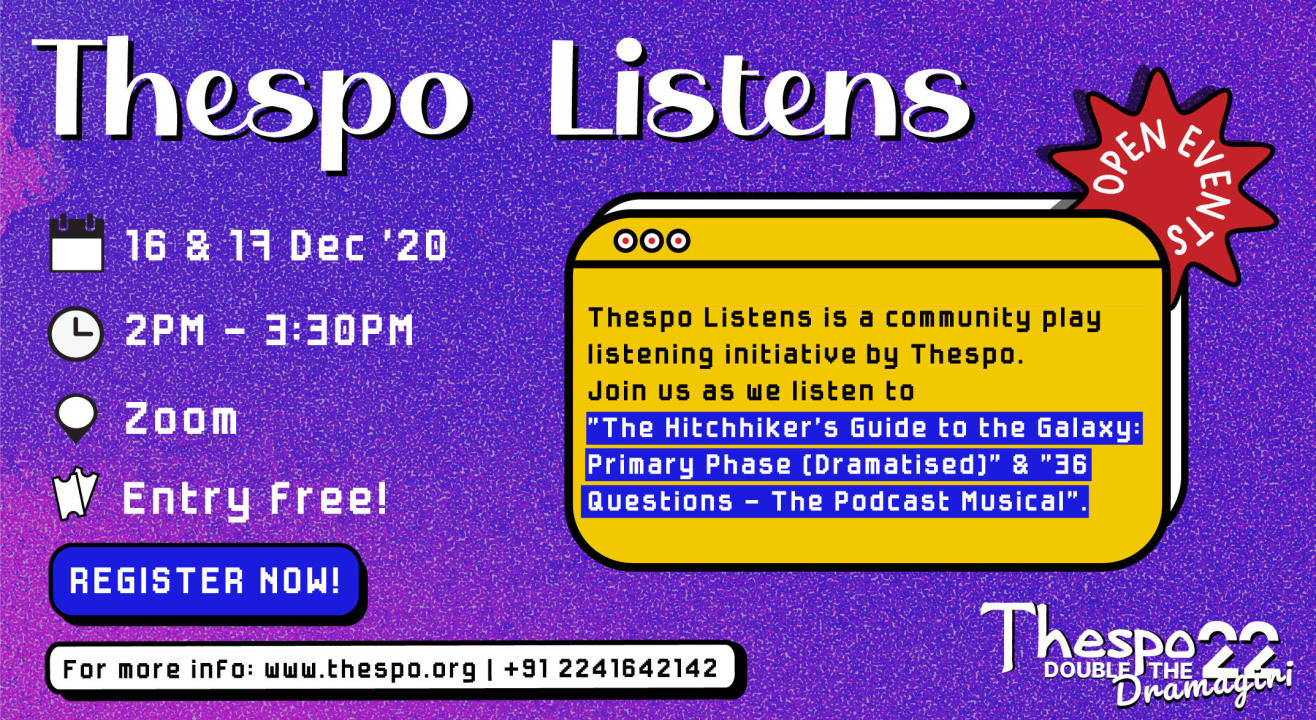 Enjoy this event from your home
Event Guide
Digital Event
Watch on Zoom
For Age(s)
Family Friendly
Interactive show
Be a part of the show
Invite your friends
and enjoy a shared experience
Enjoy this event from your home
Event Guide
Digital Event
Watch on Zoom
For Age(s)
Family Friendly
Interactive show
Be a part of the show
Invite your friends
and enjoy a shared experience
Event Guide
Digital Event
Watch on Zoom
For Age(s)
Family Friendly
Interactive show
Be a part of the show
Invite your friends
and enjoy a shared experience
Let's explore the exciting world of audio storytelling - audio plays & podcasts - together! In this session, we are listening to:The Hitchhiker's Guide to the Galaxy: Primary Phase (Dramatised) and 36 Questions - The Podcast Musical.
16 Dec (Wed) | The Hitchhiker's Guide to the Galaxy: Primary Phase (Dramatised)
Join Arthur Dent, Ford Prefect, Trillian, Zaphod Beeblebrox & Marvin the Paranoid Android in their series of adventures as they witness the destruction of Earth, stumble upon the ancient planet of Magrathea, dine at the Restaurant at the End of the Universe & seek an answer to the ultimate questions of life.
17 Dec (Thu) | 36 Questions - The Podcast Musical
In this musical starring Jonathan Groff & Jessie Shelton, a couple attempts to bring their marriage back from the brink of divorce using 36 revealing questions designed to make strangers fall in love.
ABOUT THESPO
Thespo is a youth theatre movement that curates a range of activities through the year aimed to showcase, and train young theatre enthusiasts.
Through community theatre watching experiences, a quarterly e-zine, workshops, performances, play readings and an annual festival, we celebrate young talent and hope to build a community of young theatre professionals.
Thespo 22: Double the Dramagiri
India's first International Digital Youth Theatre Festival
Join us in this digital celebration of youth theatre through five days of live performances, workshops, play readings, conversations & collaborations. Come explore storytelling with us, and be part of this global community of young, emerging artists!
FOR MORE INFORMATION: thespo.org or call +91 2241642142
Follow @ThespoIndia on Facebook, Instagram, and YouTube.
Enjoy this event from your home
Event Guide
Digital Event
Watch on Zoom
For Age(s)
Family Friendly
Interactive show
Be a part of the show
Invite your friends
and enjoy a shared experience