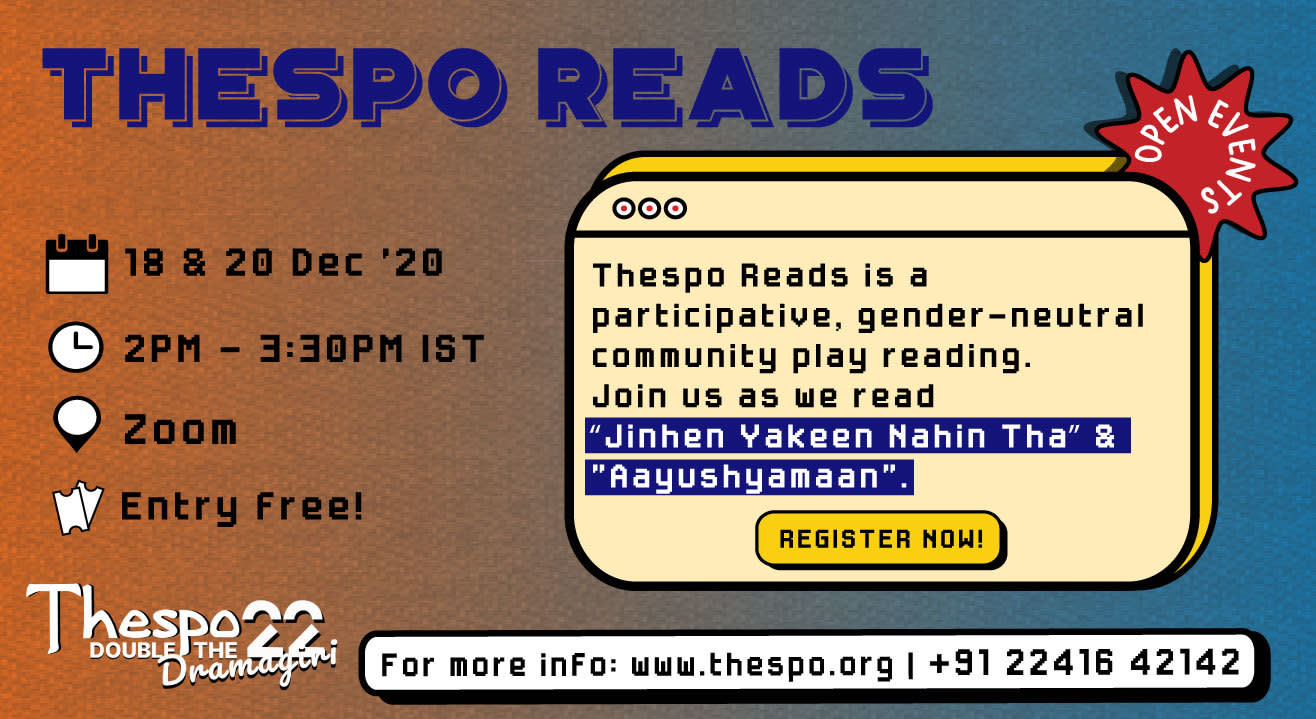 Event Guide
Digital Event
Watch on Zoom
For Age(s)
Family Friendly
Interactive show
Be a part of the show
Invite your friends
and enjoy a shared experience
Event Guide
Digital Event
Watch on Zoom
For Age(s)
Family Friendly
Interactive show
Be a part of the show
Invite your friends
and enjoy a shared experience
Event Guide
Digital Event
Watch on Zoom
For Age(s)
Family Friendly
Interactive show
Be a part of the show
Invite your friends
and enjoy a shared experience
Thespo Reads is a participative, gender-neutral, community play reading initiative by Thespo. The focus is placed on scripts which have either been penned by young writers, those which present young characters or those which present the struggles in the lives of young people.
Jinhen Yakeen Nahin Tha - 18 December
For this session, we will be reading Jana Natya Manch's 1997 Hindi play - "Jinhen Yakeen Nahin Tha". The play is set in a factory which is under a Trade Union Workers' strike. It revolves around the perspective of the strike breakers who choose to work despite their comrades' revolt. To pass their time, the 7 characters enact a story. In the end only one question remains - "Would you choose to be a king or a slave?"
Thespo has the great honour of presenting the Lifetime Achievement Award to Jana Natya Manch, Delhi, this year. Jana Natya Manch, established in 1973 by a group of Delhi's young theatre radicals, including Safdar Hashmi, is India's best-known political street theatre group.


Aayushyamaan - 20 December
For this session, we will be reading "Aayushyamaan" - a play which was performed at Thespo 9! The conception of this Marathi play was motivated by the article 'Positive/Negative' written by Mr. Kishore Kadam for a supplement of the Maharashtra Times. It is about a man who is forced to undergo an HIV test. The test changes his life completely as he visualizes the possibility of a positive result.
ABOUT THESPO
Thespo is a youth theatre movement that curates a range of activities through the year aimed to showcase, and train young theatre enthusiasts.
Through community theatre watching experiences, a quarterly e-zine, workshops, performances, play readings and an annual festival, we celebrate young talent and hope to build a community of young theatre professionals.
Thespo 22: Double the Dramagiri
India's first International Digital Youth Theatre Festival
Join us in this digital celebration of youth theatre through five days of live performances, workshops, play readings, conversations & collaborations. Come explore storytelling with us, and be part of this global community of young, emerging artists!
FOR MORE INFORMATION: thespo.org or call +91 2241642142
Follow @ThespoIndia on Facebook, Instagram, and YouTube.
Event Guide
Digital Event
Watch on Zoom
For Age(s)
Family Friendly
Interactive show
Be a part of the show
Invite your friends
and enjoy a shared experience