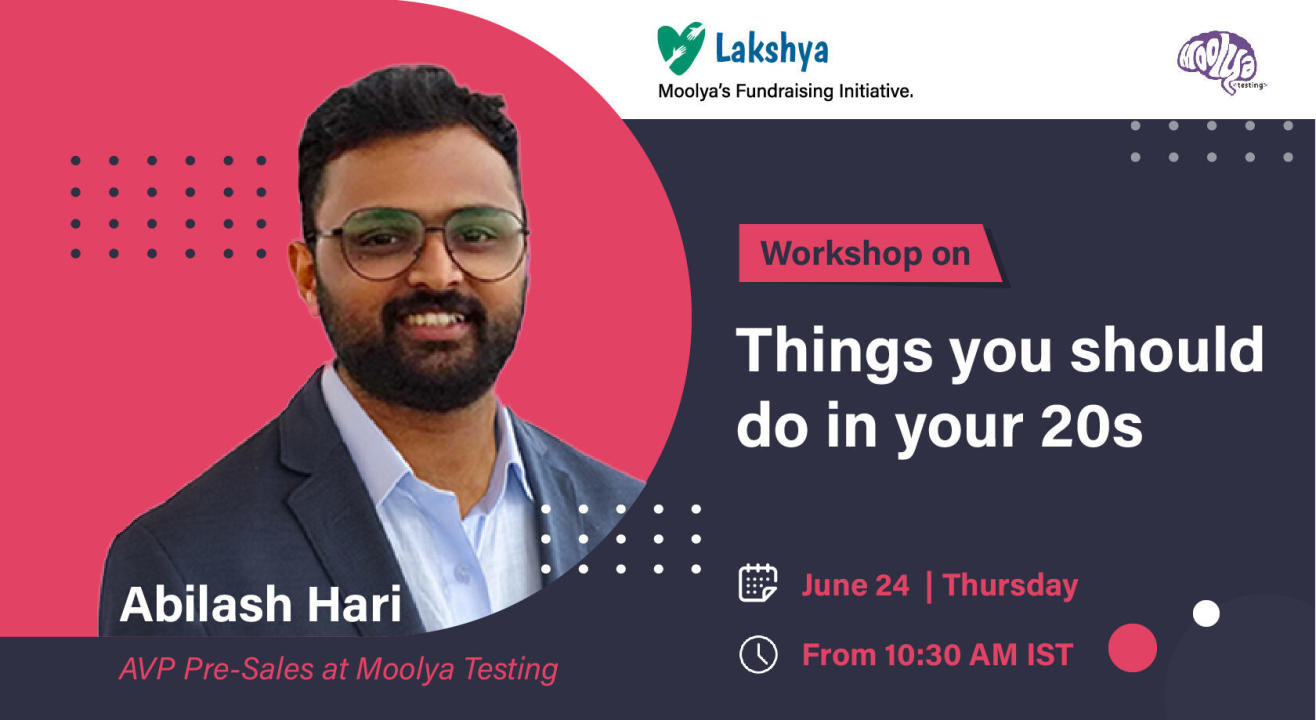 Things you should do in your 20s
Enjoy this event from your home
Event Guide
Masterclass
Learn from an expert
Invite your friends
and enjoy a shared experience
Event Guide
Masterclass
Learn from an expert
Invite your friends
and enjoy a shared experience
About the Event
'Moolya' stands for adept values.
At Moolya we string values and create 'culture'.
Moolyans are out of the world in our thinking and action. We, Moolyans, are not different because we have to be, but because of our purpose.
So what are Moolyans doing to help fight Covid?
- Sharing what we love, with the beautiful world around us.
Lakshya – Moolya's Fundraising initiative
Come, participate.
Help us raise funds for the ones who need it the most.
Abilash Hari, AVP Pre-Sales and Youngest Leader at Moolya
About this workshop:
20s are always a wild ride, most of our lives important decisions are made during 20s, be it investments, career choices, entrepreneurship, marriage etc,. Some of them are informed and some uninformed decisions. We tend to either panic or take decisions to solve the problem "temporarily" - this is one way to live or we could make it better with setting up something that could be of help as we grow. Join me while I share few important things that we could do in 20s would prepare us to lead the rest of our lives.
Abi's a space enthusiast, nature lover and a dog person. He is into 'unconventional' things. "Why work all the time?", says he.
You also know Abi's a true foodie, if you've heard our latest podcast. :D
Being a college drop out, learning testing, being a product owner and now a compassionate Leader at Moolya in his 20s, there is definitely so much to learn from him.
Come join us for this workshop and help raise funds for the needy.