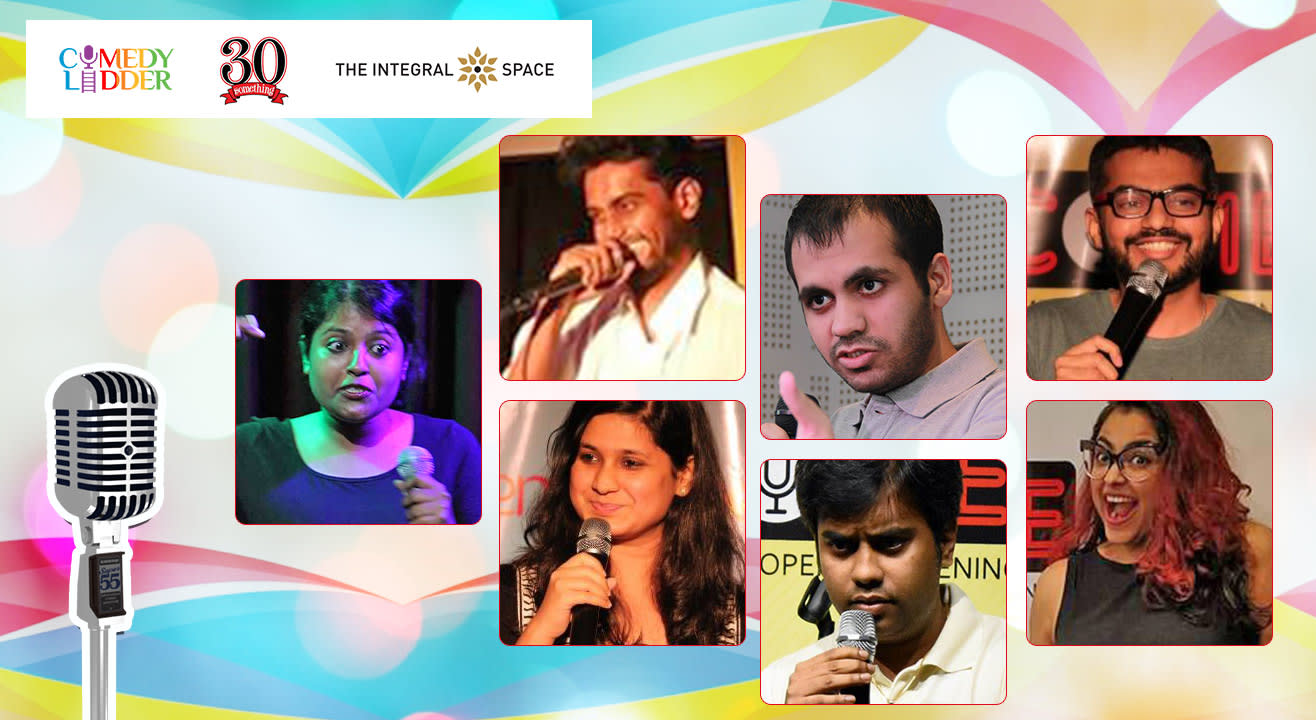 The Integral Space, Lower Parel
Invite your friends
and enjoy a shared experience
Invite your friends
and enjoy a shared experience
About the Event
30 Something is comics who are now in their 30s talking about the good times and the bad times.

If you are 30 and above, this is one show you do not wanna miss out on! Single or married, living alone or living at home, they have everything covered in this beautiful show! Bring your friends along because what better way to spend your 30s than to Laugh Out Loud?
Andy Reghu (Host)
Neha Dhanani
Parijat Sarkar
Kunal Rao
Bhavish Ailani
Priyanka Balwa
Abira Khan

Andy Reghu
A writer, a professor and a spiritual leader - Andy Reghu wears multiple hats. He is from Kurla so he automatically has a criminal past. His hobbies include substance abuse and some more substance abuse. He also claims to be a TV writer and producer and he is wondering why the hell are you reading this.

Neha Dhanani
Neha Dhanani is an upcoming standup comedian.

Parijat Sarkar
Parijat Sarkar is an upcoming standup comedian.

Kunal Rao
Often called the sexiest (if not the funniest) chartered accountant in the market (he makes you laugh while you file your taxes), Kunal Rao launched his career in comedy after he quit his high-paying job in London. Over the last two years, he has performed over 150 shows in Mumbai, Bangalore, Pune, Hyderabad, Kolkata and Delhi. Kunal has had two comedy specials, Holy Krao! (2012) and Its Not Okay (2015) and is a co-founder of popular comedy collective East India Company.
With them, he has performed sketch and topical news comedy (EIC Outrage) and participates in an annual celebration of the worst of the Indian film industry, EIC vs Bollywood. His international career includes Nepal, Sri Lanka, Dubai and his aunt's living room in south Mumbai.

Bhavish Ailani
Bhavish Ailani is Sindhi by birth and funny by profession. Being an MBA like almost everyone else, Bhavish does not rely too much on his education to make a living. Instead he uses observational comedy and self-deprecating humor to make life bearable.
Veteran of over one hundred ridiculous shows, most of which he has hosted himself, this is pretty much the only thing he is good at. Like most comics on the circuit, Bhavish has recently gone through a break-up. So please show him some love and assume everything said here is true.

Priyanka Balwa
Priyanka Balwa is an upcoming stand-up comedian.

Abira Khan
Abira Khan is an upcoming standup comedian.

The Integral Space, Lower Parel
14, Janata Estate , Opp. Palladium Mall, Lower Parel West, Lower Parel, Mumbai, Maharashtra 400013
GET DIRECTIONS