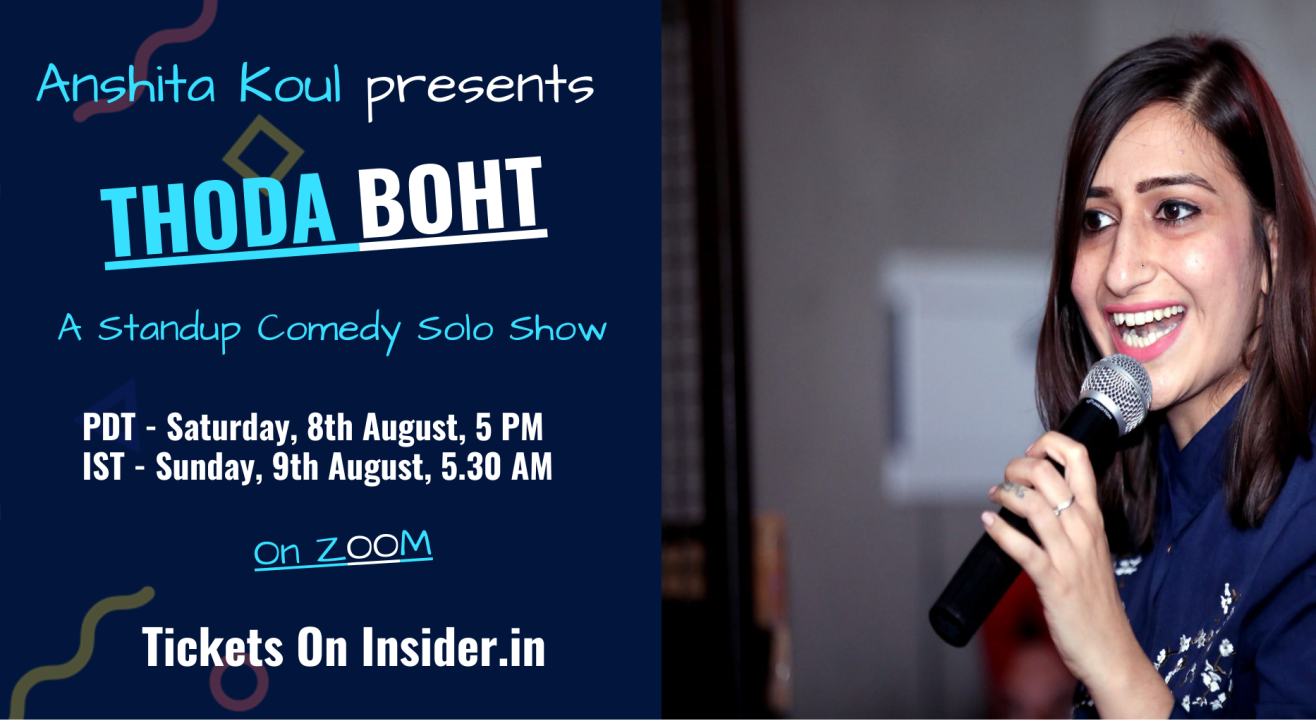 Thoda Boht By Anshita Koul
August 8 - 5PM (PDT) | August 9 - 5:30AM (IST)
Event Guide
Digital Event
Watch on Zoom
Live Performance
Enjoy a unique experience
Invite your friends
and enjoy a shared experience
Event Guide
Digital Event
Watch on Zoom
Live Performance
Enjoy a unique experience
Invite your friends
and enjoy a shared experience
About the Event
Thoda Boht is a solo standup comedy show by comedian Anshita Koul, who made her debut in the standup world from the reality TV show Queens of Comedy (now on Netflix), and that's why she believes it can't get any worse.
She is a part-time tour guide, full-time Instagram storyteller and a connoisseur of Pistachio shells. And yes you are right, she googled the spelling of connoisseur.
She wanted to travel the world with her show (in person) but now thanks to the pandemic, she is inviting the world to her. So get ready to watch her perform live in her finest PJs, pun not intended.
**DISCLAIMER: THIS SHOW IS FOR THE NRIS BASED IN THE US, AUSTRALIA, CANADA AND THE ONE WHO HAVE NO SLEEP ROUTINE. THE TIMING FOR THE SHOW IS 8TH AUGUST 5:00 PM (PDT)/ 9TH AUGUST 5.30AM (IST)