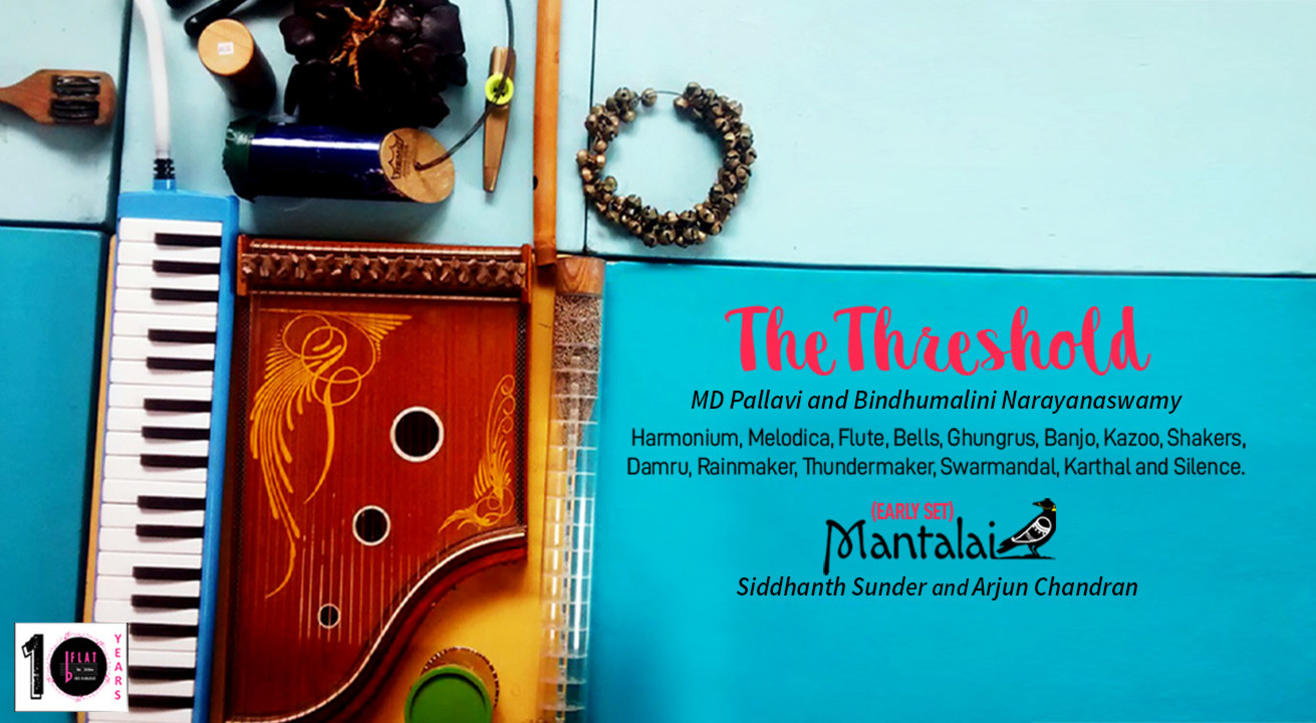 Music
Threshold + (Early Set) Mantalai At bFLAT
About
bFLAT presents a unique concert evening with The Threshold - a collaboration between singer, composer Bindhumalini Narayanaswamy (trained both in Carnatic and Hindustani classical music), who finds her resonance in the wisdom of the mystic poets - and MD Pallavi, who is trained in Hindustani classical. She sings Kannada poetry, acts in the theatre and and makes films. These 2 amazing women try to understand gender as they make a journey from birth to liberation, from form to the formless with their words and and music, through the eyes of women across the world, across continents and generations. . MD Pallavi and Bindhumalini, in their musical conversation, support and compliment each other not only with their voices but also a bed of sound through the use of multiplr instruments -Through the stories of Hypatia, Agnodice, Kharbaoucha, Fanny Mendelson and the songs of Lalla, Lingamma, Neelamma, Goggavva, Sule Sunkkavva, Nina Simon and Meera, Pallavi and Bindhu weave a journey of the woman accentuating their voices with the sounds of the harmonium, melodica flute, kazoo, swarmandal, udukkai, bells, ghungroos, shakers, kartal, thundermaker, rainmaker and the Banjo.
THE EARLY SET - MANTALAI: Mantalai is a truly original indie duo because it's inspirations are from the diaspora of Indian folk traditions but the musicians themselves are young, urban, contemporary. Their influences include Indian folk theatre, folk-lore and folk music as well as contemporary modern, western music influences. Guitarist Arjun Chandran and singer-actor Siddhanth Sunder (who is a very talented storyteller) play assorted instruments to create some interesting and compelling music.


Artist Line-Up

Pallavi MD

Pallavi MD is a highly respected singer, composer, actor, editor, sound designer and filmmaker from Bangalore, who has made her mark across India and has travelled extensively with her art. Pallavi's accomplishment read like a Hall of Fame....
She has been performing Sugama Sangeetha on stage for the last 23 years.


Bindhu Malini Narayanaswamy

Bindhu Malini Narayanaswamy is an Indian singer, composer, musician, music director, actor and graphic designer. Bindhu is one of the few rare artistes who have pursued training in both Carnatic and Hindustani classical forms and yet has constantly strived to explore avenues outside of her strict classical roots to other forms and traditions in search of the pure soul stirring power that music has. This has given form to a more easy yet confident personal style for her as a performer. She is known for her soulful voice and her deeply spiritual renditions of the poetry and songs of the mystic saints and poets belonging to different eras and parts of the subcontinent. Even at a very young age Bindhu has been striving to find a very solid ground to express her deep-rooted spiritual quest, constantly searching and looking inwards into her very being to bring forth her music.
Mantalai

Arjun Chandran is a well-known guitarist from Bangalore with a penchant for the blues and experimental. Arjun has been a part of projects Schizophonic, Gutbucket Blues, Gauley Bhai among others and has also played sessions with other senior musicians in Bangalore, Pondicherry, Kolkata and Shillong. Arjun is also a music producer and has collaborated on theatre productions that he has travelled with across France. Siddhanth Sunder is a talented vocalist and actor trained at Adi Shakti.


Venue
The Bflat Bar
776, 100 Feet Road, Indiranagar (above Kotak Bank), Bangalore
GET DIRECTIONS