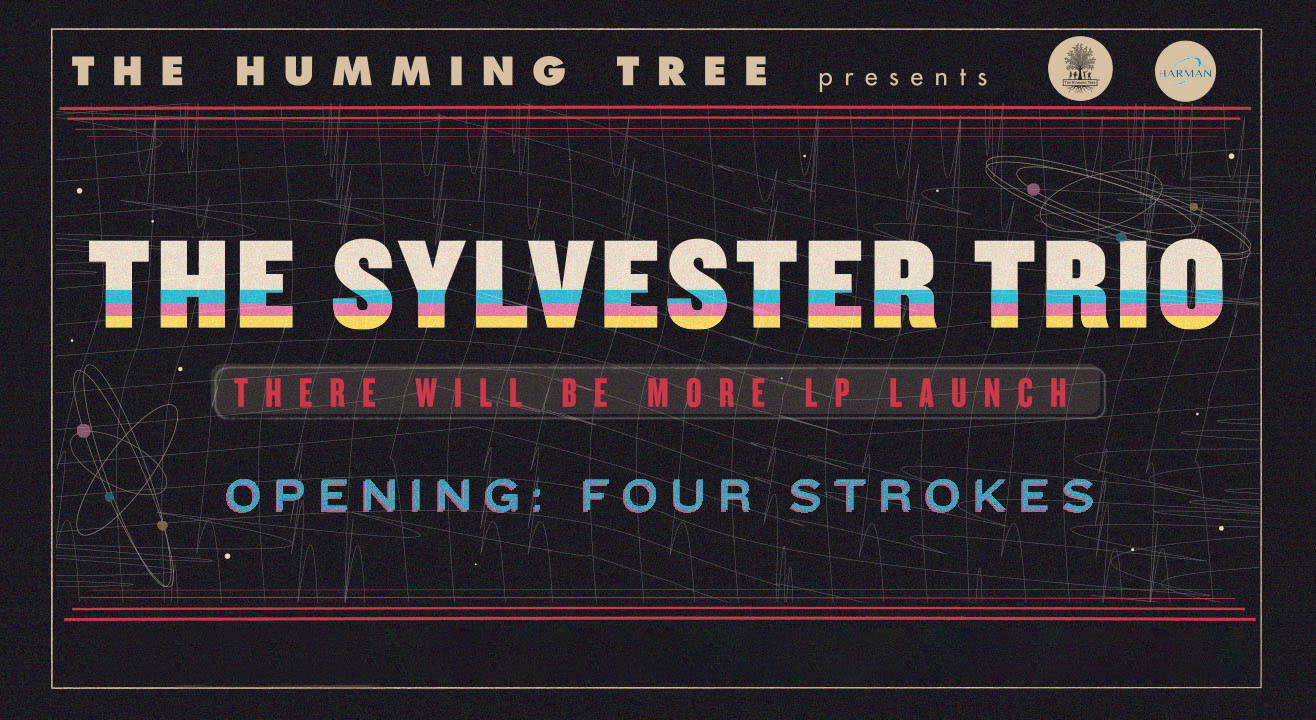 Music
THT Presents The Sylvester Trio (Album Launch) & Four Strokes
The Humming Tree, Bangalore
About
A night of funk, rock and everything in between as The Sylvester Trio launches their new album with some friends joining them on stage. Opening the night we have Four Strokes playing their vintage tinged classic rock.
The Sylvester Trio
The Sylvester Trio launches their debut album "There Will Be More" with songs that vary across genres like funk, rock and Indie, with hints of regional influences. The product: a sound that showcases the band as a robust example of an eclectic genre. The album is a
culmination of their musical experiences, and the perfect soundtrack to their journey. Their songs will get you dancing, singing and entertain you all night. Come together on the 25th of
May at your favourite venue for all things music, the Humming Tree, to celebrate this momentous occasion with the band.
The Sylvester Trio are one of Bangalore's favourites, playing songs that are funky, yet playful with tongue-in-cheek lyrics and a strong stage presence. They're known for their musical sensibilities that apply across genres. Their roots lie in Contemporary Rock, Indie, and Funk Rock. They stem from the genius of the Beatles, John Mayer, Steely Dan, and the Dave Matthews Band. They branch out into their own heady mix, taking a leaf out of each influence, but becoming their own unique system of sound. Since 2016, The Sylvester Trio have been performing across India at festivals, pubs, and corporate events enthralling audiences with a clean conventional setup of electric guitar, bass, and drums.
Four Strokes
This high energy four piece clan has been together since 2006. Four Strokes' music is a free interpretation of Rock n' Roll, Blues & Soft Rock. It's hard to define the music of Four Strokes as the members of the band are influenced by a wide array of bands and music styles. This creates the positive vibe in "Four Strokes". Though the definition might not be clear, the objective is to play music from the heart. Four Strokes has gone from a virtual somebody to one of the hottest live bands in town. The pure amalgamation of four passionate and driven musicians is very evident by watching us perform - Live!
Four Strokes is open to all kinds of music and allow their experiences in other genres to influence their performance. The band has created a name for itself; we're one of the well-knit bands on the scene and perhaps the best at working a crowd. We have performed at Clubs, Pubs, Dances, Cafés, Parties, Private, Commercial & Corporate events and have emerged and evolved to suit various portfolios and provide a satisfying musical experience. It's apparent that our energy comes from a deep passion for the music and our excitement is contagious! "Every show, we get up there, we love what we do." The success of the band has been the "Obsession and Passion for Music". Four Strokes is a band which is unique and different - yet the same! They are original - yet vintage. Say what you will; this band is something out of the ordinary and won't fail to impress.