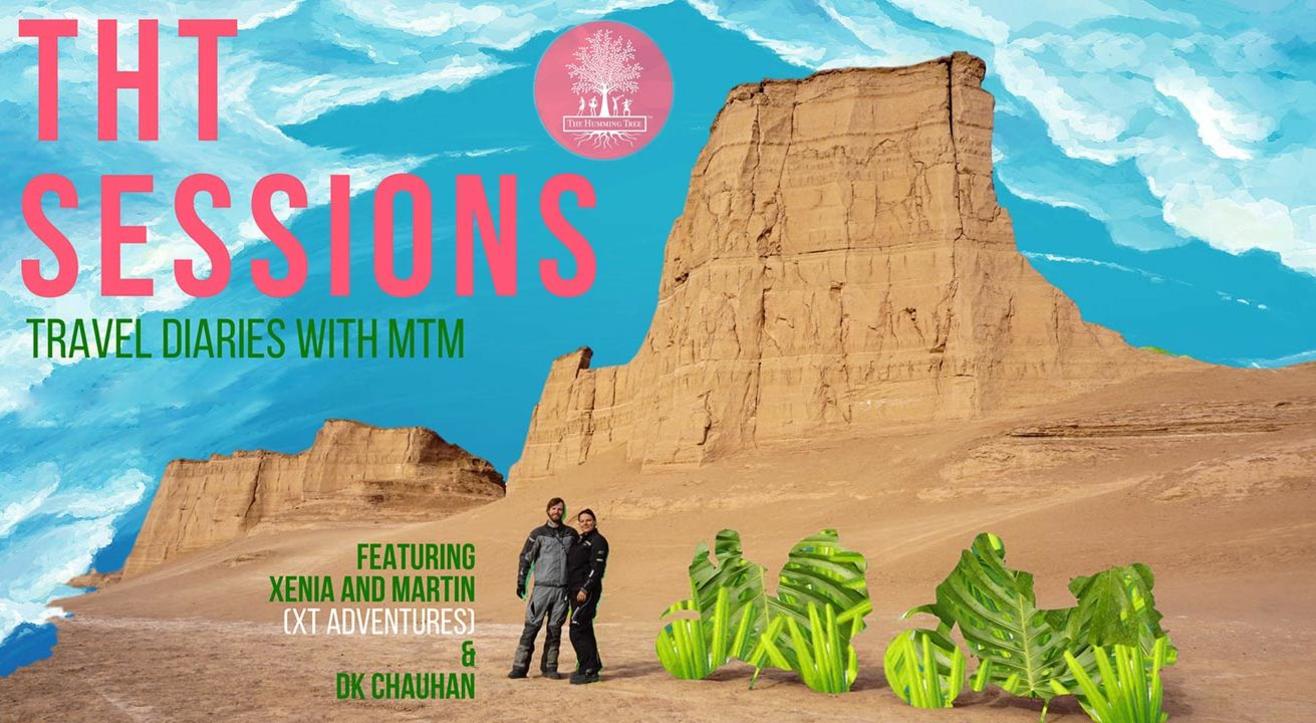 THT Sessions: Travel Diaries w/ MTM ft. Martin, Xenia & Deepak
The Humming Tree, Bangalore, Bengaluru
Step out and enjoy this event
Invite your friends
and enjoy a shared experience
THT Sessions: Travel Diaries w/ MTM ft. Martin, Xenia & Deepak
The Humming Tree, Bangalore, Bengaluru
Step out and enjoy this event
Invite your friends
and enjoy a shared experience
Invite your friends
and enjoy a shared experience
We're proud to launch a brand new series of sessions that will purely be about meeting explorers, wanderers, musicians, theatre troupes, speakers and other performance artists across various other genres, off the beaten track, to dive into their lives and learn about the little ordinarily extraordinary details that make them who they are every step of the way on their unique journeys.
Session #2 : Travel Diaries with MTM
Martin & Xenia exist as a team since 2012 and they fell in love with each other not in Switzerland (their hometown) but in Cusco, Peru. Quite fitting for two travel bug infected people like themselves. They met some years before at a house warming party but not everyone remembers a lot from that night. After that Martin left for 1.5 years o the States and shortly before he came back, Xenia flew to Central and South America for 10 months. There she met a common friend with whom she travelled across Latin America for a few months. Martin was planning something similar: with his friend and their motorbikes they were to travel for 6 months all over South America. At one point the girls figured out that they would be in Peru at the same time as the boys, and therefore they decided to meet in Cusco. This plan actually worked out and after a great ride out with Martin and his Ténéré, Xenia was convinced that he would be a good match. Martin travelled some more months and Xenia flew back to Switzerland. Shortly after Martin was back home, they moved together.
Deepak Chauhan is a traveler, self taught photogrpaher who accidentally became a Rider. He traveled 46,000 kilometers across india in 500 days on a borrowed Royal Enfield Motorcycle. He was working with IBM software labs during the initial 12 months of his India journey. Then, the next 7 months he spent in northeast and bhutan without any job, living on limited resources and staying with people (or at locals) whom he met on road. In 2017, he crowdfunded & raised money for his europe journey. He traveled 16,000 kilometers in 80 days around 18 European countries on a 27 year old motorcycle alone. In 2018 February , he plans to go on another adventure to explore southeast Asia on a motorcycle.
Deepak had planned a lot about his life & nothing worked out. But whatever happened, his life turned out to be more amazing and interesting than what he had imagined. So now he just believes in destiny and lets his life go with the flow.
The Humming Tree, Bangalore
1st Floor, 12th Main Road, Indiranagar, Bangalore
GET DIRECTIONS
THT Sessions: Travel Diaries w/ MTM ft. Martin, Xenia & Deepak
The Humming Tree, Bangalore, Bengaluru
Step out and enjoy this event
Invite your friends
and enjoy a shared experience