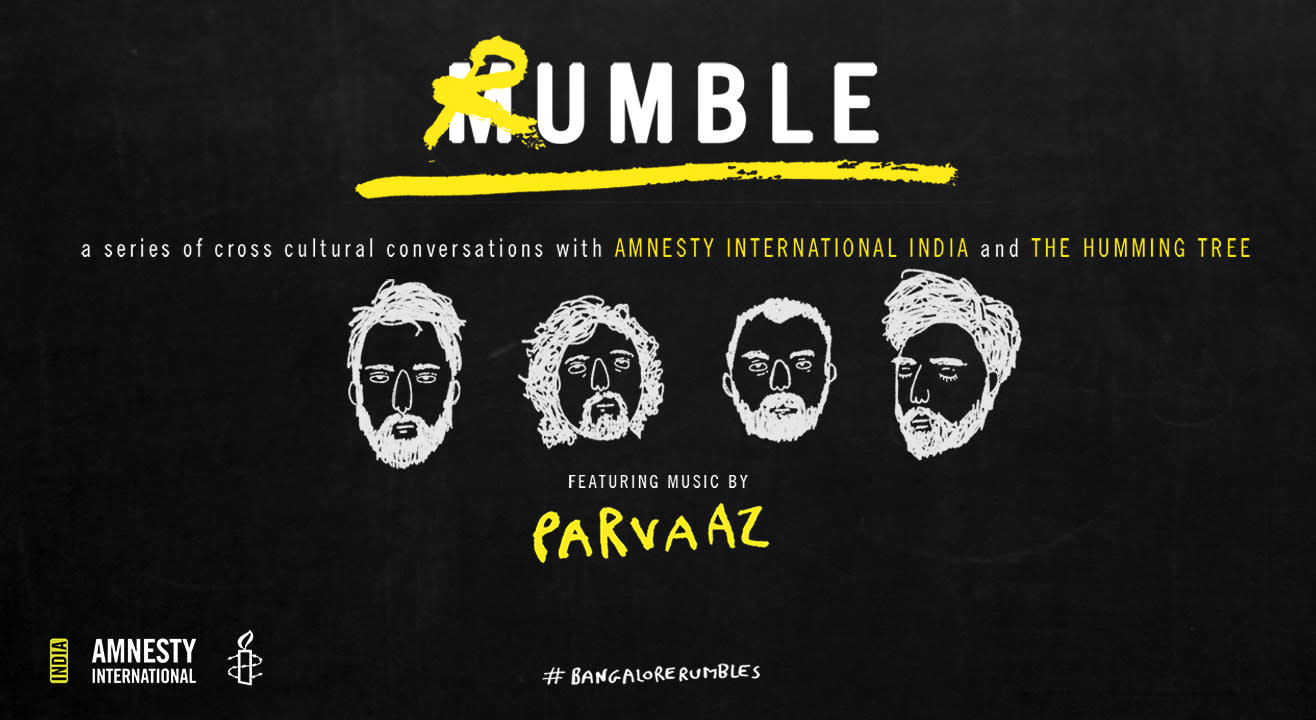 Music
THT x Amnesty International India : The Launch of Rumble ft. Music by Parvaaz
The Humming Tree, Bangalore
About
Rumble ˈrʌmb(ə0: verb- To make a continuous, deep, resonant, sound which changes the world.

It all begins with a thought, then a whisper, then a mumble and soon the earth begins to shake and rumble. One voice becomes many and hand in hand we stand up to change the way our world is, to make it the world we want it to be.

This is the Rumble.
You are the voice that makes the difference.

From October '17 to March '18 every month Rumble will break the silence about issues that matter.
Join us in listening to well renowned speakers and supporters, understanding the realities that people around us face everyday and discuss tools so you can make a difference

RUMBLE

The overall objective of "Rumble" is to build a community of people who engage on relevant societal issues and have a space to have their opinions heard. It is a collaboration between The Humming Tree, a unique arts and performance venue in Bangalore, and Amnesty International India, a human rights based NGO. It brings together art and activism through cross cultural conversations.
Through a series of six events spanning from October 2017 to March 2018, Rumble will create content and provide a platform both offline and online for like-minded people to express themselves freely.

PARVAAZ

Parvaaz is an indie-rock band best known for high-energy live performances and expansive soundscapes that seamlessly shift between heavy arena rock and soulful acoustic. The band released their debut LP, "Baran," in August, 2014, and received an overwhelming positive response from fans and critics alike. Their music is best described as a haunting soundscape of blues, rock, and psychedelia, with profound and philosophical Kashmiri and Urdu lyrics about common human experiences and ideas, soaring vocals surrounded by progressive soundscapes and melancholy submerged in beauty, all of which combine to immerse us in an aural experience that unleashes waves of delayed gratification. This will be their first show after their extremely successful Canada Tour, the first of many adventures outside India.

Amnesty International India

Amnesty International is a worldwide movement of people campaigning to protect human rights.It's vision is that of a world in which every person enjoys all of the rights stated in the Universal Declaration of Human Rights and other international human rights standards.
When those human rights are violated, Amnesty:
• Searches out the facts
• Exposes what is happening
• Mobilizes people to stand up for change.
Around the world, Amnesty protects people and communities who come under attack, encourages governments and others to respect human rights. It is currently the world's largest grassroots human rights organization, and has received the Nobel Peace Prize for it's work. Amnesty International India is a national office of the organization and is headquartered in Bangalore.