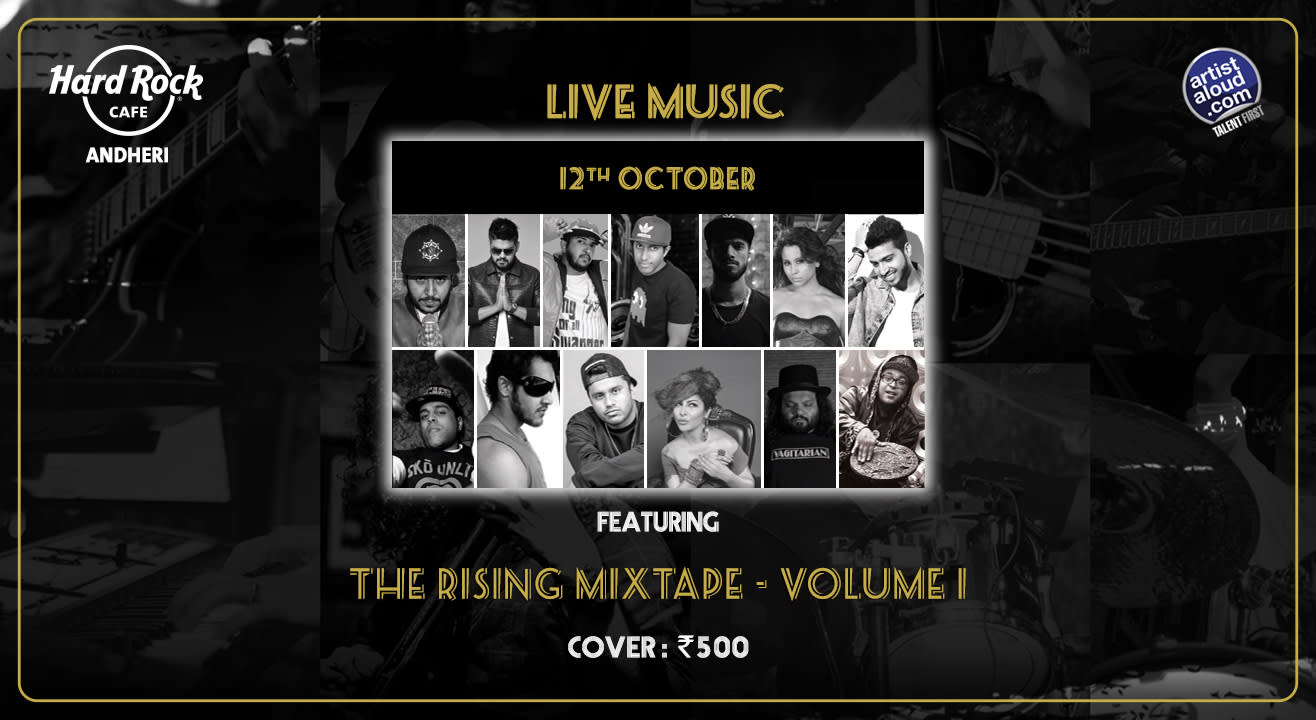 Music
The Rising MixTape - Volume 1 - Thurday Live!
About
"About The Rising Mixtape:
With solid Bollywood credentials behind her, including hits from Patiala House, OK Jaanu and ABCD: Any Body Can Dance, rapper Hard Kaur returns to the pure hip-hop genre on The Rising Mixtape, Vol. 1, a years-long labour of love project. With an ear for inventiveness and inspired by collaboration, she elicits fresh sounds from a staggering 30 Indian guest artists on the album. This mix of raw talent—both well-known and underground—injects new energy into this hard-hitting selection of rough beats and aggressive, witty rhymes. Lead single "All-Stars Anthem" flaunts the big-squad feel, with each artist backing up the next. This might just be the future of Indian hip-hop.
About Artists:
1. Hard Kaur: Hard Kaur is the performing name of Taran Kaur Dhillon, an acclaimed Indian-British rapper, singer, and actress. Coming of age in Birmingham in the early '90s, she became interested in rap music, leaving school at 16 to pursue a music career. Over the next ten years, Dhillon, who had begun developing her Hard Kaur sound and persona by now, struggled to find opportunities as an Indian woman in the U.K.'s male-dominated hip-hop scene. Possessed of a strong will and ample talent, she eventually began to attract notice outside of Britain, playing in Europe, Israel, and the U.S., where she found work with major acts like Justin Timberlake and De La Soul. Returning to the U.K., she finally broke out with the 2007 hit single, "Glassy," a collaboration with rap collective the Soma Family. The success of "Glassy" allowed her to release her debut LP, Supawoman, that same year while propelling her to stardom back in her home country of India. Over the next few years, Hard Kaur appeared in numerous Bollywood productions as a featured singer, rapper, and actress. She resumed her own solo recording career with 2012's P.L.A.Y. Party Loud All Year, released by Sony. Her talents as a lyricist and collaborator remained in demand in India, where she worked on everything from Coke commercials to writing a song for the FIFA World Cup. While maintaining her Bollywood career, she continued to record solo material, returning in 2017 with The Rising Mixtape, Vol. 1.
2. Parry G: Prikshit Gupta A.K.A Parry G is an English/Hindi rapper Was born on 5th August 1992 in Udhampur(J&K). Started rapping in his late teens and this hobby Gradually changed to habit. He is known for his complicated rhymes, multi's, and a Top Notch flow. Parry G's debut in Bollywood in a movie "Behen Hogi Teri"Starring Raj Kummar Rao & Shruti Hassan in the song 'Jai Maa' released by Zee Music. He did a rap in a song with Sonu Nigam & Jonita Gandhi for movie Friendship Unlimited released by T-Series. He Created history by Becoming the first ever Rapper from India to reach to the Grand Finale of India's Got Talent.
3. Shah Rule: Born in Hong Kong, raised in Moscow, Russia, and of Indian origin, Shah RuLe is a Recording Artist, Music Producer, and Audio Engineer living in London. Shah RuLe's music is an eclectic mix of Hip-Hop, R&B, Pop, and Electronic. In 2014, Shah received airplay from BBC Radio 1 and 1Xtra for his lead single "Nomad". Shah was also featured on the track on "Unstoppable" on producer NaamLess's "The Heights EP", which reached the BBC Asian Networks Download Chart and No.1 iTunes World Music Chart position. In June of 2015, Shah released a free album titled "Visualise Greatness", containing 8 tracks Produced and Mixed by himself featuring the local UK acts like Hope, Swami Baracus, Paula, Words Ali, Kay, and more. Each track on album samples a classic Bollywood film song onto of 90's Hip-Hop drum breaks and modern 80's.
4. Illa straight: In an industry where most artists are forced to conform to a narrow and artificial identity, Illa Straight strives to transcend the boundaries, and uses his diversity as his greatest strength. His ability to effortlessly bounce between the club and RNB tracks, to creating thought-provoking songs that convey everyday situations, making him a versatile artist who can create the soundtrack to people's lives. Illa Straight was born in the Chicago area and grew up in various locations ranging from Illinois to India. His upbringing and experiences have heavily influenced his music. While in India, Illa Straight reconnected with his roots and utilized his time by honing his skills on the mic. Being of Indian descent and growing up in various locations, he feels he has a unique responsibility of representing a variety of people and places that have made him into the man he is today. It is this belief coupled with the ability to connect to his audience that has allowed Illa Straight to perform in the United States and India and open up for popular artists such as Akon and Flo Rida. Illa Straight currently resides in Philadelphia and continues his quest to share music with the world. He describes his essence best through his name, Illa Straight. "My music is straight ill, and if people think I'm illa than the artists they're used to hearing, I'm gonna be straight with that. I'm illustrious with my passion, which fuels my creativity; my rhymes are my palette of paint, my mic is my paintbrush and my audience and studio is my canvas on which I achieve my ultimate goal of illustrating my take on life through music."
5. Apeksha Dandekar: If you want to know what power really sounds like, hear Apeksha sing. Soulful yet sensual, haunting yet uplifting, Indian yet Western, it is almost hard to believe such a petite body could house so much talent. She has the kind of voice you would associate with Western Pop, but the real wonder is watching her delve into R & B, Sufi and Bollywood Dance numbers, elevating them to a whole new level. She slips from genre to genre with ease and of course her trademark grin. She's also a born performer and can keep an audience enthralled. Not that it matters really but this girl is drop dead gorgeous and will up the glamour quotient of any event. You probably have already seen her soulful performance on Coke Studio and heard the 'Beparwah from Baby' but that's just the tip of the iceberg. When it comes to what this girl can do. Apeksha is a Pune born London raised Brit Asian Maharashtrian! Her unassuming quality does not stop at her singing as many heads have turned and mouths have dropped when she switches from her London accented English to Puneri Marathi and singing in Hindi, Marathi, Punjabi.
6. Dj Spindoc: Sanjay Meriya, known as The Spindoctor, has established himself as a premier DJ spinning music that keeps people on the dance floor. He creates and performs electronic dance music, including remixes of club and hip hop favorites, house and amalgamations of other styles. A turntablist with various skills such as beat mixing, scratching, beat juggling, drumming, sampling etc., which allows him to teach the art of turntablism at Audioqube, The True School of music and Party Map DJ Academy. He is currently a part of the hip-hop act "Gully Gang" as their official DJ with Sony Music Artist (Rapper) Divine and has performed at Saavn, NH7 Weekender, BBC PopUp & Hip Hop Homeland (101 India) with Gully Gang. The Spindoctor is featured in The Rising Mixtape Vol -1 by Hardkaur providing his skills of scratching in his debut track feature. A natural talent with an enormous passion for music and entertaining, his energetic stage presence has been known to leave his audience wanting more.
7. Dj Clay: DJ Clay has become an ever-evolving and increasingly known name in Pune nightlife. He successfully has years of performance experience under his belt, which is reflected in his versatility and his grip on the crowd. Clay's been in the music scene for a very long time, first venturing into the musical arena on the completion of his schooling. His unique forte and passion towards his music help him blend the old with the new, making it fresh for his crowd to break it down to.
8. Sonny Ravan: Born in 1982, Siddharth Gautam Banerjee a.k.a Sonny Ravan has come a long way from participating in school dramas to singing songs in college with his friends to writing and composing music for the biggies of the music industry. An artist who is a follower of music in entirety and not genre based; Sonny Ravan has penned lyrics for the recently released party anthem by Hard Kaur titled 'Aise Karte Hai Party'. He writes lyrics in English, Hindi, Bengali and Marathi. Singing is his passion he finds zeal in rapping. He has done various raps in Hindi, English, and Bengali. Sonny has released around 500 odd songs on Soundcloud and audiomack. All written and composed by him, that are available for free download for music freedom. He has few tracks where he has collaborated with artists like Apeksha Dandekar, Ishq Bector, and Sree D to name a few. Apart from singing, he also is a mimic artist and an actor. His win at 'Shamitabh' nation-wide contest organized my Oye FM in Mumbai, got him to meet the legendary actor Amitabh Bachchan. Sonny now is the owner of Lal Batti Studios, a music production company catering to music production and creative audio needs from lyrics, composing, recording, mixing and mastering.
9. P Man: Rohit Pereira aka PMan has been part of the Indian independent music scene for 17 years. He started with playing in punk and metal bands, and later went on to play bass with India's legendary electronica act Shaa'ir + Func as well as the vocalist for hip-hop/electronica outfit ViceVersa. PMan has also hosted the music magazine show VH1 Music Diaries, on VH1 India and is one of the creators and hosts of the Okay Potato YouTube channel.
10. Vipul Kapoor: Vipul Kapoor is an Indian musician, singer, composer, music producer, recordist, music programmer, and live performer. He sings in Hindi,Punjabi & English. Started his musical journey since he was 6 and opted it as a fulltime profession after his graduation in 2013. He has worked with renown artists such as Hard Kaur, Deepmoney, bsanj, dahek etc as a programmer and is out with plenty of his independent singles. He made a debut as a playback singer the movie 'Muskurahatein' . The most recent album is The Rising Mixtape in which he has worked as a singer and a programmer.
11. Dj Kave: Based out of Chennai, DJ Kave is one of the most recognized names in the party scene. Having toured and performed across the globe with renowned International artists at festivals like KLIMF Music Festival (Malaysia ) SANDANCE (DUBAI) Music Festival to name a few. He is best known for being the Official DJ of Oscar winner and music maestro AR Rahman during the "Jai-Ho" series of Concerts in 2009. DJ Kave also tours extensively with two of India's most famous and internationally recognized Hip Hop Artists & Rappers- Blaaze and Hard Kaur. DJ Kave kick-started his DJing career in Doha, Qatar over 15years ago.His American associates urged him to excel in Hip-Hop & Rnb, which was an instant hit with the party crowd. Since then, DJ Kave has evolved into a highly versatile artist and includes genres like Trap, Twerk, Top 40 and E.D.M as well as Hip-Hop and RnB."
12. Nasty Ninja: Ninja's 1st attraction towards the hip-hop culture came in the form of b-boying. He 1st started as a b-boy in 2005 and eventually grew into rap post listening to "Stillmatic by Nas". He has since been writing in Hindi and English. Previously known as MC Shinobi, He adopted the stage name Nasty Ninja. With his new body of work and a new style of rap along with it. Ninja's music is melodious and Groovy catering to all types of audience with influences of Pop Rap and Electro Rap which is evident in his music staying true to his roots he also crafted a lot of hard-hitting Rap and is well respected across the Globe. Having performed in New York, California, Bangkok, Paris and almost all Major cities in India. Ninja is also a part of a Multi Award Winning ensemble "Mumbai's Finest".
13. Su Real: Su Real is a New Delhi based DJ / producer whose name has become synonymous with Trap, Hip Hop and urban dance music in India. Popular culture in India is evolving rapidly, and Su Real is at the forefront of that movement. The old divisions – Bollywood, commercial, trance – no longer make sense. Su Real represents this new breed of Indian music producers who create and curate for the modern Indian dancefloor. In 2016, Su Real released his most meticulously crafted output to date – Twerkistan. The full-length album boasts 16 explosive dance tracks fusing the latest styles of Western dance music with Eastern motifs and melodies. The Mumbai Mirror proclaimed, "While fellow producer/DJ Nucleya has spearheaded the genre of desi bass, it is Su Real who has added weight to the genre and converted it into a movement." Twerkistan received critical praise from a wide range of media outlets – DNA, Indian Express, First Post, Elle India, GQ India, The Bangin' Beats, Festival Sherpa, Wild City, Gizmodo, Maed In India (SAAVN) among others. The album was supported by music videos on heavy rotation at VH1 India, the artist spotlight on iTunes, and four months of non-stop touring all over India, including key support slots on 4 dates of Nucleya's Raja Baja launch tour. Su Real is now an established brand on the vibrant landscape of independent Indian music, with a steady stream of singles, official remixes, and collaborations complimenting his full-length releases. A fixture on the domestic DJ circuit, he has shared the stage with a virtual who's who of dance music today: Skrillex, Diplo, Major Lazer, Nucleya, Yellow Claw, NGHTMRE, Borgore, Hudson Mohawke, Noisia, Flux Pavillion, Pretty Lights, Alo Wala and much more. Su Real has also performed at major festivals like Sunburn (Goa 2014 & 2015), NH7 Weekender (Pune, Bangalore, Calcutta, Shillong and Delhi), MTV Bloc Party (Mumbai), VH1 Supersonic Arcade (Delhi), Worli Festival (Mumbai), and India Bike Week (Goa) amongst others."
Venue
Hard Rock Cafe, Andheri
Sharyans Audeu, Fun Cinema Lane, Near Balaji Telefilms, Off Veera Desai, Andheri West, Mumbai, Maharashtra 400053