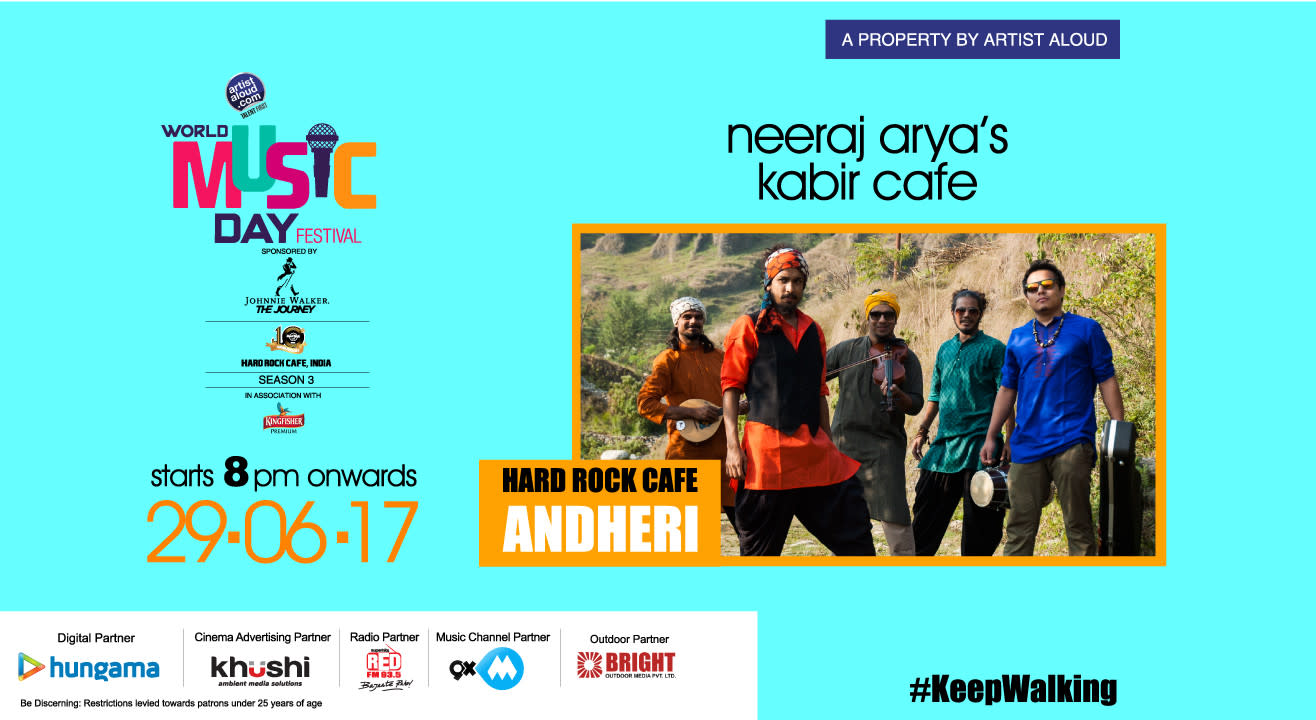 Music
World Music Day Festival | Season 3 feat. Neeraj Arya's Kabir Café
375 (Entry) + Rs.250 (Cover)
About
It is the month of June and World Music Day is celebrated on the 21st of this month every year. For the last two years, Artist Aloud has partnered with Hard Rock Cafe across the country and made a celebration out of it with artists like Papon, Amit Trivedi, Benny Dayal, Indiva, Parikrama, Indian Ocean, Euphoria and many more. The 1st season was only across 5 venues of HRC and the 2nd season was across 7 venues.
Now Artist Aloud and Hard Rock Cafe are back in association with Johnnie Walker with a festival across HRC's 7 venues for Season 3 with 14 gigs across 29th June, 1st July and 2nd July 2017.
Neeraj Arya's 7 years of relentless research in picking up, understanding and performing the verses of Kabir is the backbone behind Kabir Cafe. Largely influenced by renowned Kabir Folk Singer Padmashri Prahladji Tippaniya, Neeraj has pioneered the genre known as Kabir Rock. He has performed all over the country, both solo as well as with a full-fledged band. Neeraj Arya's Kabir Cafe is a venture where Neeraj, Mukund Ramaswamy, Raman Iyer, Viren Solanki and Poubuanpou Britto KC strive to present the poetry of Kabir in a musically interesting fashion without compromising its lyrical beauty. They don't see the Mystic Kabir as a "saint". To them, he is just a human being who had the guts to speak his mind.
We have two categories of tickets:
VIP Season with unlimited food and beverages
Per Day tickets inclusive of 50% as cover charge
This season is going to be even more bigger and entertaining. BOOK YOUR TICKETS.​
Venue
Hard Rock Cafe, Andheri
Sharyans Audeu, Fun Cinema Lane, Near Balaji Telefilms, Off Veera Desai, Andheri West, Mumbai, Maharashtra 400053