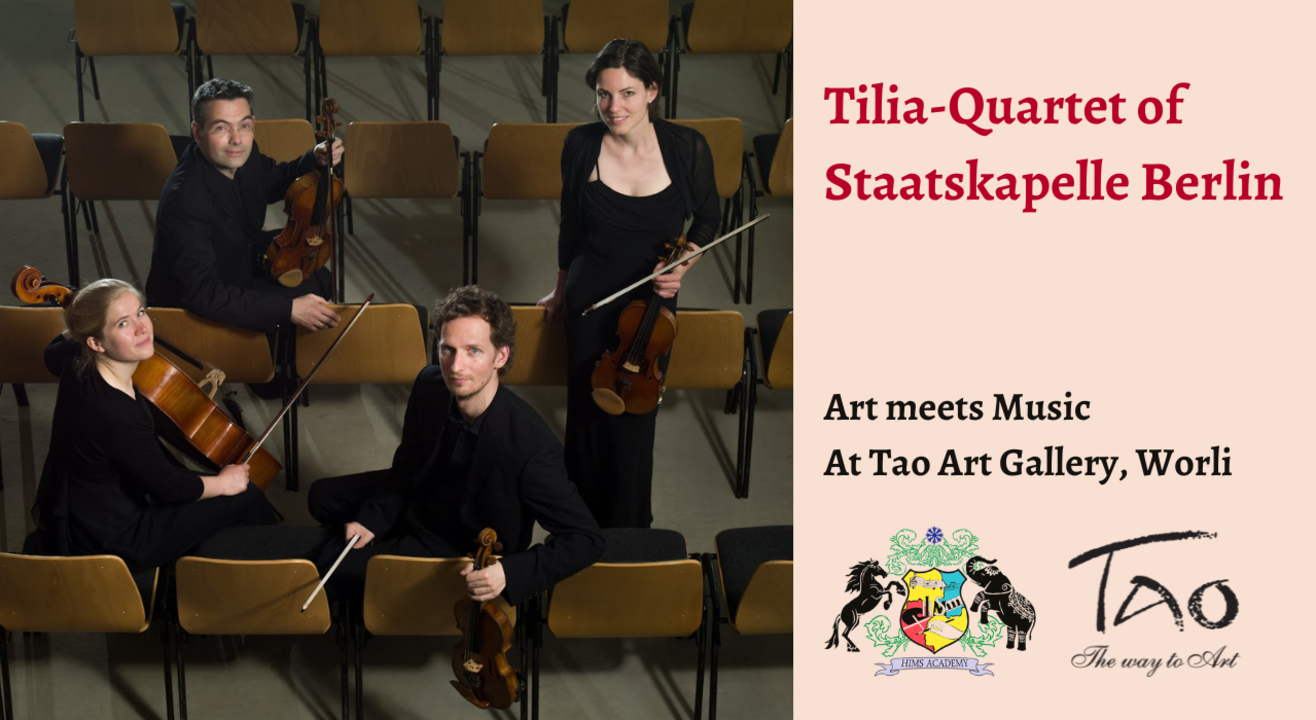 Tilia-Quartet of Staatskapelle Berlin
Event Guide
For Age(s)
Family Friendly
Invite your friends
and enjoy a shared experience
Tilia-Quartet of Staatskapelle Berlin
Event Guide
For Age(s)
Family Friendly
Invite your friends
and enjoy a shared experience
Event Guide
For Age(s)
Family Friendly
Invite your friends
and enjoy a shared experience
ABOUT THE CONCERT
The Tilia Quartet takes its name from its "ancestral home," the Staatsoper Unter den Linden (tilia-Linde). Here, four musicians from the Staatskapelle Berlin have joined forces to form the string quartet:
Eva Römisch
born near Stuttgart, came to Berlin to study violin with Uwe-Martin Haiberg and Ulf Wallin. Even before her concert exam, she became a member of the Staatskapelle in 2002. After attending the Special School of Music in Berlin and the State Conservatory of Music in Bolzano/Italy, violinist Andreas Jentzsch studied in his native city of Berlin with Joachim Scholz and Michael Mücke and was a prize- winner in the "Musica senza frontiere" competition (1995). He has been a member of the Staatskapelle since 2002.
Wolfgang Hinzpeter, a native of Hamburg, studied viola in Hanover with Hatto Beyerle and joined the Staatskapelle in 1999 after his first engagement at the Rhine Opera (Duisburg Symphony Orchestra). In addition, he has been a member of the Bayreuth Festival Orchestra since 1998. The Berlin cellist Rebekka Markowski is a student of Heinrich Schiff and studied in Vienna and Zagreb. She has won numerous international competitions, was a scholarship holder at the Karajan Academy, among others, and has been deputy principal cellist of the Komische Oper Berlin orchestra since 2015.
In addition to regular appearances in the concert series of the Berlin Staatskapelle and the Berlin Philharmonie, the Tilia Quartet has given numerous highly acclaimed concerts in Germany and abroad and has been invited to international festivals. The Deutschlandfunk, for example, stated, "The Tilia Quartet astounds with Verdi's string quartet...so much fullness and such great subtlety," the Husumer Nachrichten praised "the excellent playing of the Tilia Quartet," and the Neue Merker from Vienna stated, "it is hardly possible to play in an even purer, fresher, more balanced way!"
PROGRAMME:
Saturday, January 14, 2023 (6 - 7:30 pm): Works for String Quartet by Franz Schubert, Wolfgang Amadeus Mozart, & Felix Mendelssohn-Bartholdy
Know more: www.tilia-quartett.de
Tao Art Gallery
165, The View, Dr Annie Besant Rd, Lotus Colony, Worli, Mumbai, Maharashtra 400018, India
GET DIRECTIONS
Tilia-Quartet of Staatskapelle Berlin
Event Guide
For Age(s)
Family Friendly
Invite your friends
and enjoy a shared experience