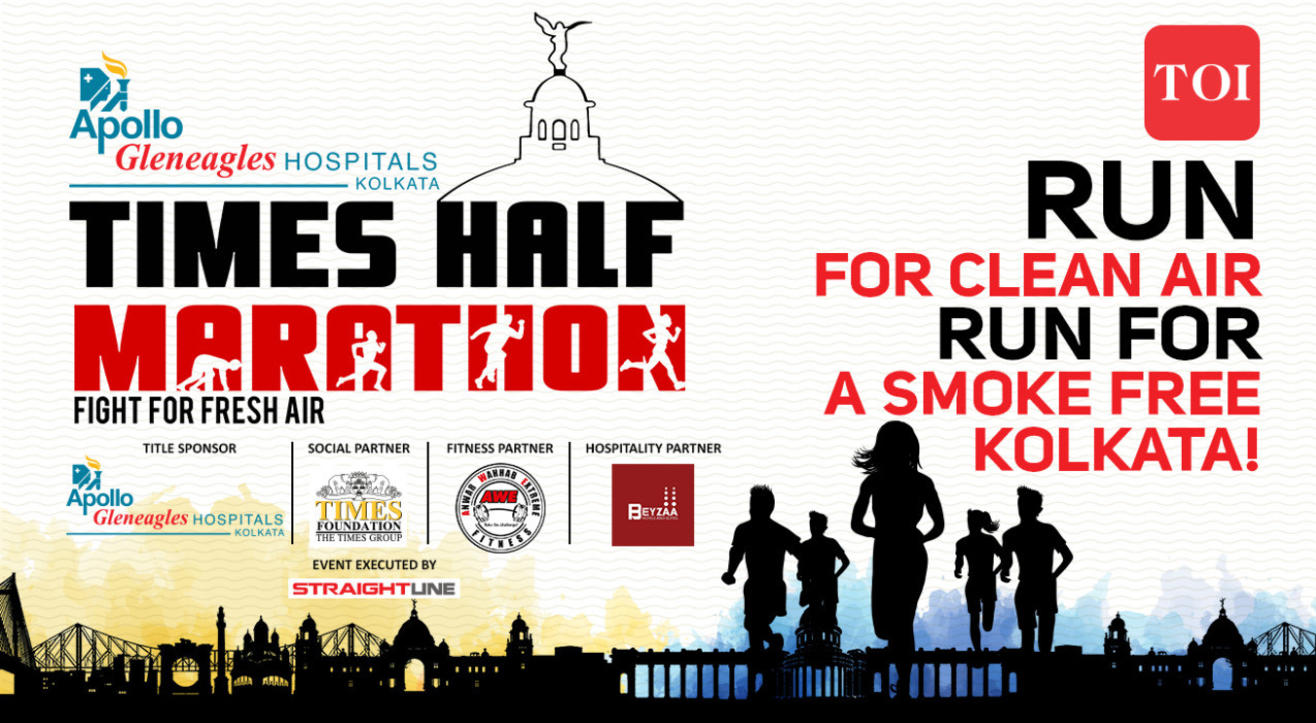 Red Road Basket Ball Court Area, Kolkata
Step out and enjoy this event
Invite your friends
and enjoy a shared experience
Red Road Basket Ball Court Area, Kolkata
Step out and enjoy this event
Invite your friends
and enjoy a shared experience
Invite your friends
and enjoy a shared experience
The first edition of Times Half Marathon is all set dazzle in the city of Joy on 9th February 2020. Around 5000 runners are expected to participate under 3 main categories: 21k – Apollo Run, 10k – Heritage Run & 03k – Clean Air Run. Route starts and finishes in Red Road covering the grand and famous landmarks of Kolkata along the course. Every finisher will be awarded with a medal and certificate from The Times of India Group. Come be a part of this historical event!
Age Limit
Age limit for 21K is 18 years and age limit for 10K is 16 years and participant should have medical license to participate in the event.
Aid Stations
Refreshment stations will be established on the marathon course with energy drinks, water and fruit on offer. The refreshment points will be located at approximately every 2.5 kilometres. There will also be toilets by the course.
Award Medals
Absolute record running winners and prize winners will be presented with the commemorative cups and monetary prizes. Winners and prize-winners of the groups will be awarded special prizes from sponsors. Commemorative medals will be awarded to all participants of the races who cross the finish line within the control time
Maximum Time
5h. 30min
Refreshments
Water, energy drinks, lemons
Timing
Chip timing available for 10 Km and 21 Km race
Equipment Storage
Yes, you can store luggage at the runners holding area.
Safety Tips For Runners
It is extremely important to know that running marathon (21/10 K) is an extremely strenuous physical activity in which you are subjecting your body to a high level of stress. It is therefore advisable that you seek a medical advice and undergo necessary medical tests to rule out any serious medical problem which otherwise may put you to a risk in participating in this activity. On marathon day-
Get adequate sleep the night before the race. Ensure you sleep very well on Saturday night since the night before a big race, you may not sleep too well.
The night before race day, have a dinner rich in carbohydrates, but do not overeat!
Snack light and arrive well before start time to avoid last minute anxiety & chaos.
Run at your own pace without being influenced by others around you.
It is essential to warm-up before the race. Exercise at lower pace in the first 5 minutes.
Cool-down gradually over the last 5 minutes at the end of the race. Do not stop suddenly.
Consume water or other re-hydration fluids at regular intervals, know your 'sweat rate' and consume fluid in proportion to it. If you don't know your sweat rate it would be ideal to drink 200-250 ml of fluids (available at water stations) every 20 minutes.
Terms and Conditions
o Please choose the event category carefully, confirmed registrations are non-refundable, non-transferable and cannot be modified.
o Participants are requested to share proper phone number and mail id's so that we can communicate important information.
o Users are requested to check their junk mails to be updated on regular communications on the event.
o We will consider all information's to have reached to the participant once sent out from end.Please check all messages sent by us to be updated on the race.
o You are aware that running long distance running is an extreme sport and can be injurious to body and health. You take full responsibility for participating in the Times Half Marathon event and do not hold the organising committee or any of its members or entities responsible for any injury or accident.
o Runners are advised to get a physician's go ahead before running.
o You also assume all risks associated with participating in this event including, but not limited to, falls, contact with other participants, the effects of the weather, including high heat or humidity, traffic and the condition of the road, arson or terrorist threats and all other risks associated with a public event.
o You agree that Times Half Marathon shall not be liable for any loss, damage, illness or injury that might occur as a result of your participation in the event.
o You agree to abide by the instructions provided by the organisers from time to time in the best interest of your health and event safety.
o You also agree to stop running if instructed by the Race director or the medical staff or by the aid station volunteers.
o You confirm that your name and media recordings taken during your participation may be used to publicise the event.
o You may acknowledge and agree that your personal information can be stored and used by Times Half Marathon or any other company in connection with the organisation, promotion and administration of the event and for the compilation of statistical information.
o You confirm that, in the event of adverse weather conditions, major incidents or threats on the day, any of the force majeure restriction by authority, the organisers reserve the right to stop/cancel/postpone the event. You understand that confirmed registrations and merchandise orders are non-refundable, non-transferable and cannot be modified. The organisers reserve the right to reject any application without providing reasons. Any amount collected from rejected applications alone will be refunded in full (excluding bank charges wherever applicable)
o Runners are recommended to stay off the course beyond the cut-off time considering the safety and traffic regulations.
o No refunds will be entertained after registration unless the event is cancelled from our end.
o You have to carry ID proof along with you on the day of event and also at the time of Bibs distribution. You may carry either of the following: Passport copy, Student Photo ID, Driving License , Aadhar Card, Pan Card or Voters ID.
o If this registration is being made on behalf of a minor, I confirm that I am the parent / guardian of the child and that he/She has my permission to take part in the event. I further concur that all the above rules shall apply to him/her as if he were a major.
o Participants must personally appear for collecting the running Bibs. Bibs can be distributed in-absentee with written consent of the registered runners.
Red Road Basket Ball Court Area
Maidan, Kolkata, West Bengal 700021
GET DIRECTIONS
Red Road Basket Ball Court Area, Kolkata
Step out and enjoy this event
Invite your friends
and enjoy a shared experience