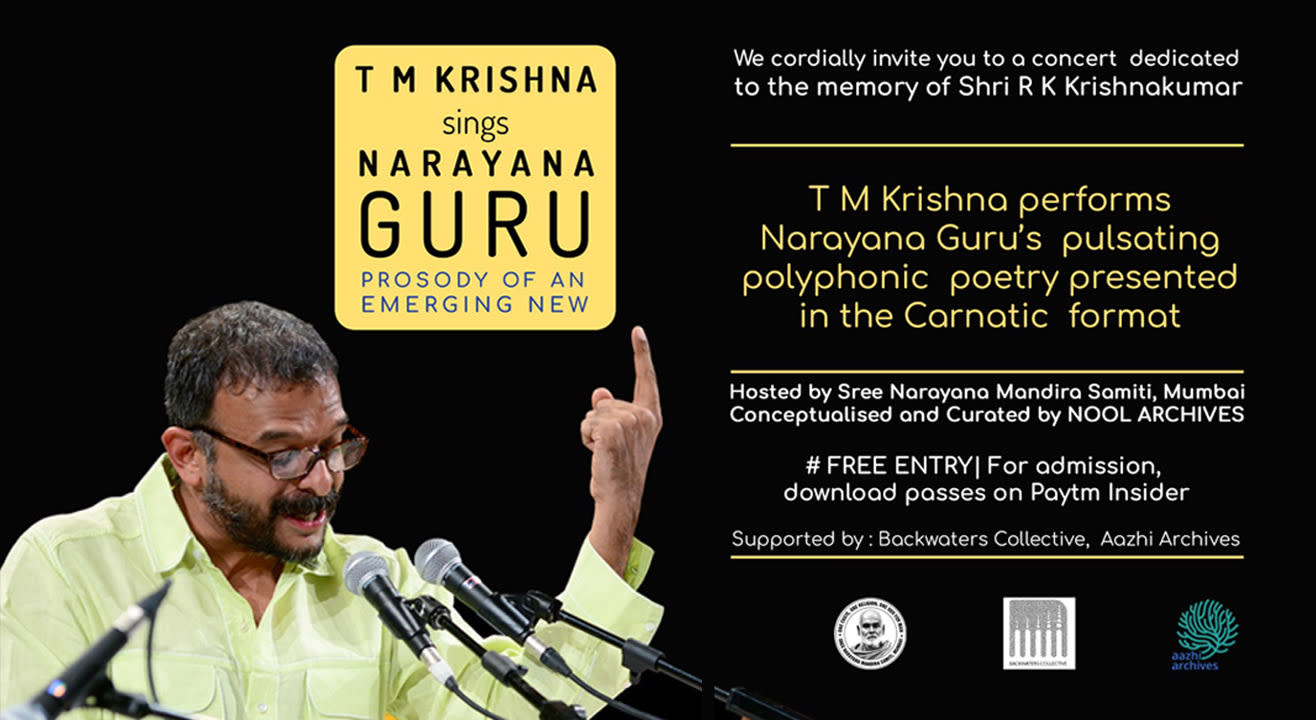 TM Krishna Sings Narayana Guru
Step out and enjoy this event
Invite your friends
and enjoy a shared experience
TM Krishna Sings Narayana Guru
Step out and enjoy this event
Invite your friends
and enjoy a shared experience
Invite your friends
and enjoy a shared experience
A pilgrimage's progress
T.M. Krishna, Carnatic vocalist, author , public speaker and writer on human choices, dilemmas and concerns, began his engagement with Narayana Guru's poetry in 2019. In his journey towards the pursuit of defining his musical self, this was a significant moment.
In this very Tata Theatre, on 1 November, 2019 Krishna presented ten of the Guru's compositions in the Carnatic format. Music lovers and the aficionados of Guru's poetry received it with enthusiasm and passion. Since then wherever T.M. Krishna performs, it has become usual for requests from the audience to emerge to sing Narayana Guru's compositions. Of course, there have been sincere attempts in the past to imagine singing the Guru poems in a Carnatic format; however, with this endeavour, T.M. Krishna could interpret the music inscribed in Guru as an inseparable part of a Carnatic repertoire.
Krishna says, "The guru's verses are inherently musical. They follow a meter and have a flow that can be expressed as songs. Each of the lines naturally lead you through the corridors of melody and rhythm".
On 11 March, 2023, Saturday, Krishna will be singing the Guru once again at the Tata Theatre, NCPA ; the concert will include newer poems. This will be T.M. Krishna's sixth event where he will be singing Narayana Guru exclusively. When 'T.M. Krishna sings Narayana Guru' returns to Mumbai, it's a pilgrimage's progress from a humble first footstep to furthering heights.
Narayana Guru(1854–1928), Philosopher-Poet, Indian social reformer,and sage, led Kerala into modernity. He professed an avant-garde hymn 'One Caste, One Religion, One God for humankind' in the most caste-ridden society of Kerala of the nineteenth century. His poems rich in metaphysics and inner rhythms are composed in three languages: Sanskrit, Malayalam and Tamil.
Note: The event starts at 7 PM, The guest need to be seated by 6:45 PM.
Tata Theatre
Netaji Subhash Chandra Bose Rd, Nariman Point, Mumbai, Maharashtra 400021, India
GET DIRECTIONS
TM Krishna Sings Narayana Guru
Step out and enjoy this event
Invite your friends
and enjoy a shared experience