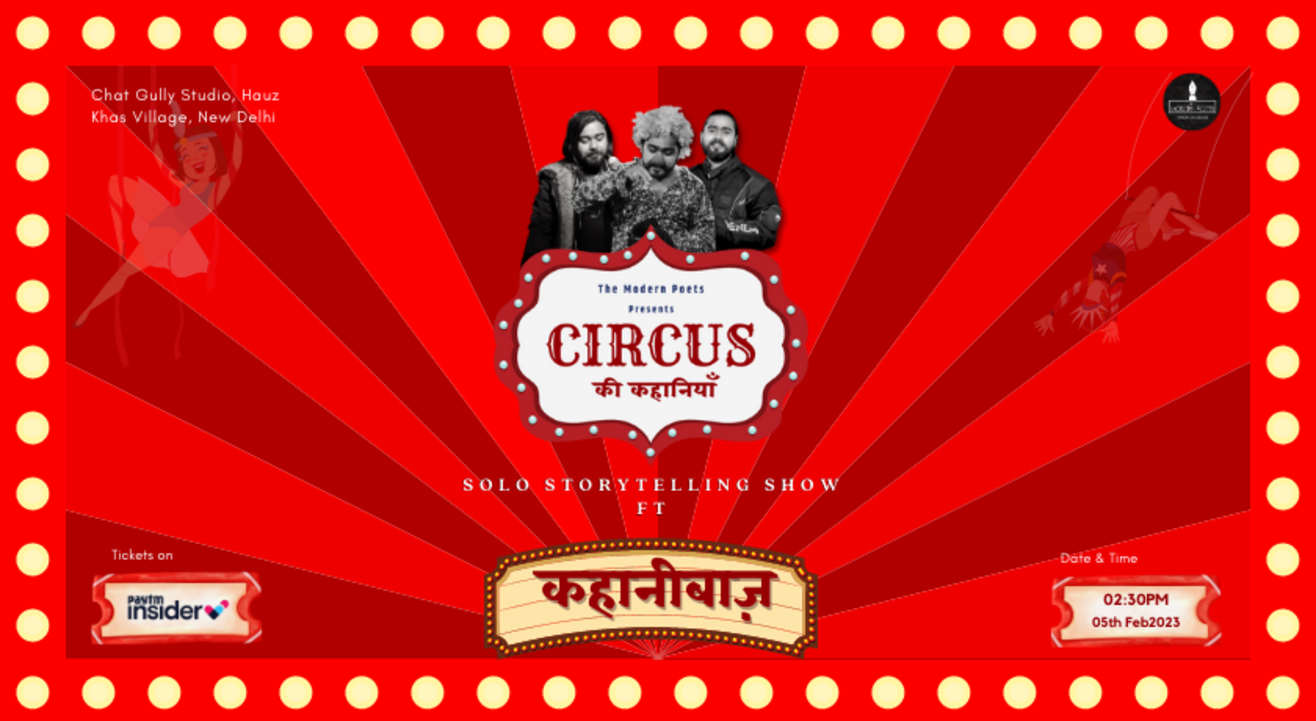 TMP's Circus की कहानियाँ - A Solo Storytelling Show Ft. कहानीबाज़
Step out and enjoy this event
Event Guide
Live Performance
Enjoy a unique experience
Invite your friends
and enjoy a shared experience
TMP's Circus की कहानियाँ - A Solo Storytelling Show Ft. कहानीबाज़
Step out and enjoy this event
Event Guide
Live Performance
Enjoy a unique experience
Invite your friends
and enjoy a shared experience
Event Guide
Live Performance
Enjoy a unique experience
Invite your friends
and enjoy a shared experience
Circus is one of the most nostalgic memories of any 90's kid, but with our aging, we didn't realize the artist who amazed us and gave us our special moments are now barely seen, This show is an ode to those heroes through their stories.
Circus की कहानियाँ is a Solo Storytelling show by Kahanibaaz ( Mohit Mudita Dwivedi) where he will be presenting the stories of Circus Artists, eg: Joker, Death Rider & Ring Master.
About Kahanibaaz :
Kahanibaaz (Mohit Mudita Dwivedi ) is one of the founders of the literature-based community The Modern Poets. He is performing stories for the past 10 years and has written several TV shows, Scripts, Advertisements, etc.
He has been awarded Premchand Sahitya Samman for his contribution to Hindi literature and storytelling. With an experience of 4+ years of conducting workshops, he is also involved in Foreign Student Exchange program where he has taught Indian Storytelling. He has performed in more than 300 Events, such as Sahitya Tak (Literature Festival ), Kahani Utsav, BLF, Spoken Fest, etc, he was also featured in several tv shows including Dance + and Sau Karod Ka Kavi.
Show Duration: 01:30 hrs
Language: Hindi
Time: 02:30 PM onwards
Date : 05th Feb 2023
Venue: Chat Gully Studio, Hauz Khas Village, New Delhi
For Any Query: +91-8299832834
Powered by The Modern Poets
Chat Gully Studio
Store No-14, 1st Floor, Hauz Khas Village, Deer Park, Hauz Khas, New Delhi, Delhi 110016, India
GET DIRECTIONS
TMP's Circus की कहानियाँ - A Solo Storytelling Show Ft. कहानीबाज़
Step out and enjoy this event
Event Guide
Live Performance
Enjoy a unique experience
Invite your friends
and enjoy a shared experience