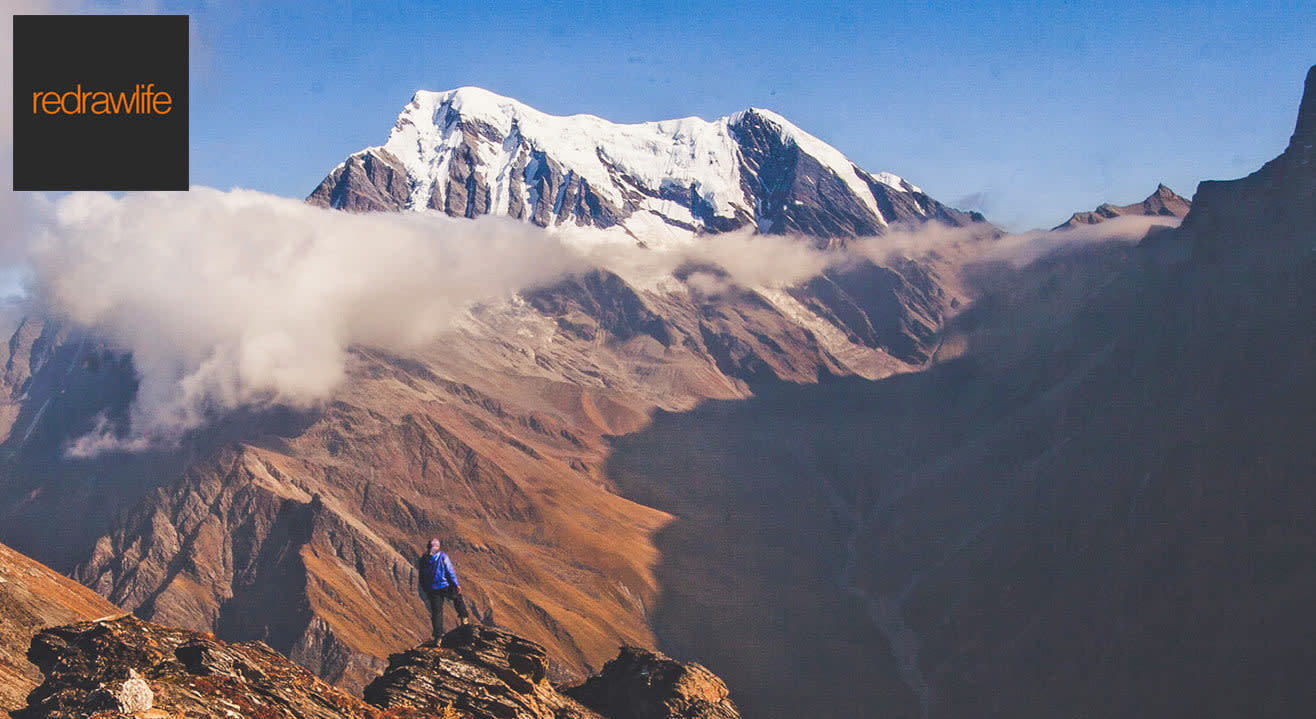 Trek
To The Mysterious Lake: Roopkund!
About
Roopkund is yet the country's most popular trek and ranks 3rd in the best trek of INDIA. The lake of mystery hidden in the high reach of the Himalayas is guarded by the giants NANDA GHUNTI & TRISHUL, far from the civilized world. The lake hides in it the mystery of giant human skulls and bones , which is often seen when we finally reach its abode. Legend has it an entire army was abolished on those heights of 16,500 ft which resulted in the skulls and bones present on the lake.
Danger is very real , but fear is your choice. Join us if you think you have it in you to decipher the mystery.
Day 1
Pick up from kathgodam / Dehradun Railway station at 7.00 am. Drive to Lohajung base camp. Approximate arrival time at Lohajung 6-7 pm.(Altitude: 554 m, Distance : 103 Kms, 8-10 Hours Drive)

Day 2
The trek starts from Lohajung to Didina, a small village with lesser number of houses. We will be camping at Homestay at Didina. (Altitude: 2550 m, Distance: 12 Kms, 5 to 6 hour trek )

Day 3
Didina to Bedni Bugyal (via Ali Bugyal).(Altitude: 3354 m, Distance: 10 Kms, 8-9 hour trek)

Day 4
Bedni Bugyal to Bhagwabasa. (Altitude: 3800 m, Distance: 9 km trek, 8-9 hour trek)

Day 5
Bhagwabasa to Roopkund and back to Patar Nachuni. (Altitude: 5029 m, Distance: 11 km trek, 10 hour trek)

Day 6
Patar Nachuni to Lohajung via wan. As it is a long stretch (14 km) we will be trekking half the distance and then, a cab will be arranged

Day 7
Depart for Dehradun on a cab. Approximate arrival time at Dehradun: 6 - 7 pm.
There are two options to reach Kathgodam railway station from Delhi.
By Train
From Delhi railway station you can take the Ranikhet Express (5014) Departs from Delhi around 10:40PM and arrives Kathgodam at 5:30AM.
From Delhi station you can take Uttar sampark kranti (5035) Departs from Delhi around 4:00pm and arrives Kathgodam at 10:40pm.

By Road
There are Regular buses from Delhi ISBT Anand Vihar bus station to Kathgodam. That Buses go till Haldwani and Kathgodham (8 hrs. Journey).
The distance between Haldwani to Kathgodam is only 6 km. You can hire a auto Kathgodam from Haldwani bus station (charges will be Rs.60 to 80 per auto)
All accommodation in homestay or tents from lohajung to lohajung
Sleeping bags and best quality equipments
Guide fees
Portar fees
Simple nutritious veg food
Trek permits.
Transport till lohajung has to be shared among the trekkers if we decide to arrange the pick up for your ease.
Anything not mentioned in the inclusions
Shirts / T-shirts
Jeans / Trekking Pants
Windproof jacket of decent quality (no flimsy wind cheaters please!) preferably with a hood
Warm and thick Fleece / Full-sleeve Woollen sweater
Thermal inner wear (upper & lower)
Woollen cap, gloves(Waterproof)
Woollen socks & regular socks (3-4 pairs)
Scarf/muffler (optional)
Comfortable Trekking/Hiking shoes (shoes with a thick sole are recommended)
Lightweight floaters/sandals/slippers
Raincoat / Poncho
Small light weight towel
Water bottle (sturdy ones, no empty Bisleri bottles!!)
Cap / Hat to keep the strong sun away from your face
Sunglasses
Walking stick / Trekking pole
Sunscreen Lotion
Lip Balm
Torch / Flashlight (with extra batteries)
Medicines, if requiring any specific medication
Personal toiletries
Books, if you like reading
Day pack/small bag which you will carry on your back every day and keep your essentials in it
Carry rain cover for your bags
Keep a few poly bags or waterproof bags in your bag in which if required you can put your belongings in case of heavy rain
Camera if you like (with fully charged batteries)
Redrawlife allows passionaries to choose among three standardized cancellation policies (Flexible, Moderate, and Strict) that we will enforce to protect both customer and passionary alike.
Flexible : 90% refund up until 5 days prior to course date
Moderate : 70% refund up until 5 days prior to course date
Strict: 50% refund up until 5 days prior to course date

If you have any queries you can contact our support : Support website or shoot us a mail at: support@redrawlife.com
It's time to live your passion!
Sign up for our newsletter to be informed of all the news and do not miss any events in Redrawlife.