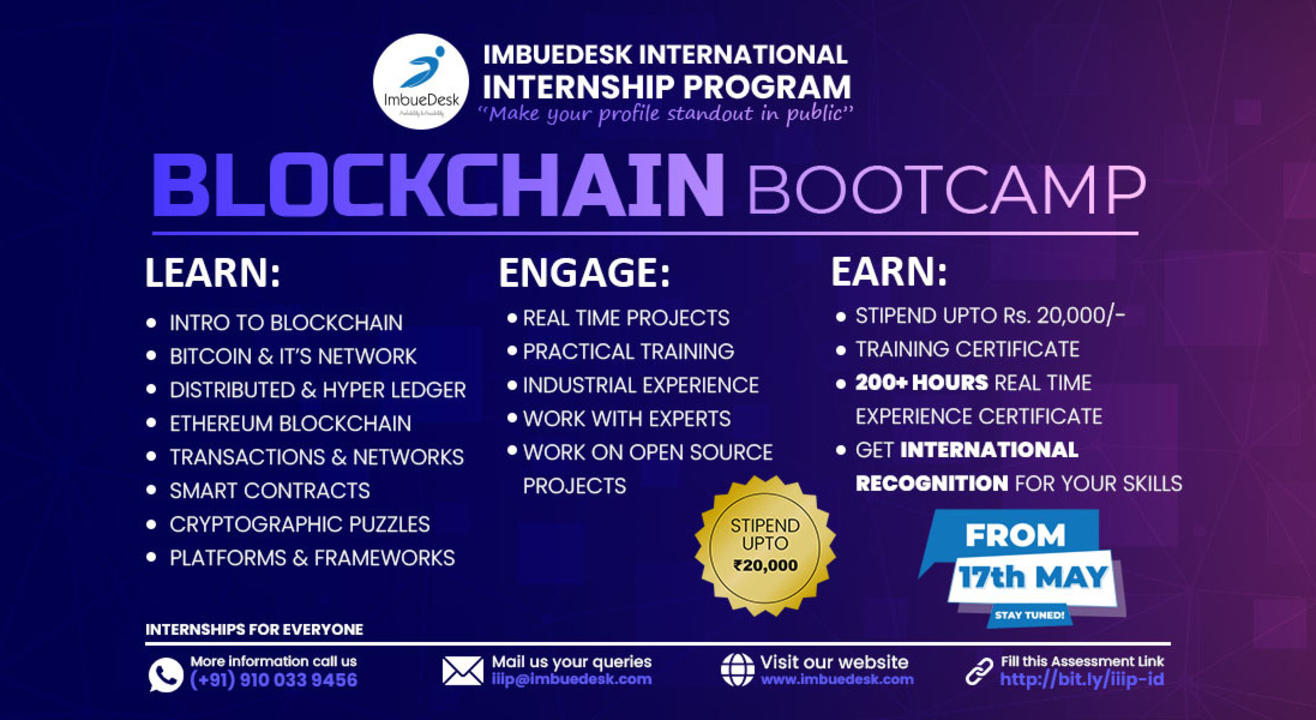 Training + Internship on Block Chain
May 17 | 9AM - July 17 | 8PM
Enjoy this event from your home
Event Guide
Masterclass
Learn from an expert
Invite your friends
and enjoy a shared experience
Event Guide
Masterclass
Learn from an expert
Invite your friends
and enjoy a shared experience
About the Event
IMBUEDESK INTERNATIONAL INTERNSHIP PROGRAM (IIIP):
Imbue Desk is a fast-growing multi-sector business and digitalization management company. We work as a catalyst to enhance the business sector and individual companies by delivering solutions and providing services. In the past few years, we have had the opportunity to work with diverse clients from across the globe. We have worked in multiple domains specifically in the fields of digital marketing and emerging technologies.Blockchain:
Learn key Blockchain concepts, intuition, and practical training to get you quickly up to speed with all things Crypto and Blockchain related.
The best way to reinforce a skill is to practice it yourself, and blockchain is no different. Not only we'll each and every single line of code, but we will also take regular steps back to see the logical flow of our creations. In this course, you will not only develop the required skills and deep knowledge about Blockchain, but you will also get the right tech instincts. Through this intuition, you will feel where and how to apply Blockchain in the real world.
Topics covered:
· Intro to Bitcoin, Ethereum
· Picking transactions
· Transactions and UTXOs
· Remix IDE and postman
· DeFi+ CRUD Application
Prerequisites: Anyone who has the passion to learn can register. Click here to kick-start your career today
Projects: Decentralized financing in training
1 Project during Training,
1+ Projects during Internship
Benefits:
1. Get certified for your training and internship.
2. Hands-on learning with industry professionals.
3. Get International Project-based Experience Certification.
4. Real-time working exposure in teams.
5. Can use those certifications all over the world.
6. Imbuedesk is certified by MSME, Startup India. Therefore, training and internship certificate by us is valued globally.
7. Professional Trainers Certification Tools Hands-on Experience Internship for all Stipend up to Rs.20000/-.
8. Get a chance to work on international projects/open-source/start-up projects.
IMBUEDESK INTERNATIONAL INTERNSHIP PROGRAM (IIIP):