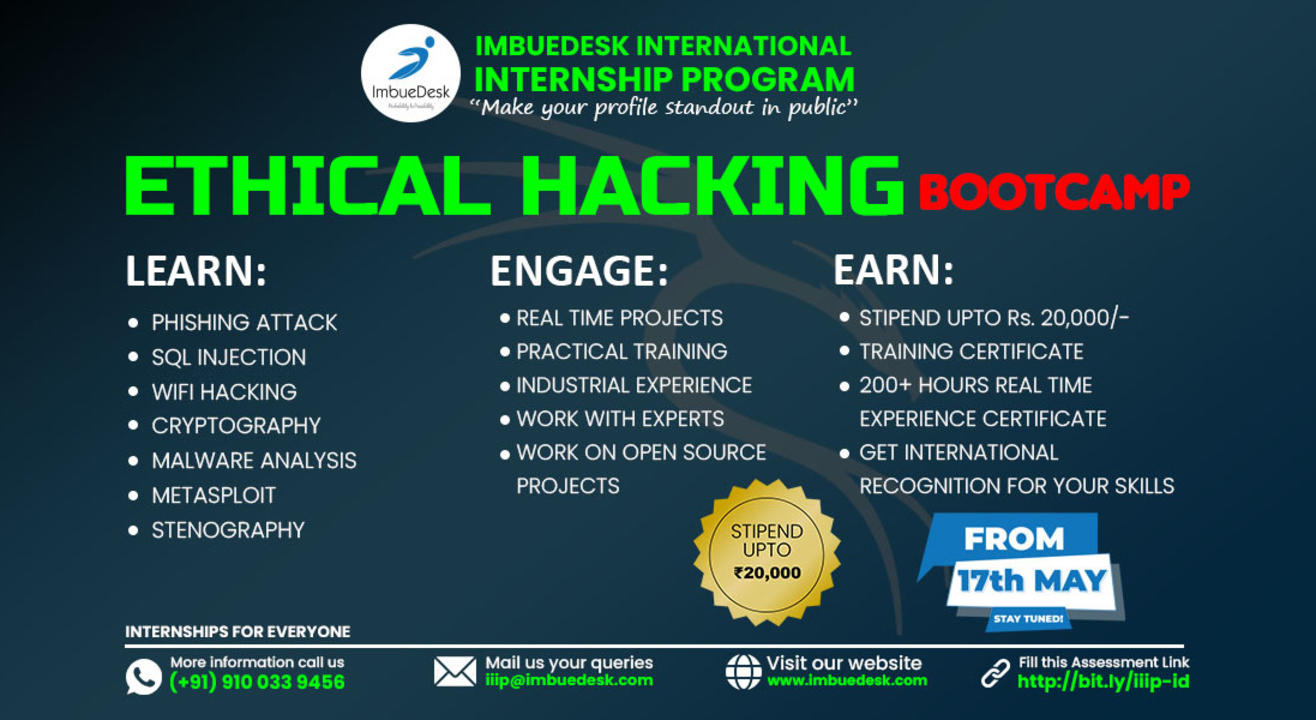 Training + Internship on Ethical Hacking
May 17 | 9AM - July 17 | 8PM
Enjoy this event from your home
Event Guide
Masterclass
Learn from an expert
Invite your friends
and enjoy a shared experience
Event Guide
Masterclass
Learn from an expert
Invite your friends
and enjoy a shared experience
About the Event
IMBUEDESK INTERNATIONAL INTERNSHIP PROGRAM (IIIP):
Imbue Desk is a fast-growing multi-sector business and digitalization management company. We work as a catalyst to enhance the business sector and individual companies by delivering solutions and providing services. In the past few years, we have had the opportunity to work with diverse clients from across the globe. We have worked in multiple domains specifically in the fields of digital marketing and emerging technologies.Ethical Hacking:
This course is focused on learning by doing. We are going to teach you how hacking works by actually practicing the techniques and methods used by hackers today. We will start off by creating our hacking lab to make sure we keep your computers safe throughout the course, as well as doing things legally, and once we have our computers set up for ethical hacking, then we dive into topics.
Enroll now in The Complete Ethical Hacking Course and learn how to think like a hacker, and become familiar with the toolkit of a professional pen tester. This course covers a wide range of topics relating to network security. additional supplemental resources for developing the necessary skills to succeed in the field. Learn by doing demonstrations using popular penetrating tools such as Maltego, FOCA, Recon-ng, Nmap, masscan, tcpdump, Wireshark, Ettercap, Burp Suite, Scapy, Mimikatz, Hashcat, Konboot, Hydra, OWASP, SQLmap, mitmproxy, Skipfish and more!
Topics covered:
· Phishing Attack(Insta hack)
· Website Hacking
· Mobile Hacking
· System Hacking
· Stenography
· Sql injection
· Wifi hacking
· Cryptography
· Malware analysis
· Metasploit
Prerequisites: Anyone who has the passion to learn can register. Click here to kick-start your career today
Projects: Real-time practice on all the vulnerabilities during the internship.
1 Project during Training,
1+ Projects during Internship
Benefits:
1. Get certified for your training and internship.
2. Hands-on learning with industry professionals.
3. Get International Project-based Experience Certification.
4. Real-time working exposure in teams.
5. Can use those certifications all over the world.
6. Imbuedesk is certified by MSME, Startup India. Therefore, training and internship certificate by us is valued globally.
7. Professional Trainers Certification Tools Hands-on Experience Internship for all Stipend up to Rs.20000/-.
8. Get a chance to work on international projects/open-source/start-up projects.
IMBUEDESK INTERNATIONAL INTERNSHIP PROGRAM (IIIP):