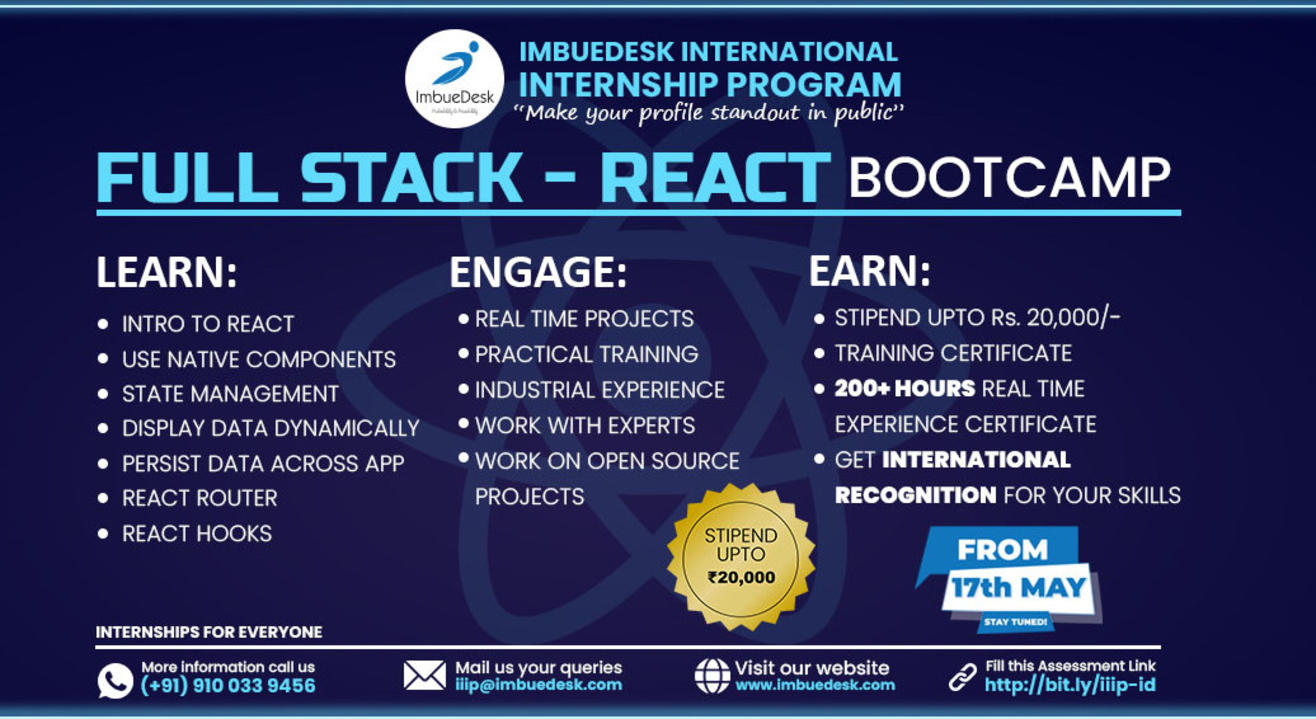 Training + Internship on Full Stack-React
May 17 | 9AM - July 17 | 8PM
Enjoy this event from your home
Event Guide
Masterclass
Learn from an expert
Invite your friends
and enjoy a shared experience
Event Guide
Masterclass
Learn from an expert
Invite your friends
and enjoy a shared experience
About the Event
IMBUEDESK INTERNATIONAL INTERNSHIP PROGRAM (IIIP):
Imbue Desk is a fast-growing multi-sector business and digitalization management company. We work as a catalyst to enhance the business sector and individual companies by delivering solutions and providing services. In the past few years, we have had the opportunity to work with diverse clients from across the globe. We have worked in multiple domains specifically in the fields of digital marketing and emerging technologies
React native:
Learn to lead Mobile App projects by making good architecture decisions and helping others on your team.
Using the latest version of React Native, this course is focused on efficiency. Never spend time on confusing, out-of-date, incomplete tutorials anymore, and instead, learn to build professional and modern Android and iPhone (iOS) apps! Graduates of Andrei's courses are now working at Google, Tesla, Amazon, Apple, IBM, JP Morgan, Facebook, + other top tech companies. We guarantee you this is the most comprehensive online resource on React Native. This project-based course will introduce you to all of the modern toolchains of a React Native app developer in 2021. Along the way, we will build a massive restaurant application using React, React Hooks, Expo, React Navigation, Firebase, Styled-Components, React Animations, Stripe Payments, + more. This is going to be a full iOS and Android app!
Topics covered:
· Intro to React Native
· Debugging React Native
· React Navigation and Hooks
· Firebase and Google Maps API
· React Native Best Practices
· Android & iOS Development
· React Native Styling and App Layout
· Building On Expo
· Integrating Payments With Stripe API
Prerequisites: Every curious learner needs quality guidance. Join IIIP today and get trained by the best
Projects: 20+ projects in 100+ hours of training and one Industry-level real-time based project during the internship.
1 Project during Training,
1+ Projects during Internship
Benefits:
1. Get certified for your training and internship.
2. Hands-on learning with industry professionals.
3. Get International Project-based Experience Certification.
4. Real-time working exposure in teams.
5. Can use those certifications all over the world.
6. Imbuedesk is certified by MSME, Startup India. Therefore, training and internship certificate by us is valued globally.
7. Professional Trainers Certification Tools Hands-on Experience Internship for all Stipend up to Rs.20000/-.
8. Get a chance to work on international projects/open-source/start-up projects.
IMBUEDESK INTERNATIONAL INTERNSHIP PROGRAM (IIIP):