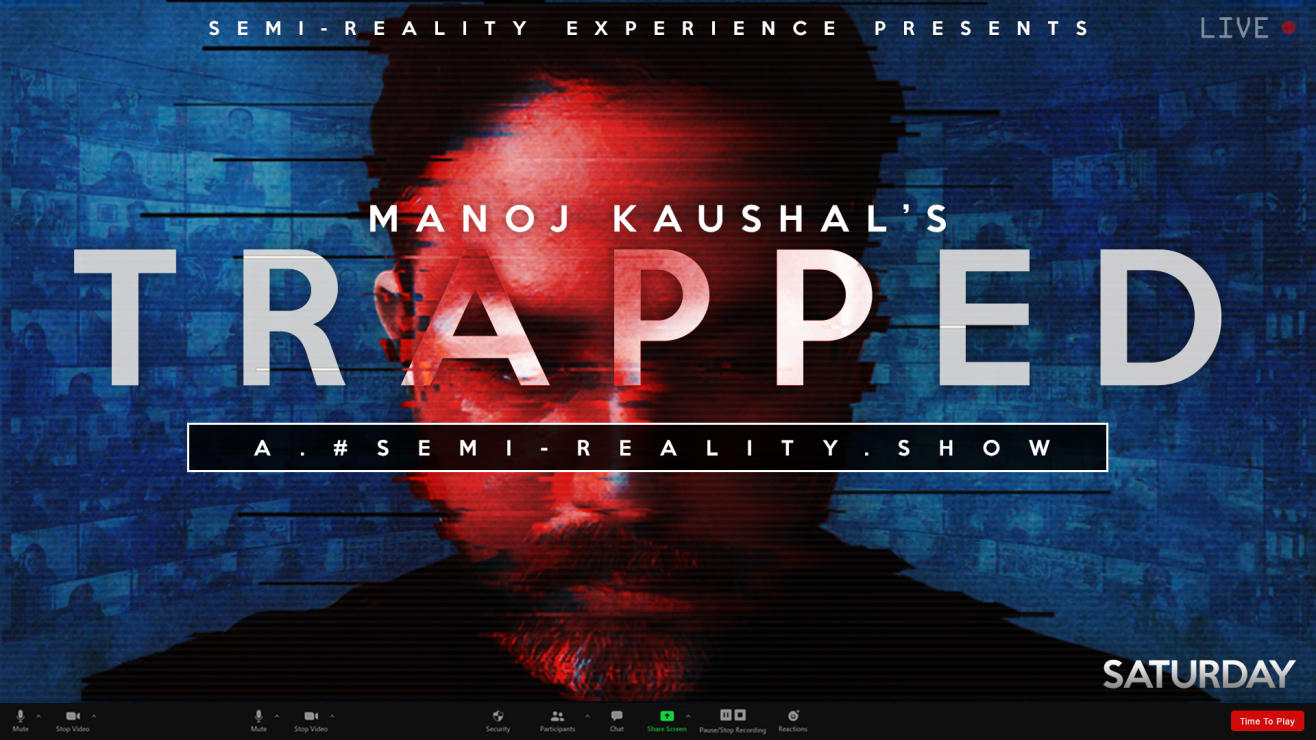 TRAPPED - A SEMI-REALITY THRILLING ONLINE SHOW
Invite your friends
and enjoy a shared experience
Invite your friends
and enjoy a shared experience
About the Event
A SEMI-REALITY SHOW
unlike anything you have seen before!
___________________________________________________________
Get ready to be a part of the MOST thrilling mind reading show, at your own home through Zoom, to take you into the world of excitement, thrill, and nerve-wracking moments.
A show with HOLLYWOOD BLOCKBUSTER experience and effects with your "REAL-TIME" "IN-PERSON"participation.
A twisted mind reading show where every step you take and every decision you make could mean life or death for 7 people.
7 ROUNDS –7 LIVES –1 KIDNAPPER
Even though you will be far away at your home, you still impossibly are able to:-
- guess someone's phone number,
- guess the ball that is safe and reject the ball fed with solid-sharp needles to save someone from bleeding,
- guess the name of someone's pet,
and many more such feats to save 7 lives TRAPPED by the kidnapper.
This is NOT a graphic-video game. It's a REAL MIND READING SHOW with REAL PEOPLE.
Find out for yourself, get a front seat in this awe-inspiring, chilling, first time in India LIVE THRILLER.
Created by Manoj Kaushal, a renowned mind reader who has appeared on TV ("Pick-A-Trick") and has mind read many celebs, has reinvented magic and mind-reading show – for the new generation of online audience.
Limited seats, book now before you lose out.
Show run time: 45-60 minutes
___________________________________________________________
EXPERIENCE:
MIND READING tricks, cleverly hidden in every round.
An extremely real virtual world that makes you believe you are living a scene from a movie,
A haunting and daunting ambiance
Professional Grade Graphics that will take you to the world of thriller movie
Gripping music
Visual storytelling at its best
___________________________________________________________
PLOT:
After vanishing into thin air for a long time and beyond the radar of the top crime investigators of the world, the disreputable and notorious kidnapper is BACK!
This time he has TRAPPED 7 people. Before authorities could even catch their breath and understand what has happened, he announced that he wants to play a game. With YOU, in exchange of for their lives.
Only you can help these 7 lives by playing this twisted and impossible game, and face the kidnapper.
There are NO PUZZLES, NO CALCULATIONS and NO SMART WORD PLAYS. All you need to answer correctly, and save 7 Lives, is your GUT INSTINCT and your distant friend….LUCK!
It's time to read the kidnapper's mind, speculate his each move and destroy him!
Created by a REAL MIND READER.
Played by real people.
"TRAPPED" is as close to living a scene from a thriller blockbuster as you will ever get.
Find a nice and cosy corner on your couch and be a part of this "FIRST GENERATION" interactive thriller.
___________________________________________________________
TEAM:
TRAPPED, is first of its kind, Online Interactive Thriller Show, created by Manoj Kaushal, for whom MAGIC is LIFE! It is all set to unfold inside your living rooms to take you on a voyage of excitement, thrill, nerve-wracking moments where you become a part of the journey and your actions will have consequences not just for you but for everyone.
THE MIND GAME SHOW is an initiative of a passionate team of magicians, curators and creators joining hands to create the most iconic and never seen before immersive experience!
TRAPPED // Review by Kenishaa Francis
TRAPPED // Review by Akshay Laxman