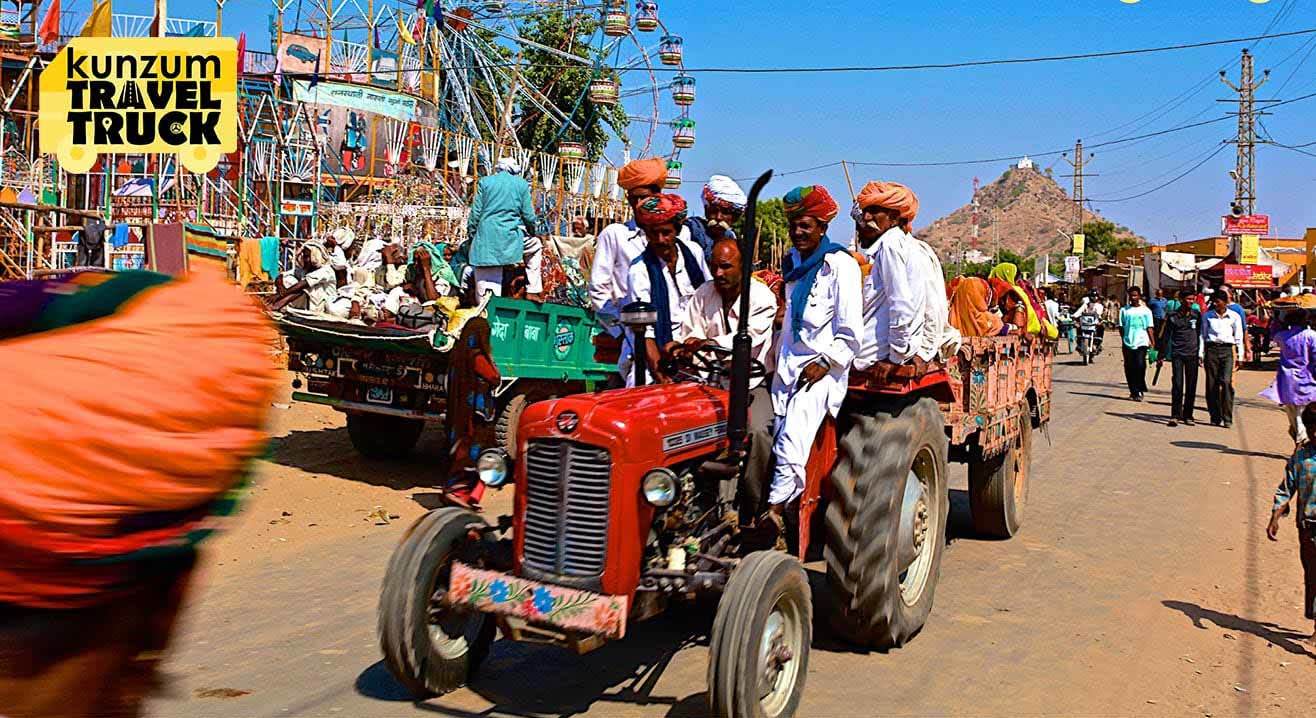 Photography
Travel and Fashion Photo Tour With Aman Chotani – Pushkar Camel Fair
About
The Kunzum Travel Café opened its doors to the world on June 12, 2010 – it has since become synonymous with the idea of a traveller community.
As Brand Kunzum, established earlier in 2007, completes a decade, we have introduced an idea that promises to be another game changer – we call it the Kunzum Travel Truck. Very simply, it is recreating the café on wheels. People would no longer just talk travel, but head out together too.
On journeys curated by experts. In vans that make travel fun and engaging – comfortable push back seats, unlimited bar, WiFi on board, funky interiors, LED screens, music systems and more. Trips have been scheduled every week taking you to places you may not have considered on your own. With service standards that will delight you.
In other words, the Kunzum Travel Truck would be the destination in itself. Where you will make new friends too. Hop aboard – book a journey at http://kunzum.com.
Want to book a truck for your family, friends, alumni and office colleagues?
We all like to head out with our private groups – why not do it in style in a Kunzum Travel Truck? We can suggest itineraries and you can express your preferences. Leave the rest to us – we will handle all research, curation, bookings and organisation of the trip.
Talk to us at +91.9650702777 / wetravel@kunzum.com.
About the Trip
If you have an interest in photography, then Pushkar Camel Fair is where you want to be. Few occasions on the planet offer as much diversity of subjects as this fair. Portraits, streets, markets, events, performances, landscapes, nights – you get to shoot all these and more.
Hop aboard the Kunzum Travel Truck for a photo tour of this event. You will be led by a mentor who will teach you on the go – and structure tips according to your skill levels.
Who is this for?
Photographers of all levels – beginners, amateurs, serious amateurs and even pros. DSLR camera is a MUST for this photo tour. Landscape Photography, Culture Photography & Fashion Photography
About your Mentor
The tour will be led by Aman Chotani, a professional travel and lifestyle photographer based in New Delhi, India who explores the world documenting travel, culture and life. He works on freelance projects with travel agencies like Cox & kings and travel magazines like Outlook Traveler, Travel Biz, India Today, TLF magazine etc. These experiences include capturing stunning images of inspiring destinations include India, Nepal, South Africa, Singapore, Switzerland, Oman, France, Turkey, Israel, Australia, UK, wildlife projects for Deccan Odyssey, UK news agency – Carter News and many more.
Aman has received awards from many prestigious organizations including The Siena International Photo Awards 2015 (Italy), IPA AWARD, United States in the Portrait Category. He exhibits regularly in India and recently exhibited his "Portraits" collection of work shot in Nepal to critical acclaim. He has been published in magazines and newspapers including National Geographic, Life Force Magazine, KLM I Fly magazine, India Today, Creative Gaga, The Platform, Outlook Traveller, Travel Secrets and Dodho Magazine apart from many others.
The Pushkar Camel Fair is one of the largest in India and the only one of its kind in the entire world. This small town, becomes a cultural phenomenon when colorfully dressed devotees, musicians, acrobats, folk dancers, traders, comedians, 'sadhus' and tourists reach here during Pushkar fair. Pushkar fair has its own magic and it's a lifetime experience for travelers.
What will you see there? Pushkar festival is also known as the Camel fair, and thus you can see around 50,000 camel heads popping up at one go. You will not find these camels looking more beautiful than during the festival as for this occasion they have been carefully decorated. This is the time when you will see a transformation of this small land into shopping paradise, as the endless rows of stalls are arrayed with ethnic items, exhibiting an entire range – from objects of art to daily utility stuff. The magic does not end here, evenings are full of cultural events and programs, be a part of tranquil and rhythmic tunes and enjoy the traditional Rajasthani folk music and dance with the rural folklore the core attraction not to be missed at any cost.
Dates: October 27 – 29, 2017. [These dates don't suit you? Call us to organize a private tour on a date of your choosing.]
Accommodation: The Country Side Resort
Travel: In the Kunzum Travel Truck, a 9-seater luxury van. The distance of about 400kms from Delhi will be covered in about seven hours.
Photography Sessions: The mentor will travel with participants in the Kunzum Travel Truck and share tips on the way. There will be structured sessions in the hotel too which include review of photos shot. The mentor will also explore the fair, guiding photographers throughout.
Be Free to Explore: Allow yourself a free run too. Our trip leader and trucks will be at hand to take guests wherever they want to in Pushkar. When at the Pushkar Camel Fair, it's best to wander around – there is a surprise waiting at every corner.
DRIVE / RIDE ALONG IN YOUR OWN CAR OR BIKE: Want to be a part of the trip but prefer to come in your own vehicle? Sure, no problem. Ask for rates for the same.
Please carry an extra battery with you since there will be billions of things that you would like to shoot!
Carry a bandana / scarf / shawl to cover your face. The place we are headed to is a semi desert and you wouldn't like so much dust around you!
We can understand that you will be equally excited as us but please try to sleep in the train on our way since the first thing we will do as soon as we reach is head out with the camera! The day will be followed with plenty of shoots and a late night party!
Do not forget to bring your tripod to take shots of the beautiful night here!
Carry a jacket that will keep you warm at nights!
Since the fair has covered all the roads, you might have to hike down to the hotel. The distance would be 2-3kms. So bring a bag that is easy to carry!
Carry your ID cards!
October 26
9:00 p.m.: Participants are expected to reach IBIS Hotel, Gurgaon.
9:30 p.m.: Dinner and briefing about the tour.
4:00 a.m.: We leave for Pushkar on Kunzum Travel Truck.

Day 1
Will mostly be spent at the Pushkar fair. Capturing the beautiful colors of Rajasthan and the camels in the desert will be delightful. Apart from the fair, Ghats, temples, hills and markets will also be covered. The night will be spent in the hotel. Dinner will be followed by an informative photography session.

Day 2
An early morning fashion shoot at the Hotel and the desert. After breakfast, we will cover the various activities in Pushkar along with a hill top view of the entire city of the camels. At the time of sunset, the second session of the fashion shoot will be covered.

Day 3
Early morning shoot at the Pushkar camel fair. Departure to Delhi after breakfast at 11 am.
Refund of 50% to be given if cancelled at least 30 days before departure date.
No refunds will be possible otherwise but you are free to transfer your booking to anyone else.