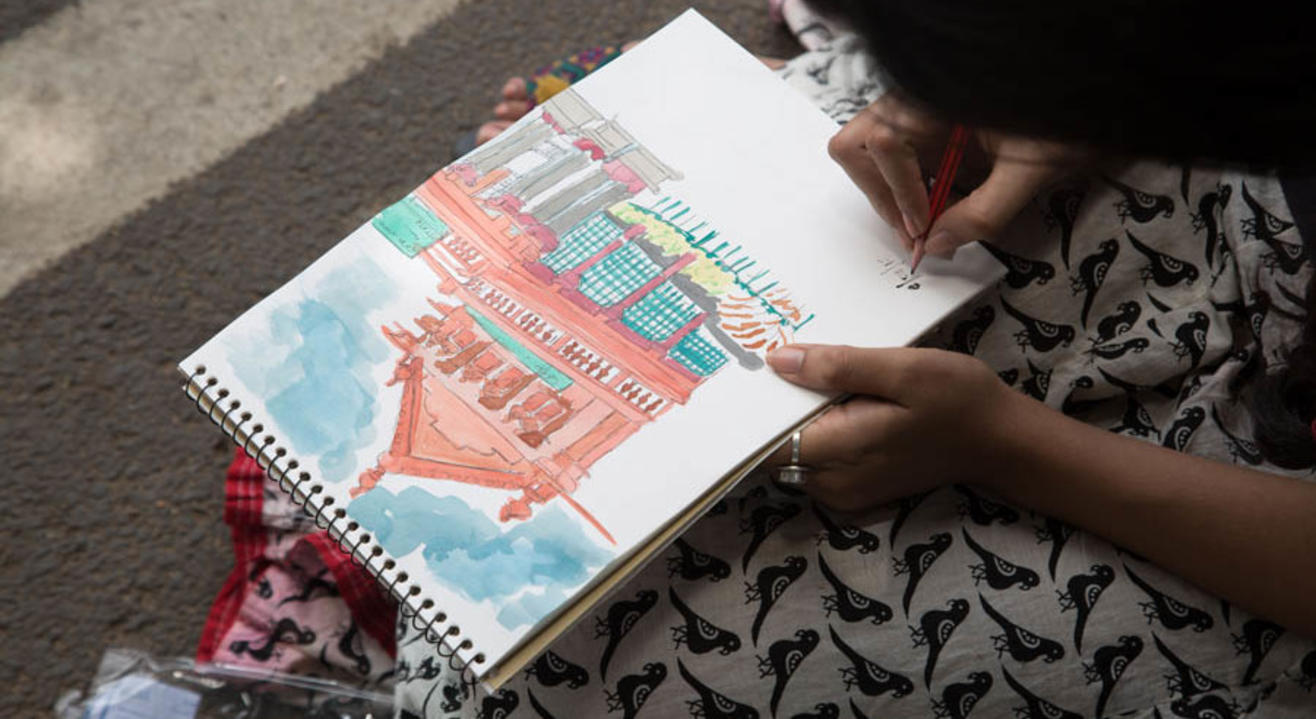 Art
Travel Art Journal Workshop | Plan The Unplanned
About
If you love to travel, trek and have wanderlust, come along and join us in this fun and unique Travel Art journal Workshop. Here you will learn how to sketch all those amazing places you visit, be it a Dzong in Bhutan or a lovely waterfall in Meghalaya, be it a café in Europe or even a museum. This is a Kickstarter workshop for newbies and seasoned sketchers alike.
When you travel you obviously cherish those memories and you love the retelling of all those stories. Now, what is the best way to keep those stories alive? The best way is to keep a journal with all the little details. In this workshop, you will learn how to start and keep a Travel Art Journal. Where you will learn how to sketch and create a collage of all the things you see and collect on your travels. You will learn basics of watercolor sketching and lettering to key in the details of the places you visit.
Sketching is one of the best and easiest forms of art to learn and develop on a daily basis. It helps in concentration, focus and also adds to calming the mind. Sketching is easy and fun to do whether alone or with a gang of friends.
This workshop aims at teaching the basics of sketching and watercolors to people who have just started or to total newbies. It is also great for seasoned sketchers to come and sketch with others and discuss their stories. It is also aimed at lessening the hesitation towards art and to open up easy ways to approach art.
Here we learn how to compose, draw basic structures and objects with free-flowing lines, learn to draw natural surroundings, buildings, and monuments with ease. You will learn how to create free-flowing sketches, use pen and watercolor and keep a visual journal. You will learn how you can compose your journal and fill it with stamps and tickets, cutouts and photographs from your travels and make an amazing visual catalog.
Date - 11th Jan 2018
Meeting Point - Art Blend Cafe
Time - 3:00 PM – 6:00 PM
Cost - 1500/-
Meet at 3 at venue
Share your travel stories
Learn to sketch from life and from memory
Learn to make a collage of interesting travel items
Put it all together
Have a discussion, exchange works and ideas
Wrap it up with a nice cup of coffee
Q and A session
Pencil-Pen
Water Color – Sketch Book
Personal Expense(snacks, mineral water etc.)
Anything not included in the inclusions above
Parinitha Konanur is an artist, illustrator, and designer. She has a degree in fine arts from Karnataka Chitrakala Parishath and worked as a photographer before becoming a full-time illustrator and designer. She has been exploring the many facets of sketching and illustrations since she fell in love with watercolors, exploring new ways of sketching along with urban sketching and travel sketching. She is a nature lover and is obsessed with natural history illustrations and live sketching in nature. She loves to travel to explore and understand the world around her, with a keen eye and thirst for finding new cultures, colors, themes to bring about in her conceptual drawings and watercolor illustrations.She strongly believes that the world is fast-paced and we tend to not observe our surroundings and that sketching is the best way to do so, that through sketching you can slow down, learn, observe, create and document your daily life, travels and more. Link to Parinitha's work: http://www.parinithakonanur.com/
Venue
Art Blend Cafe
Art Blend Café 659, 22nd Cross Road Garden Layout, Parangi Palaya Sector 2, HSR Layout Bengaluru, Karnataka 560102