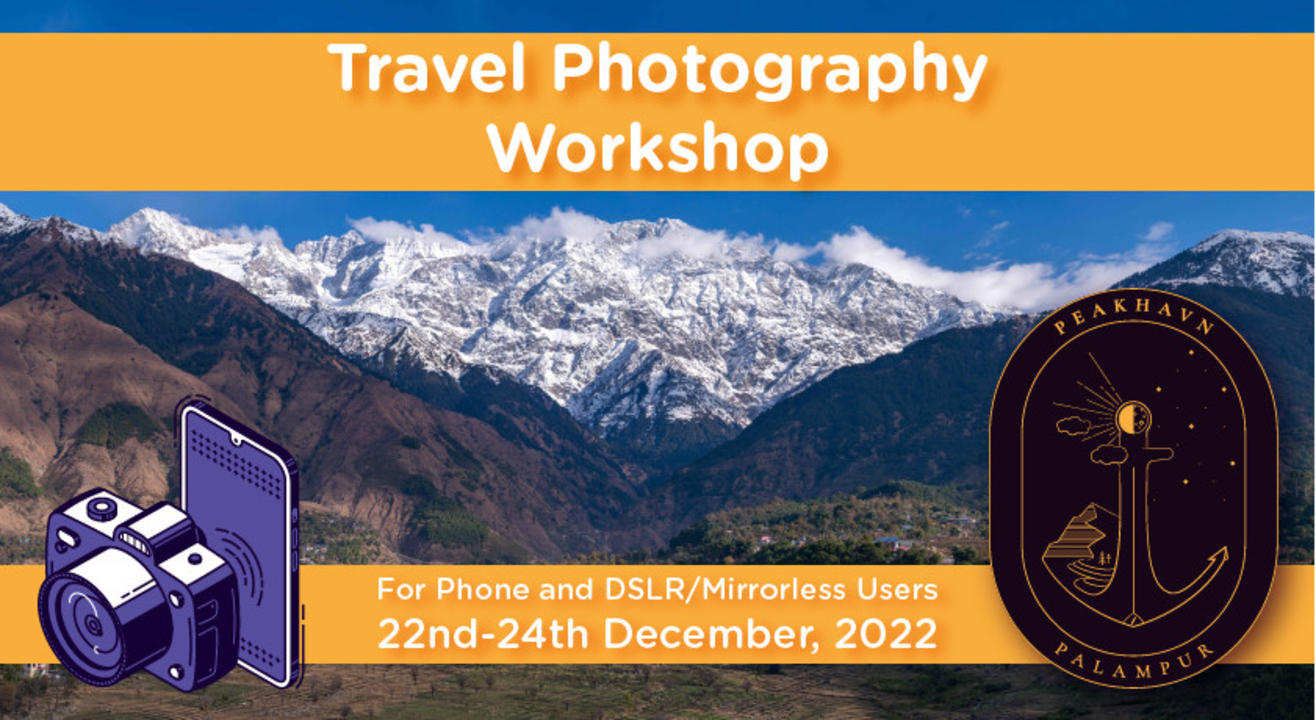 Travel Photography Workshop in the Mountains! at Peakhavn
December 22 | 7AM - December 24 | 11PM
Event Guide
Masterclass
Learn from an expert
Invite your friends
and enjoy a shared experience
Travel Photography Workshop in the Mountains! at Peakhavn
December 22 | 7AM - December 24 | 11PM
Event Guide
Masterclass
Learn from an expert
Invite your friends
and enjoy a shared experience
Event Guide
Masterclass
Learn from an expert
Covid 19 Safety Measures
This event adheres to the following

Health & safety measures
Temperature Checks
Hand Hygiene Stations
Limited Capacity
Sanitisation before the show
Proof of Vaccination Required
Invite your friends
and enjoy a shared experience
Covid 19 Safety Measures
This event adheres to the following

Health & safety measures
Temperature Checks
Hand Hygiene Stations
Limited Capacity
Sanitisation before the show
Proof of Vaccination Required
Learn Travel Photography while discovering the beautiful Dhauladhar range and enjoying a luxurious stay at Peakhavn.


Visit www.peakhavn.com for more.
Explore the region of Palampur, Dharamshala and McLeod Ganj as you learn travel photography from an experienced mentor - Photographer and Industrial Designer Kumar Dimitra(Check out his photos portfolio at www.einheitdesign.com/photosbydimitra) and stay amongst the mountains at Peakhavn. Whether you have a smartphone you'd like to get advertisement grade images out of or a DSLR you bought with hopes of upping your photography game, this is the perfect workshop for you. This workshop combines the best parts of vacationing and learning.
Who is this workshop for?
The workshop is focused at Beginners to Intermediate photographers. Between the pre-workshop video conference primers and the actual workshop, you will be able to learn more in depth about your own gear and technicalities of photography, and also learn about more aesthetic aspects of it such as composition and framing, visual language and storytelling so there is something for everyone.
At the end of the workshop you will be more confident in the decisions you make behind the camera when you are capturing your travels. You will also learn to make use of the tools at your disposal everywhere you go to get the right image, enabling you to travel light.
The itinerary we have prepared for you helps us cover various photographic scenarios that you come across while travelling- Nature, Food, Street, Landscape, Portrait and Night. Here's a short description of what our journey would look like.
Day 1 will start with breakfast at Peakhavn(and Check In for those who have opted for accommodation), followed by an orientation with your mentor. You then begin your workshop with nature photography and a hike. In the evening you will enjoy high tea and a food photography section. The day will end with dinner and an image review session.
Day 2 will start with breakfast followed by a trip to Palampur where you will explore the market during a session on street photography. The day will end with a bonfire dinner at the property followed by an astrophotography session.
Day 3 will begin with brunch, followed by a visit to Dharamshala and McLeod Ganj where you will have a portrait photography session. You will then return to the property for a landscape photography session and an appreciation party to end your trip(Those with accommodation at Peakhavn can check out by 11am the next day)!
Things you need for the workshop:
Your photography gear of choice - Phone or DSLR/Mirrorless/Advanced Point and Shoot camera and any accessories for the same you already own and want to travel with.
It is highly recommended that you attend at least one of the two hour long included pre-workshop orientations we will organize on the 17th and 18th of December. These will be online sessions, information for which will be sent to you after you have made the booking.
Comfortable active footwear, there will be some light nature walks and hiking as we explore the local region.
Warm clothes which allow you to be active, our suggestion is a jacket with some pockets, a nice warm cap if your jacket doesn't have one, and gloves with touchscreen support if you feel extra cold.
Any medication you need to take regularly. We'll only keep a first-aid kit at hand.
If you are under 18 years of age, a written note of undertaking from your parent/guardian that you can attend the workshop. Write to us for more info.
A positive attitude.
Things to know before you arrive a Peakhavn(If you have booked with Accommodation at Peakhavn):
You can check-in any time after 7am on the 22nd of December.
You will need to present your proof of vaccination and valid identity proof at the helpdesk upon your arrival.
If you have any questions or need help with getting to know the best way to reach Peakhavn, contact us at info@peakhavn.com or Call/WhatsApp on +91-85058-76567 and we'll get back to you within 24 hours.
A pickup taxi can be arranged for you from Railway Station, Bus Stop and Airport from Palampur and Dharamshala at Extra cost. You will need to inform us at least 2 days prior to your arrival with your booking ID a info@peakhavn.com for us to coordinate the same. Reaching Peakhavn at the right time however is your own responsibility and we take no responsibility for the same.
If you are looking for transport to Peakhavn from New Delhi, Jammu, Pathankot, Chandigarh and Ambala, you can contact us at info@peakhavn.com with your booking ID and we will help you get in touch with the local taxi network.
After you have made the booking, you will need to fill a form where you can inform us of your dietary preferences and restrictions. Your included meals will be then customized to fit the same.
There are limited number of seats for both categories - With Accommodation (Dorm, Twin Sharing and Triple Sharing) and Without Accommodation. Book early to get the stay of your choice.
You can checkout anytime before 11am on the 25th of December 2022.
Things to know before you arrive at Peakhavn (If you have booked Without Accommodation):
You are responsible of finding your own accommodation. If you would like us to provide any recommendations you can contact us at info@peakhavn.com or Call/WhatsApp on +91-85058-76567.
You are responsible for reaching the venue on time everyday.
The meals at Peakhavn that are not included in your plan can be had at extra charges subject to availability.
You will not under any circumstances be allowed to stay the night at Peakhavn so as to not hamper the experience of your fellow travelers.
If you have any questions that haven't been addressed above or are travelling as a group and have accommodation preference, contact us at info@peakhavn.com or Call/WhatsApp on +91-85058-76567 with your booking ID and we will try to help you the best we can.
Peakhavn
Project Road, V.P.O. Gopalpur, Palampur, Himachal Pradesh 176059, India
GET DIRECTIONS
Travel Photography Workshop in the Mountains! at Peakhavn
December 22 | 7AM - December 24 | 11PM
Event Guide
Masterclass
Learn from an expert
Invite your friends
and enjoy a shared experience