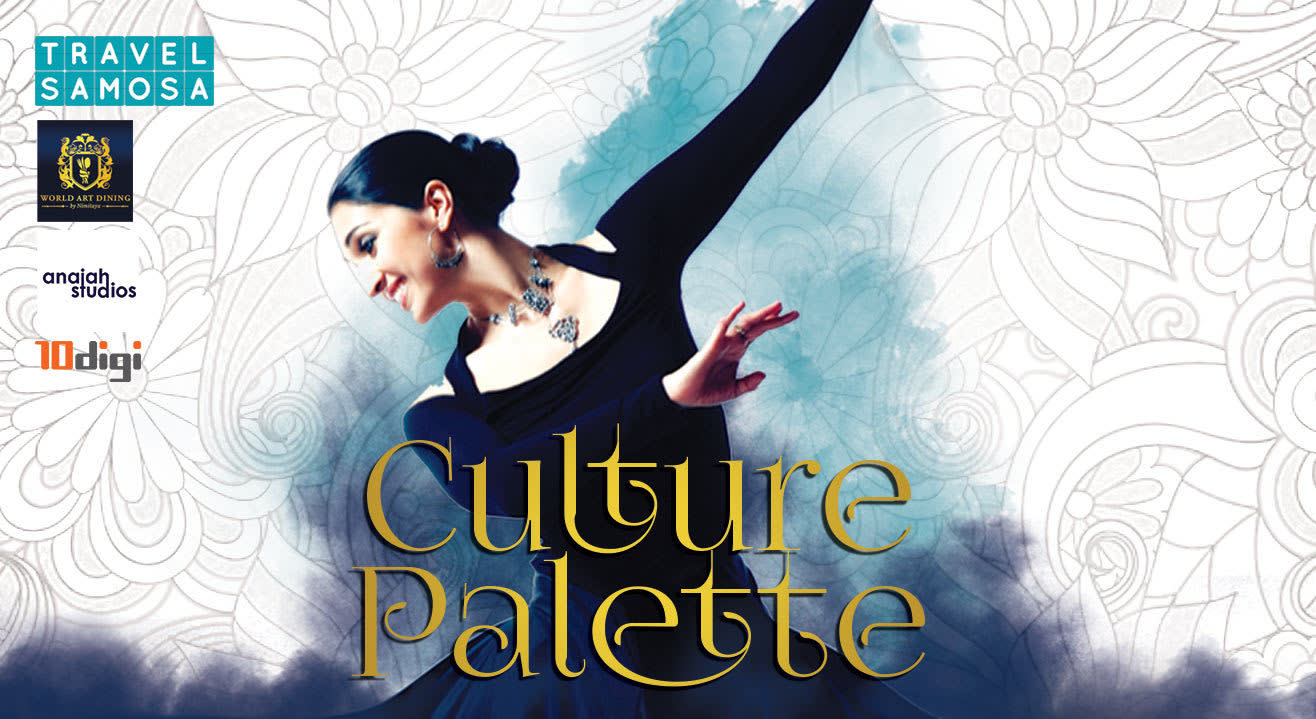 Dance
Travel Samosa Presents Cultural Palette
About
Graceful Kathak by a Canadian dancer Bageshree Vaze and a sumptuous dinner await you at a cultural evening hosted by Travel Samosa at World Art Dining.
Bageshree Vaze:
Bageshree Vaze is a Canadian dance artist and musician. Raised in St. John's, New Found Land, Canada, she has been trained in Bharatha Natyam with teachers Sudha Sekhar in Michigan and the late Guru T.K. Mahalingam Pillai in Mumbai. She has been trained in Kathak with Pt. Birju Maharaj and Sri Jai Kishan Maharaj and studied with the renowned vocalist Veena Sahasrabuddhe in Mumbai. Based in Toronto, Bageshree has choreographed numerous dance works such as 2007's 'Tarana,' 2011's 'Avatar (9),' and 2012's 'Damaru/Mudra.'and has three CDs as a vocalist to her credit. MTV India named Bageshree an 'ubbharta sitara' and her breakthrough album Tarana (released as Khanak through Times Music in India), a CD of songs adapted and arranged for Indian dance, is accessed by dancers worldwide. Bageshree has been commissioned by and has performed in major festivals including Dusk Dances, the CanAsian International Dance Festival, and Pt. Birju Maharaj's Vasantotsav festival in New Delhi, and in 2010 she was a co-recipient of the K.M. Hunter
Award in Dance. In April 2015 her work 'Paratopia' premiered as part of DanceWorks 2014/15 Mainstage Season and was remounted at the Canada Dance Festival in June 2016.
Vineet Vyas:
Vineet Vyas is a Canadian exponent of the tabla drums, a disciple of the late Pandit Kishan Maharaj, the legendary master of the North Indian drums. Raised in Nova Scotia, Vineet undertook intensive training in Benares, India with his Guru before embarking on a professional career on the Indian music circuit, and regularly accompanies stalwarts such as Ustad Amjad Ali Khan, Ustad Aashish Khan, and Pandits Rajan and Sajan Mishra. His breakthrough CD 'Taalworks' was released by Times Music in India to great critical acclaim, and he was featured in the Bravo! Channel documentary 'Fingers of Fire.' Vineet has been featured as a guest artist with the Scottish Chamber Orchestra and the Niagara Symphony and has played in major festivals and venues in India, the US, Canada, Japan, and Europe. In 2015, Vineet was a finalist for the Toronto Arts Foundation's Muriel Sherrin Award for International Achievement in Music, and was nominated for a Dora Mavor Moore award for his composition work in the production 'Paratopia.' In 2017, Vineet is being commissioned to compose 'Satyam' based on the classic Mahabharata tale of Savitri and Satyavan by Opera Nova Scotia in Canada.
About Travel Samosa- Delhi - Delhi's glocal guide!
Venue
World Art Dining
80/1, NORTH WEST AVENUE ROAD, Punjabi Bagh, West Punjabi Bagh, Punjabi Bagh, New Delhi, Delhi 110026