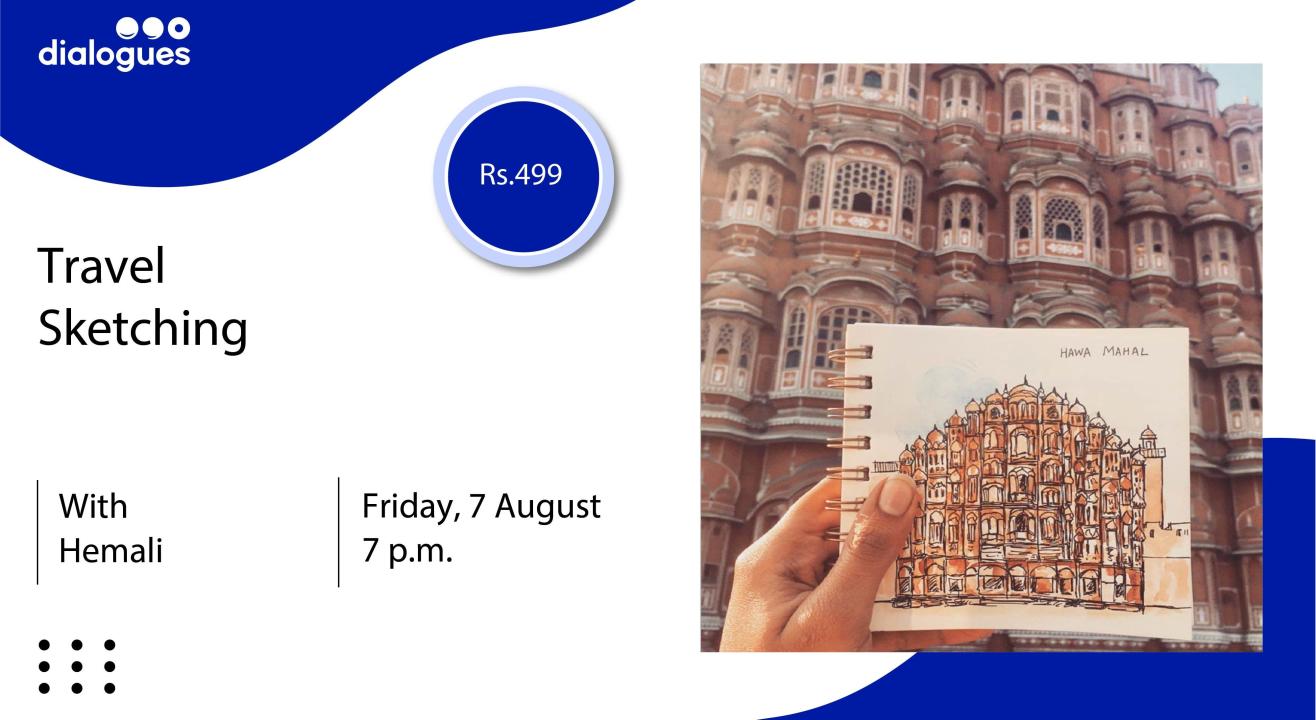 Invite your friends
and enjoy a shared experience
Invite your friends
and enjoy a shared experience
About the Event
Introduction:
Are you planning to capture your travel experiences in hand-drawn sketches this monsoon? Then this workshop is for you!
Travel sketching or holiday sketching is a great way to record your travel experiences.
What You Will Learn:
This is a one day workshop, where you'll learn and sketch from a photograph. You will:
1. Learn the value of having a time limit!
2. Practice capturing a scene with minimal drawing and instead use a beautiful wash of paint and ink pens
3. Learn what to put in and what to leave out!
4. Learn about focal points and composition, color and more
Is this course right for me? While all levels of artists are welcome, some prior experience with watercolors is recommended.
Materials Required:
1. Watercolor cakes/ tubes recommended
2. Pencil, papers, erasers
3. Black Pens
4. Old kitchen Towels
5. Two Containers
6. Watercolor sheets/ thick sheets (200-300 gsm)
7. Watercolour Palette
About the Artist: Hemali Mehta
Hemali is a Bangalore based artist who works mainly in Urban Sketching. She has been teaching Urban Sketching for the past 2 years. While exploring the medium, she even chose to sketch over photographs during her travels. She believes, sketchbook slows her down, it lets her experience the place in a whole new way, and that's how she started documenting her travels through a Travel Sketching Journal.
IMPORTANT:
- This is a LIVE session.
- Limited seats only so everyone gets personal attention from the artist/trainer
- Download the 'Zoom' App.
- For best experience join the workshop from your laptop/desktop or watch on phone on landscape mode.
- Ensure your internet connectivity is strong.
- Do login 10 minutes prior to the workshop. This would help us work out any technical difficulties so we can start the session on time.
- If you are unable to attend the live session due to technical reasons, please call us (+91-6361358825)
- This is a closed event. Only registered email ids will be allowed to join the session.
Please note that you will receive the link of the session via Google Calendar Invite 1 hour prior to the session. If, for some reason, you fail to receive the email please get in touch with us on team@dialogues.space or call us on +916361358825 and we will send the invite to you again.