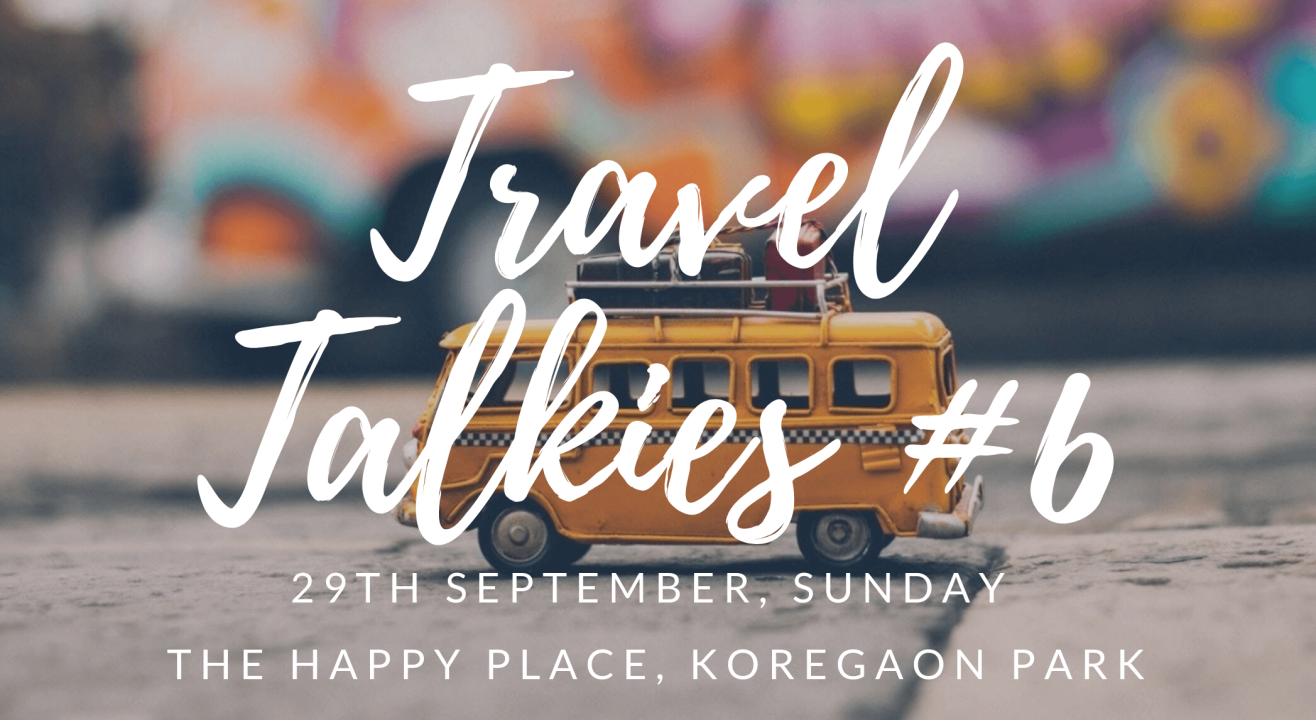 The Happy Place Cafe, Pune
Invite your friends
and enjoy a shared experience
The Happy Place Cafe, Pune
Invite your friends
and enjoy a shared experience
Invite your friends
and enjoy a shared experience
Join us to listen to amazing travelers share their stories from the road at the Travel Talkies #6.
When: 5 : 30 PM onward on 29th September.
Where: The Happy Place, B7, Ashiyana park, Behind Wellness Forever, North Main Road, Koregaon Park
What is Travel Talkies #6?
It is from our event series called "Travel Talkies" which we conceptualised in the starting days of Pune Travel Club. We call speakers to share their stories and motivate aspirational travellers to plan new adventures - of course all this happens over a coffee!
For the Travel Talkies #6, we have 3 speakers from distinguished backgrounds to share their experiences with you in words and music.
Not to ruin the script, here is a small teaser of who you'd be listening to:
‌● A trekker who has summit-ted peaks in the likes of Stok Kangri, Mera Peak and Kilimanjaro. While running her business and family beautifully.
‌● A backpacker who roams various destinations of India while working as a volunteer in the hostels he traveled to.
‌● A duo who have conducted various nail - biting search & rescue operations in the hills of Sahyadri's.
Why are we so excited for Travel Talkies #6?
'There's nothing more powerful in the world than a good story. Nothing can stop it. No one can defeat it' , even if not everyone agreed to the Game of Thrones finale, we completely trust Tyrion Lannister's thoughts on stories and their impact on people.
Our world is also influenced by stories. And who has a better story than wanderers and travelers who have seen the world and its many perspectives.
We started travel talks so that people can listen to these wonderful experiences and draw an inspiration to live, laugh and love. Our previous talks had travelers who had been to different parts of the world. Their tales were a mixed bag of emotions - both good and bad. They were also received with great admiration by listeners.
To spread the infectious idea of spending an evening lightening to wonderful stories, PTC is going to conduct talks regularly - with a super awesome theme and inspiring speakers!
The event has limited bookings. Book now to save a seat before they are all gone!
Entry fee: 100 - (Includes only entry)
250 - (Including entry, one snack and one refreshment)
Contact for bookings: 9741309409
The Happy Place Cafe
C-11, Liberty Phase 2, Ragvilas Society, Koregaon Park, Pune, Maharashtra 411001
GET DIRECTIONS
The Happy Place Cafe, Pune
Invite your friends
and enjoy a shared experience