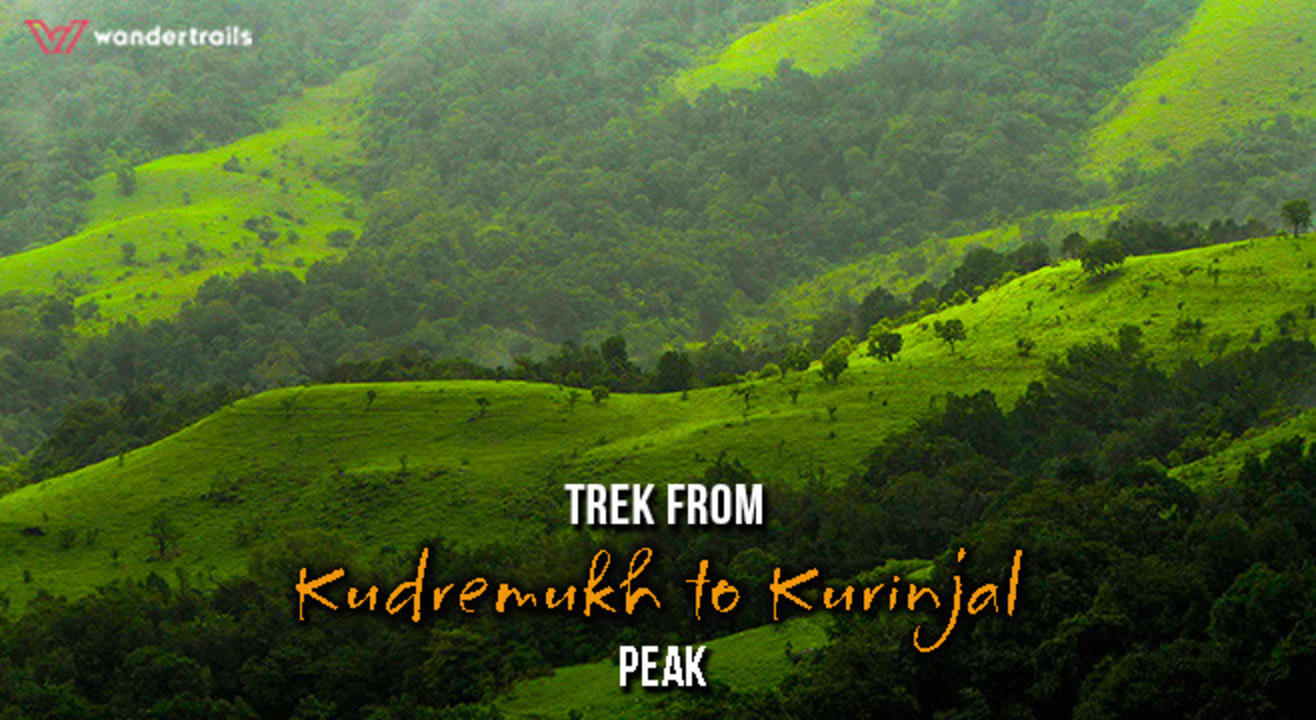 Trek
Trek through lush greenery of Kudremukh to Kurinjal Peak
About
Imagine you're standing amidst lush green meadows with the sound of gushing streams while enjoying freshness of the windy atmosphere… all with a panoramic view of the spectacular landscape of Chikkamagalur. A place so serene that your mind registers this moment as the definition of beauty and satisfaction. Such is the experience of Kurinjal peak that stands high in the Kudremukh National Park.
Located around 284 km from Bangalore, Kudremukh is home to rich flora and an exotic fauna spread over rolling hills and towering mountains, and in this beauty lies your trail to the peak of Kurinjal.
You will be picked up from Bangalore the night before the scheduled trek. As you approach Chikkamagalur, be prepared to be greeted by lush greenery and the scenic landscape that this district is so very famous for. Prepare yourself for an exciting trek of 20 km through tropical rain forests, with dense undergrowth and lush greenery, the striking beauty of which would already have you hooked. The trail passes by a few water streams and cascading waters that leaves a cooling mist of freshness in the forested area. The route might get a little messy during the monsoon but will be rewarding nonetheless.
You continue your trek through the backwoods leading up to sprawling verdant green meadows. The trail then takes you to the most awaited destination - the Kurinjal peak. A respite for the adventurer in you, it also happens to be the perfect frame for shutterbugs. The breezy wind accompanied by the sound of gushing waterfalls offers blissful tranquillity amidst the misty mountains. You can spot thick woods on one side and a sheer drop on the other, an enchanting view that can be savoured over lunch.
You will begin your descent to the base before dusk and reach the homestay in time for dinner, one that can be enjoyed by the crackling campfire. You can choose to sleep inside for the night or if you wish to camp out in the open, tents can be arranged on prior request. Wake up to the beauty of a misty morning in the greenery of Kurinjal and freshen up. After a sumptuous breakfast, you will be taken to Somawathi Falls, a popular hotspot in the region.
Following a rewarding trek through the dense forest of Kudremukh and some fun and frolic in gushing waters of Somawathi waterfalls, you will be driven back to Bangalore. Don't be surprised if you find yourself still lost in the panoramic vistas from Kurinjal mountain peak… you can even make a resolution to go on more such treks in the coming months, for a refreshing break from the fast-paced life of the bustling city.
Day 0:
09:30 PM - Pick up starts from Bangalore

Day 1:
06:30 AM - Reach homestay in Kurinjal
07:30 AM - Fresh up
08:30 AM - Have breakfast and carry packed lunch
09:30 AM - Start Kurinjal trek
02:00 PM - Reach peak and have packed lunch
02:30 PM - Descend
05:30 PM - Reach homestay, have tea and visit the nearby waterfalls
08:30 PM - Enjoy campfire followed by dinner

Day 2:
07:30 AM - Wake up and get ready
08:30 AM - Have breakfast
09:30 AM - Checkout from homestay and depart to Bangalore
07:30 PM - Reach Bangalore
Pick-up and drop-off from Bangalore
Trek
Campfire (depends on weather)
Visit to the nearby Somawathi falls
Breakfast on Day 1 and Day2
Lunch on Day 1
Dinner on Day 1
Accommodation
Any additional services provided
Recommended gratuities
1. Marathahalli (09:30 PM) - Near Kalamandir
2. Silk Board (10:00 PM) - Bus Stop, Opposite To Pizza Hut
3. BTM (10:10 PM) Udupi - Garden Bus Stop, Opposite To A2B
4. Banashankari (10:30 PM) - Bus Stop
5. RR Nagar (11:15 PM) - Gopalan Arcade, Mysore Road
Backpack
Rain coat/Poncho
Water bottles
Energy food
Personal medication
Sweater/ jackets for the night
Extra pair of clothes
Toiletry bag
Sports shoes or trekking shoes in good condition
Flashlight/Torch with extra batteries
Track pants and cotton T-shirt
Camera (optional)
Moov spray, Dettol solution or salt to avoid leeches
Cancellation charges applicable basis duration prior to the date of the commencement of the activity:
0-2 days from activity date: 100% booking charges
2-7 days from activity date: 50% booking charges
7-14 days from activity date: 25% booking charges
More than 14 days from activity date: No booking charges