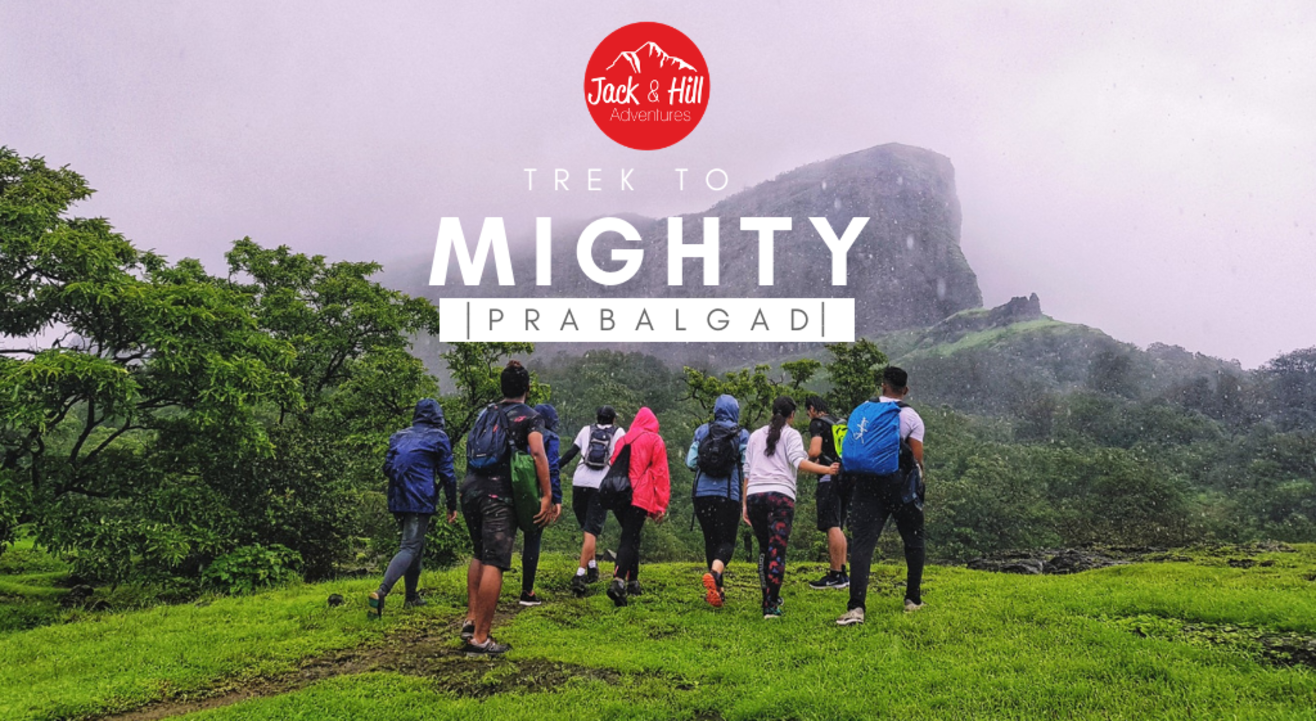 Invite your friends
and enjoy a shared experience
Invite your friends
and enjoy a shared experience
About the Event
What's life without thrill? Nothing, we say! Here we are all set to take you on a thrilling adventure with our trek to Prabalgad fort.
On this trek, enjoy walking through a dense forest while spotting birds, reptiles and small mammals. You'll also get to experience the abundance of flora and fauna at the fort, with ruins of old buildings and water tanks.
Once you reach the top of the fort, you will be rewarded with a panoramic view of Matheran and its neighbouring hill stations.
One of the most notable moments of this trek is to get a glimpse of the stunning Kalavantin Durg. If you haven't heard about 'Kalavantin Durg', you should know that #Buzzfeed ranked this exotic destination at #11 in their blog on most beautiful abandoned places in the world!
About the location : Prabalgad lies on the prabal plateau between Matheran and Panvel and one can easily spot it from the Mumbai-Pune expressway.
It was among the twenty-three forts that were handed over to the Mughal Empire. In 1658, the Marathas took over the fort once again. The fort was built to keep an eye on the ancient ports of Panvel and Kalyan.
The British Government wanted to develop Prabalgad as a hill station but were thwarted in this plan on account of the difficulties caused by the lack of water.
This place sure has history!
The difficulty level of this trek is MODERATE, however this is an Endurance based trek.
This means the ease of climbing up to the summit is Moderate, however the duration of the trek is long. Participants must be mentally ready to walk for a few hours.
Uphill is approx 4 hours of trekking while downhill is shorter. There will be stops during the trek for rest and rehydration.
If you haven't been for a trek, you should know that there is a lot of walking. Moderate treks begin to present more of a challenge to first time trekkers. So these treks are suitable for any walker looking for something a little more challenging and energetic. However, we believe that the best views come after the hardest climbs. The payoff is always equivalent to the effort.
At every summit, you are welcomed to the most majestic views & at the end of every trek, you learn that you are taking back home a lifetime of memories
Meet at CST Main Ticket Counter at 6 am
Board a local train to Panvel
Board private taxi at Panvel to the base of the village
From the base village, we begin our climb towards Prabalgad
Mid way at Prabalmachi plateau, we stop for our lunch break and refreshments
Post lunch, we continue towards the fort
Reach the summit, relax, breathe and enjoy the majestic scenery that the fort offers
We hike down towards the Prabalmachi plateau for refreshments
After refreshments, we begin our journey back home just the way we arrived.
Breakfast at Prabalmachi Plateau
Guidance by Certified Mountaineers trained at Jawahar Institute of Mountaineering, Jammu and Kashmir.
First Aid by Certified Wilderness First Responder (WFR), trained by Wilderness Medical Associates International, USA.
Local transport from Mumbai to summit and back.
High tea and evening snacks.
Grab a small to medium-sized bag and put in items mentioned in our Essentials list.
The less heavier your bag is, the more easier your trek will be.
Essential:
2-3 litres of water
Raincoat
Snacks and munchies to keep you high on energy
Personal Identification
Personal medication if any
(Please do let us know in advance about any medical conditions, if any)
A Sturdy Pair Of Shoes: - This is CRUCIAL as a bad pair could turn your trek into a nightmare. Check your shoes for possible wear and tear.
The Right Clothing: - T-shirt and shorts/full pants are ideal. Ensure that you are comfortable in what you choose to wear and that the material does not restrict your movement while trekking and climbing. Full clothing is recommended. Meals:
Breakfast
High tea and evening snacks
Trek Gyaan / Attitude: Staying open minded, positive and faithful
A trek in the forest requires for one to stay positive and open minded at all times regardless of the situation. Mind you, this is not a picnic but a trek in the mountains. Mother nature could choose for the weather and environment to be tough or easy on us. However it is important for us to stay grounded and keep our heads over our shoulders, not to panic and to keep confidence in the decision of the trek leaders.
50% Cancellation Fee will apply if your booking is cancelled before 5 days from the day of trip
100% Cancellation Fee will apply if your booking is cancelled within 5 days from the date of trip
For queries or assistance, feel free to get in touch with us at on Call on +91 9833376765 or Mail at info@jackandhilladventures.com
To ensure we maintain a high standard of outdoor experiences with sufficient attention to safety, this trip is restricted to a limited group size.
Jack & Hill Adventures is a Mumbai-based adventure tourism company that creates outdoor and adventure experiences in & around Mumbai. Few of our activities are Sailing, Trekking, Camping, Mountain biking & Wildlife trails.
Meet Team Jack & Hill Adventures